Mississippi Same-Sex Couples Ask Federal Court To Order Equal Adoption Rights
Couples ask court for quick action to stop enforcement of Mississippi's ban on same-sex couples adopting children.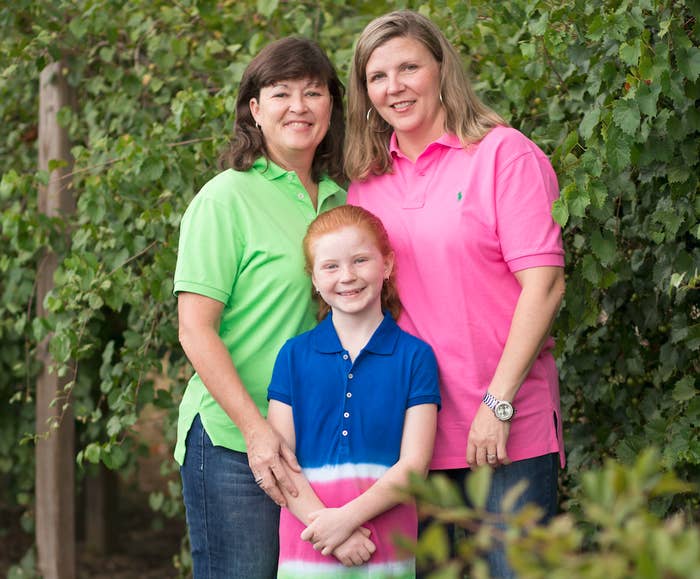 WASHINGTON — Married same-sex couples on Friday asked a federal judge to order Mississippi to allow both parents to adopt a child, seeking a ruling that the state's ban on such adoptions is unconstitutional.
"The Supreme Court has now left no ambiguity: gay couples must be granted the same 'equal dignity in the eyes of the law' as straight couples," the lawyers for the couples wrote, citing the 2013 Supreme Court case striking down part of the Defense of Marriage Act and this June's decision striking down state bans on same-sex couples' marriages.
The Mississippi adoption ban states simply that "[a]doption by couples of the same gender is prohibited."
Friday's action in the lawsuit — which was filed earlier this month by the Campaign for Southern Equality, Family Equality Council, and four same-sex couples — is limited to seeking immediate resolution, in the form of a preliminary injunction, on the requests of two married same-sex couples.
"Donna [Phillips] and Jan [Smith] were married on August 1, 2013 and have an eight-year-old daughter, H.M.S.P. Kathy [Garner] and Susan [Hrostowski] were married on June 17, 2014 and have a fifteen-year-old son, H.M.G.," the lawyers for the couples state. "But because of nine words in a Mississippi statute, H.M.S.P. has only one legal parent, Donna, and H.M.G. has only one legal parent, Kathy."
In their filing, the lawyers take a poke at the state's governor, one of the defendants in the case.

The lawyers — led by Paul Weiss's Robbie Kaplan, who earlier represented DOMA challenger Edie Windsor and represented the couples who successfully challenged Mississippi's marriage ban — want U.S. District Court Judge Daniel Jordan to take immediate action as to those two couples.
"Because of this statute, the Parent Plaintiffs and their children are irreparably harmed and they therefore ask this Court to enter an immediate order preliminarily enjoining the relevant government officials from enforcing the Mississippi Adoption Ban as it applies to them."
In an accompanying affidavit filed on Friday, Smith states how the ban has affected her family.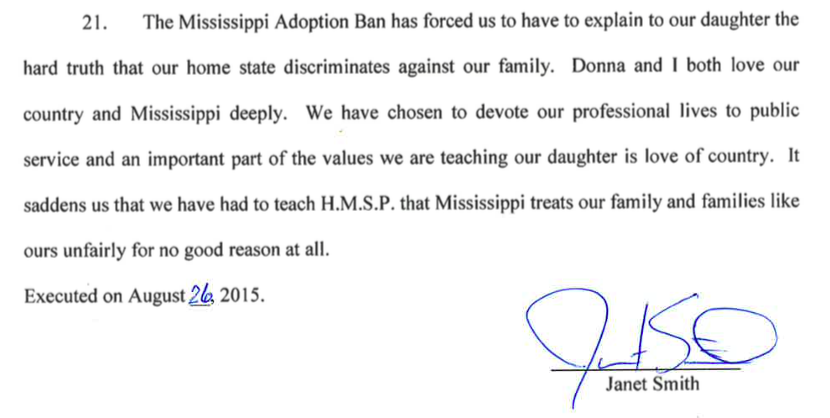 In a second affidavit, Hrostowski lays out her concerns.

Read the court filing:
Download PDF