Minnesota Senate Passes Marriage Equality, Will Become Law
The vote was 37-30. Gov. Mark Dayton will sign the bill, which will go into effect Aug. 1, making Minnesota the 12th state, plus DC, with marriage equality.
Minnesota will become the 12th state in the country, plus DC, to allow same-sex couples to marry, following a 37-30 vote of the state's Senate on Monday.
Gov. Mark Dayton is expected to sign the bill at 5 p.m. Central Time Tuesday. The bill, passed by the House last week, will take effect Aug. 1 — the same day Rhode Island's marriage equality law takes effect.
The state's sole out gay senator, Sen. Scott Dibble, spoke in support of the bill he had backed.
Of the legislature's prior decision to push forward the vote on a constitutional amendment banning gay couples from marriage, "I felt excluded," he says of that decision. He added, though, "In an odd way, I'm kind of grateful, because we had an amazing conversations, Minnesotans," that he said led to Monday's vote for marriage equality.
"Today, we have the power, the awesome, humbling power, to make dreams come true, he said. "We will be removing barriers to the full joy life has to offer." Of himself and his husband, Richard, whom he married in California in 2008, he says, "I've met the person I can't live without."
Referencing past leaders on the issue, including the late out gay Sen. Allan Spear, Dibble said, "We have an awesome responsibility, and it's humbling to be in this chamber right now."
The lead Republican supporter of the bill, Sen. Branden Petersen, spoke during the closing arguments about his reasons for working with Dibble on the bill.
"I stand here, quite honestly, more uncertain of my future in this place than I ever have, but when I walk out of this chamber today … I will be on the side of liberty," Petersen said.
In supporting the bill, Deputy Majority Leader Jeff Hayden discussed his thoughts that marriage equality, though contentious Monday, would not long be an issue. When the legislature returns next year, he said, "We'll find something else to disagree about, but this won't be one of them."
Noting that he, who is black, has a wife who is white, Hayden invoked Loving v. Virginia and the memory of the Lovings, whose marriage led to the Supreme Court case that struck down laws against interracial marriage as unconstitutional.
Likewise with Sen. Patricia Torres Ray, DFL, who spoke about why she as a Catholic immigrant "stands in strong support of this bill." Noting that she had lesbian neighbors who had a child about the same time that she did, and that they raised their children together, she said they asked whether she would support marriage equality and that she said she would.
"I hope I get invited to their wedding now. I hope we vote green," Torres Ray said.
Cutting forward to Monday's vote on marriage equality for same-sex couples, Hayden concluded, "Think deeply about your commitment to your family, and please, please vote yes. It will be OK."
There was an extended debate over expanding the religious exemption provision passed by the House, which failed 26-41. The amendment was brought by Sen. Paul Gazelka.
In opposing the bill, Sen. Mary Kiffmeyer said that people who voted no on the Minnesota marriage amendment last fall were "lied to" because they were told nothing would change if they voted no on the proposed amendment.
Sen. Dan Hall, later speaking against the bill, expressed his fears about the legislation, saying, "Next, I believe we will be forced to believe what we don't."
Providing some of the most heated rhetoric of the debate, Hall said, "People say, 'Don't you want to be on the right side of history?' The truth is I'm more concerned about being on the right side of eternity."
"It will hurt businesses and confuse children … more than any issue since the Civil War. We must not pass this bill," Hall said.
Judiciary Committee Chair Ron Latz confronted the opposition directly, saying, "God made gays. And god made gays capable of loving other people of the same gender. Who are we to quibble with god's intentions?"
"We are here, members, ultimately to lead," he said. "Do not vote out of fear. ... Vote out of your own personal strength ... for the well being of the people around us and of society."
Final Senate Vote For The Marriage Equality Bill: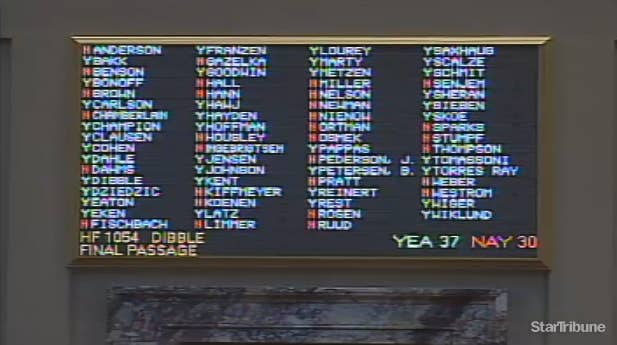 Minnesota's Sole Out Gay Senator, Sen. Scott Dibble, Speaking For The Bill: