Michigan Governor Says State Will Recognize Last Year's Same-Sex Marriages
"[W]e will follow the law and extend state marriage benefits to those couples," Michigan Gov. Rick Snyder says. The move doesn't change the state's defense of the state's marriage ban at the Supreme Court.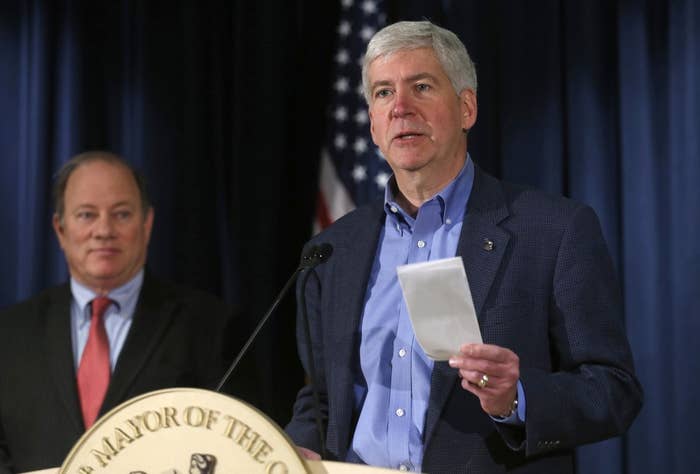 WASHINGTON — Michigan Gov. Rick Snyder on Wednesday announced the state will not appeal a federal trial court decision ordering the state to recognize the marriages of same-sex couples that were granted in the state this past year.
"The judge has determined that same-sex couples were legally married on that day, and we will follow the law and extend state marriage benefits to those couples," Snyder said in a statement.
Approximately 300 same-sex couples were married by the state of Michigan during the window between last year's district court ruling striking down Michigan's ban and when the stay on the decision was issued by the 6th Circuit Court of Appeals.
As the underlying case continued in the appeals court, a second case seeking recognition of the marriages that were granted during that time was filed. That second case resulted in the order that Snyder decided not to appeal on Tuesday.
In earlier court filings, the state had argued that the court should keep the second case on hold while the constitutional issue was decided. If it did decide the issue, though, the state argued those marriages should not be considered valid. U.S. District Court Judge Mark Goldsmith did decide the issue, and ordered the state to recognize them.
The state is continuing to defend the underlying ban on-same-sex marriages in one of the cases currently before the Supreme Court, however, a matter Snyder also addressed in Wednesday's statement.
"I appreciate that the larger question will be addressed by the U.S. Supreme Court this year. This is an issue that has been divisive across our country. Our nation's highest court will decide this issue," he said. "I know there are strong feelings on both sides of this issue, and it's vitally important for an expedient resolution that will allow people in Michigan, as well as other states, to move forward together on the other challenges we face."
The move came as another Republican governor, Alabama Gov. Robert Bentley, filed a brief at the Supreme Court supporting his attorney general's request pending before the court to issue a stay of a district court ruling in Alabama that is due to go into effect on Feb. 9.
Alabama Attorney General Luther Strange filed the stay application with Justice Clarence Thomas on Tuesday. Thomas can decide the matter on his own or refer the matter to the full court.