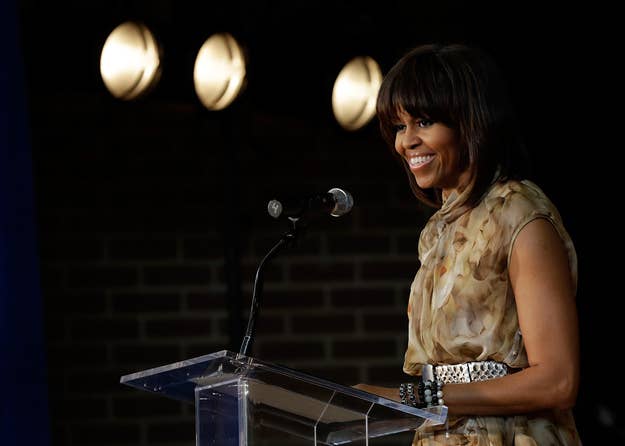 WASHINGTON — First Lady Michelle Obama was heckled at a private fundraiser Tuesday night, pressed for action her husband has not taken to issue an executive order banning federal contractors from discriminating against LGBT employees and job applicants.
Michelle Obama responded telling the woman, "[L]isten to me or you can take the mic, but I'm leaving." The woman was escorted out, according to the White House pool report, continuing to shout that she was a "lesbian looking for federal equality before I die."
The heckling happened a bit after 6 p.m. under a white tent in the backyard of the residence of Karen Dixon and Nan Schaffer in Northwest DC. Rep. Debbie Wasserman Schultz, the chair of the Democratic National Committee, also was in attendance at the event, which benefits the DNC.
The incident came hours after White House press secretary Jay Carney reiterated the president's focus being on legislation, the Employment Non-Discrimination Act, that would ban most private employers from discriminating on the basis of sexual orientation or gender identity, and not the proposed executive order.
Obama himself had, however, committed in 2008 to supporting a federal nondiscrimination policy based on sexual orientation or gender identity for federal contractors as president, a commitment this reporter published at Metro Weekly last year.
According to the pool report:
Most notable part of the event was an interruption from a protester about 12 minutes into the 20-minute speech. A pro-LGBT rights individual standing at the front began shouting for an executive order on gay rights. (Pool did not hear exactly what.)
"One of the things I don't do well is this," replied FLOTUS to loud applause. She left the lectern and moved over to the protester, saying they could "listen to me or you can take the mic, but I'm leaving. You all decide. You have one choice."
Crowd started shouting that they wanted FLOTUS to stay.
"You need to go!" said one woman near the protester.
The protester was then escorted out, shouting "...lesbian looking for federal equality before I die." (First part of the quote was inaudible.) Pool could not get their name before they were taken out.
"So let me make the point that I was making before," continued FLOTUS. "We are here for our kids. So we must recapture that passion. That same urgency and energy that we felt back in 2008, 2012. Understand this -- this is what I want you all to understand. This is not about us. No one back here. It's not about you or you or your issue or your thing. This is about our children."
Loud applause in response to this comment.
Update at 8:50 p.m.: Get Equal's Heather Cronk confirmed to BuzzFeed that the activist organization planned the heckling. The activist was identified to the pool reporter by Cronk as Ellen Sturtz.
First Lady-Heckler Sturtz: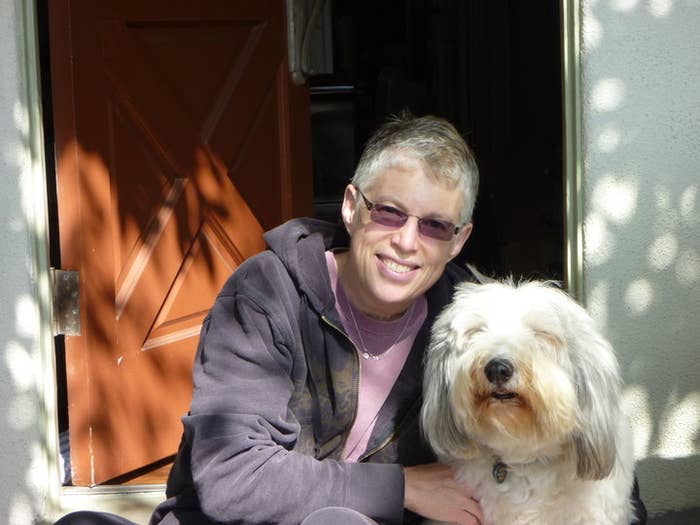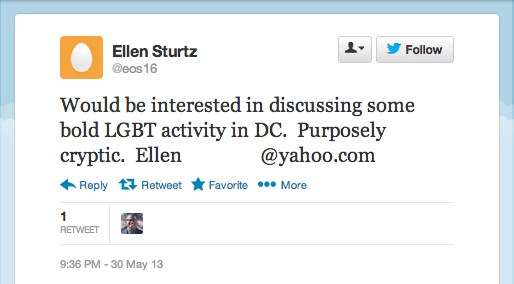 Update at 9:30 p.m.: Official White House Transcript From The Incident Was Rather Vague:

Update at 12:58 a.m. Wednesday: From Get Equal:
WASHINGTON, DC -- Tuesday evening at a fundraiser for the Democratic National Committee, organizers with GetEQUAL -- a national social justice organization fighting for the full equality of lesbian, gay, bisexual, and transgender Americans -- confronted two speakers at the event, DNC Chair Debbie Wasserman-Schultz and First Lady Michelle Obama.

The organizers were advocating for action from the Obama Administration to sign a long-promised Executive Order that would bar any company that contracts with the federal government from discriminating on the basis of sexual orientation or gender identity. Then-candidate Barack Obama promised while running for office in 2008 to sign such an order, but has not yet taken action (http://www.metroweekly.com/news/?ak=7139). A federal contractor Executive Order would protect approximately 22% of the American workforce from LGBT workplace discrimination, and has support from the LGBT advocacy community, as well as The New York Times, The Washington Post, 37 U.S. Senators, and 110 U.S. Representatives.

"I lived and worked in the closet, hiding who I was in order to earn a living," said Ellen Sturtz, who interacted with the First Lady tonight. "I had planned to speak tonight with DNC officials but, as the First Lady was talking about our childrens' future and ensuring that they have everything they need to live happy and productive lives, I simply couldn't stay silent any longer. I'm looking ahead at a generation of young people who could live full, honest, and open lives with the stroke of the President's pen, and I was hoping that the First Lady would share my concern for all of our young people."

Activists interacted with the First Lady tonight after lobbying President Obama directly over the past year to sign the federal contractor Executive Order. The First Lady employed similar tactics when she was a law student, advocating for causes close to her heart: http://www.thedailybeast.com/newsweek/2008/02/16/barack-s-rock.html.

One year ago a similar event was held by the DNC and -- following vocal frustration from the LGBT community about delays from the Obama Administration on the Executive Order -- DNC Treasurer Andy Tobias suggested that advocates wait a year to push for it (http://www.advocate.com/politics/commentary/2012/04/24/oped-choosing-safest-path-enda). That year has come and gone, and the Executive Order has still not emerged as a priority for the Obama Administration.

Recent research has found that LGBT workers have a difficult time finding and keeping a job because there are no federal protections in place to ensure that employers cannot discriminate in the hiring, employment, and firing process: http://lgbtmap.org/a-broken-bargain-full-report. Because the Obama Administration has refused to take action on an Executive Order that would help address these problems, some LGBT donors have cut off funds to the party in recent weeks: http://www.reuters.com/article/2013/05/29/us-usa-immigration-gays-idUSBRE94S1H620130529.

Also in attendance tonight were three additional GetEQUAL activists, all youth whose job opportunities are limited to the 16 states that currently offer workplace protections for LGBT workers: Wooten Gough, of Yadkinville, NC; Autumn Leaf, of Columbus, OH; and Amy Vesper, of Albuquerque, NM. Autumn Leaf was also able to interact during the fundraiser with DNC Chair Debbie Wasserman-Schultz, raising questions about the Democratic Party's commitment to passing the Employment Non-Discrimination Act -- a piece of legislation recently re-introduced in the U.S. House and U.S. Senate that would offer LGBT workplace protections for all American workers. This legislation has been languishing in Congress for 39 years.

###
Update at 9 a.m. Wednesday: Audio from the confrontation has been released.