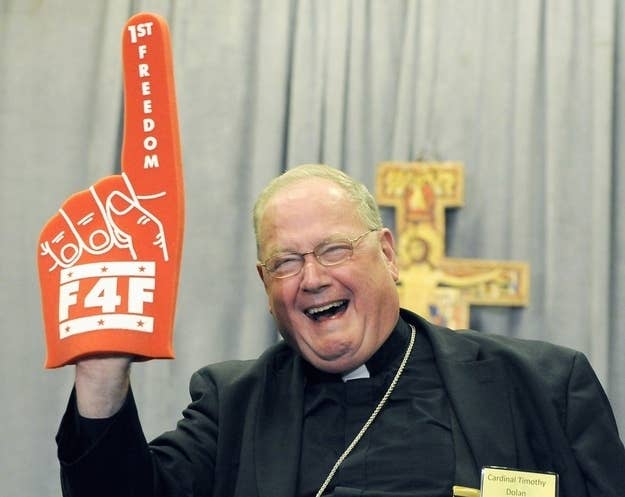 The Obama campaign's decision to have one of Cardinal James Dolan, the Archbishop of New York and a key force in the fight to limit marriage to one man and one woman, has roiled President Obama's allies in the LGBT community.
"While Cardinal Dolan has a respected track record in the ministry, his work to undercut the dignity of LGBT people cannot be overlooked. There are many faith leaders who would be an ideal fit to close out the Democratic National Convention — but Cardinal Timothy Dolan is not that leader," Michael Cole-Schwartz, a spokesman for the Human Rights Campaign, the country's largest LBGT political group, told BuzzFeed. "There are a plethora of faith leaders who embody the Golden Rule in their daily work – striving to serve those on the margins of society; working to bring comfort to those lacking it; and advocating for faith communities that welcome their LGBT sisters and brothers."
Obama deputy campaign manager Stephanie Cutter dismissed questions about the selection of Dolan to give the DNC closing prayer.
"It's not about politics — it's about prayer and reflection and that's what Cardinal Dolan's attendance at the convention means and will mean," she said.
Dolan, who fought the marriage equality bill that passed in New York and has confronted President Obama on his administration's decision that the Defense of Marriage Act is unconstitutional, also is slated to give the closing prayer at this week's Republican National Convention in Tampa.
Another group, Truth Wins Out — which has spent significant energies tracking anti-LGBT religious activity — compared the selection to Obama's selection of Pastor Rick Warren to give Obama's inauguration prayer, a move that had drawn significant criticism at the time from groups worried about the early signal they saw the move as making.
"The Democrats have once again squandered an opportunity to raise the stature of a progressive religious voice, and have instead pandered to conservatives who will never support their party," Truth Wins Out's executive director, Wayne Besen, said in a statement. "Rick Warren's invocation at Obama's inauguration did not win the President any friends, and rewarding Timothy Dolan with this prestigious platform is unlikely to win Obama many votes.
"We can't keep bowing down to archconservative religious leaders and then wonder why Americans falsely equate Christianity with conservative political view," Besen added.