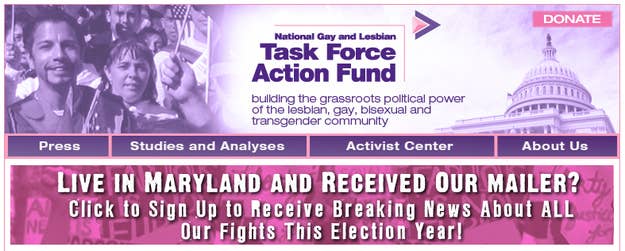 The National Gay & Lesbian Task Force structured an anti-gambling campaign in Maryland so it wouldn't have to disclose which donors are underwriting the effort.
The group established an independent expenditure committee this week, rather than a standard political action committee, to fund its mailer opposing an effort to put a measure for expanded gambling on the ballot this fall.
The mailer, which BuzzFeed reported asserts that the gambling measure could hurt the marriage equality referendum efforts, was sent to thousands of Marylanders earlier this week identified as having come from the "National Gay & Lesbian Task Force Action Fund Maryland Political Action Committee."
Jared DeMarinis, Maryland director of candidacy and campaign finance, told BuzzFeed today, "They are not a Maryland Political Action Committee. They registered as an independent expenditure entity for the ballot initiative question."
DeMarinis said that an independent expenditure committee set up this way would only need to disclose its donors if an individual gave money directly to the committee for the purpose of an independent expenditure effort. If money was given to the Task Force, which the Task Force then used for the Maryland effort, that donation would not need to be disclosed in the Maryland disclosure reports — although the Task Force could need to disclose it under federal disclosure laws.
In any event, the next campaign finance report won't need to be filed by Maryland independent expenditure groups until Oct. 12, DeMarinis said, which will be long after the special session of Maryland's legislature that the mailer is attempting to influence will have completed its work.
On Thursday morning, the Task Force's communications director, Inga Sarda-Sorensen, would only tell BuzzFeed that the mailer was funded by the "National Gay and Lesbian Task Force Action Fund Maryland Political Action Committee."
The Task Force's executive director, Rea Carey, is on sabbatical until the end of August and has been since July 1. The interim executive director, Darlene Nipper, has not responded to multiple requests for comment.
Asked Thursday afternoon — before it was known that the entity was not a PAC — BuzzFeed sought information from the Task Force about whether the entity was formed "for the sole purpose of this mailing on the gambling issue," "who funded the PAC" and for "a copy of any filing regarding the formation or funding of the PAC." The Task Force has not responded to those questions.
The Task Force did not respond to efforts late this afternoon to obtain additional information after BuzzFeed became aware of the independent expenditure status of the Task Force's Maryland entity.
The Task Force's Independent Expenditure Group Filing