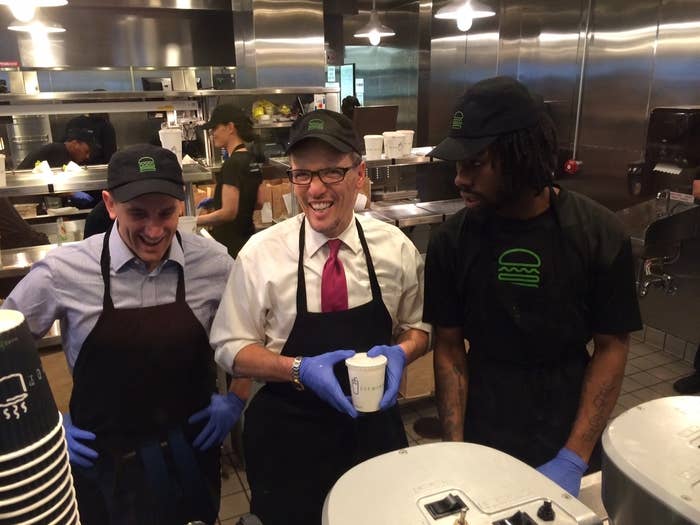 WASHINGTON — Labor Secretary Tom Perez said his agency hasn't "fallen behind" the Department of Justice in protecting transgender workers — despite the fact that his agency is still reviewing a question long since resolved by the DOJ and other agencies.
More than 23 months after the Equal Employment Opportunity Commission found that Title VII of the Civil Rights Act protects transgender employees from discrimination under its ban on sex discrimination, the Labor Department is engaged in a review about how that ruling applies Executive Order 11246, which bans federal contractors from discriminating on the basis of sex and other factors.
Perez said Friday that he is "in charge" of the review and denied that the White House had "forbade" the Labor Department from acting, but he could not say when the review began or what its current status is beyond ongoing.
"It is under review. It continues to be under review, and I'm in charge of it," he said. "I'm in charge of our overtime rule that we're putting together pursuant to the president's directive, I'm in charge of implementing the home health care rule, I'm in charge of all the things that the Department of Labor has enforcement authority over, and we're continuing to work on a wide range of issues, including the issue that you asked."
As for the claim by Freedom to Work's Tico Almeida from July 2013 that he had been told that "senior White House staff" had "forbidden" the Labor Department from acting on the issue, Perez flatly denied it.
"Nobody's told us not to work on anything," he said. "We're working on it because we want to get all the issues — if it's overtime, minimum wage, everything — our goal is to get things right, to review things, to involve all the stakeholders, and that's precisely what we're doing."
Perez spoke with reporters in the Shake Shack restaurant in Chinatown at an event promoting the administration's support for raising the minimum wage.
The EEOC ruled on April 20, 2012, that Title VII's sex discrimination ban included discrimination against transgender people, a ruling that the EEOC has applied in employment discrimination cases brought against private companies and that the Justice Department has applied in cases brought against government agencies. The Education Department cited the ruling in its decision to include anti-transgender discrimination in the sex discrimination ban in Title IX.
The Labor Department has reached no such conclusions. The department's Office of Federal Contract Compliance Programs, headed by Patricia Shiu, is responsible for enforcing Executive Order 11246. Neither she nor other Labor Department officials have been willing to say whether the department is interpreting the executive order in the same way the EEOC interprets Title VII, something that OFCCP should be doing under its previously existing policies.
"I don't believe the Department of Labor has fallen behind," Perez said, when asked about those other agencies' actions as compared to the Labor Department. "I can only give you the answer that I've given you, which is that we continue to review it and we continue to have all of the people involved in that review who are working very hard on this."
Perez would not give specifics about the review team, saying that "[a]ll of the relevant people at the Department of Labor" were involved, including "our lawyers, our policy people and others who are working on that issue."
The review, however, had never been mentioned by any Labor Department officials until Perez said in response to a question at a White House press briefing on Feb. 12 that the "review" was ongoing.
Asked when the review began, Perez suggested but would not confirm that the review began before he took over at the Department of Labor last summer.
"I don't know precisely the date of the review because I started at the Department of Labor in July of 2013, so I don't know," he said. When asked if that meant the review was ongoing when he began, he said, "I don't know, and I would be happy to get back to you on that."