Kentucky Governor Provides For Voting Rights After Felony Sentences Served
The executive order from Gov. Steve Beshear could return voting rights to as many as 180,000 people. The state's incoming governor, Matt Bevin, is reviewing the action.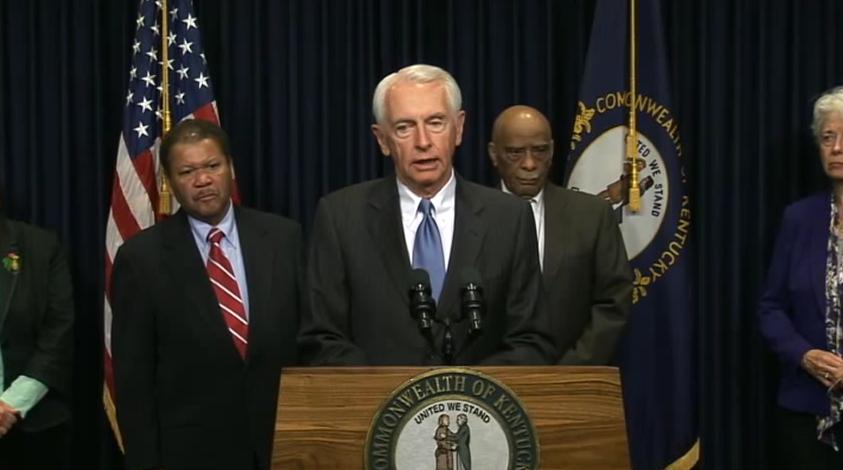 On Tuesday, Kentucky Gov. Steve Beshear issued an executive order immediately providing for automatic restoration of voting rights for many people convicted of a felony after completing their sentences.
The three-page executive order will affect an estimated 180,000 people in the state previously convicted of a felony who have completed their sentence. It would also restore their right to hold public office, but it does not alter restrictions on jury service and firearm possession.
The order came two weeks before Beshear, a Democrat, will be leaving office — due to be replaced by Gov.-Elect Matt Bevin, a Republican. Both have stated their support for automatic restoration of voting rights.
Bevin's spokesperson told BuzzFeed News, however, that the order would have to be reviewed in coming days before a definitive statement could be given as to whether Bevin supports the order because, the spokesperson said, Bevin's office was only notified of the order minutes before it was announced.
Prior to Beshear's order, only a gubernatorial pardon could restore voting rights to those convicted of a felony. Legislation aimed at addressing the issue has passed the state's House, but not the state's Senate.
Now, the state will automatically restore voting rights to those who complete their sentence, face no further criminal charges, and whose charges did not include violence, sexual assault, bribery, or treason.

"Corrections is prepared and ready to go," Beshear said of the process for approving the restoration of the rights for those who already have completed their sentences.
In explaining why he was issuing the order, Beshear cited Brennan Center data that more than 180,000 people are estimated to have completed their sentences but remain without voting rights in the state.
"We're one of four states in the country," Beshear said on Tuesday, "where this is not automatic."
Florida and Iowa are among the states with bars on voting rights restoration; Virginia does as well, but recent governors have taken executive actions similar to Beshear's to facilitate restoration of voting rights.
Beshear's order takes effect immediately.
From Gov. Beshear's order:

Beshear, who is in his last month in office, did not consult with or provide much notice to his successor, according to Bevin's spokesperson.
"Governor-Elect Bevin has said many times that the restoration of voting rights for certain offenders is the right thing to do," Jessica Ditto, the communications director for Bevin's transition office, said. "We were notified of the Executive Order by Governor Beshear's staff only a few minutes before the announcement and were not provided a copy of the Executive Order until after the press conference. The Executive Order will be evaluated during the transition period."
At his 10 a.m. news conference on Tuesday, asked about consultation with Bevin's office, Beshear said only, "We communicated our plan to his new general counsel, who is coming in, this morning."
Download PDF