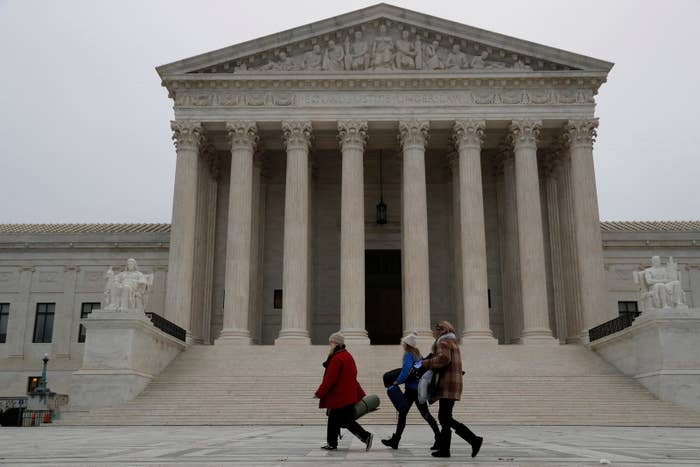 The Supreme Court won't weigh in for now on whether existing civil rights laws protect LGBT people from discrimination, the court announced Monday morning.
The justices declined to review a woman's claim that she was discriminated against based on her sexual orientation — a case that would have required the justices to rule on the matter.
Jameka Evans, represented by Lambda Legal, had asked the justices to hear her case arguing that Title VII of the Civil Rights Act of 1964 protects against sexual orientation discrimination because it is a type of sex discrimination barred under the law.
In 1979, a federal appeals court ruled that "[d]ischarge for homosexuality is not prohibited by Title VII." Since then, however, the Equal Employment Opportunity Commission and one federal appeals court — out of Chicago — have ruled that Title VII's sex discrimination ban does protect against sexual orientation discrimination.
When Evans brought her case, a three-judge panel of the US Court of Appeals for the 11th Circuit ruled earlier this year that it was "bound to follow" that 1979 ruling "unless and until it is overruled by this court en banc or by the Supreme Court."
The appeals court turned down Evans request for en banc review — meaning, of the full court — which led to the request for Supreme Court review, which the court turned down on Monday.
The EEOC and courts also have been considering the related question, not raised in Evans' case, of whether gender identity discrimination — against transgender people — is banned under Title VII's sex discrimination ban. The Supreme Court is yet to consider that issue either.

The Supreme Court's decision not to hear Evans' appeal is not a ruling on the merits of her claim.
As law professor Anthony Kreis pointed out on Twitter, there are a few reasons why the court might prefer another case to resolve the question of Title VII coverage. For one, Evans' case is not over after the Supreme Court's decision. The appeals court ruled earlier that Evans still would be able to present a claim that she was discriminated against based on gender nonconformity.
Additionally, other people are raising the Title VII issue in other cases. One is pending now in the US Court of Appeals for the 2nd Circuit, which heard arguments in the case in an en banc hearing earlier this fall.
Advocates behind Evans' petition, however, had been hoping to get the issue before the Supreme Court during the term underway currently — a prospect that now is out of reach and could become key, should the court be closely divided on the issue and Justice Anthony Kennedy or one of the more liberal justices leave the court before the matter is heard.