Justice Department Squares Off Against Nuns In Supreme Court Challenge Over Birth Control Exemption
Justice Sonia Sotomayor is considering a group of nuns' request to keep a provision of Obamacare from going into effect. The provision would require them to sign a form in order to be exempted from the contraception mandate.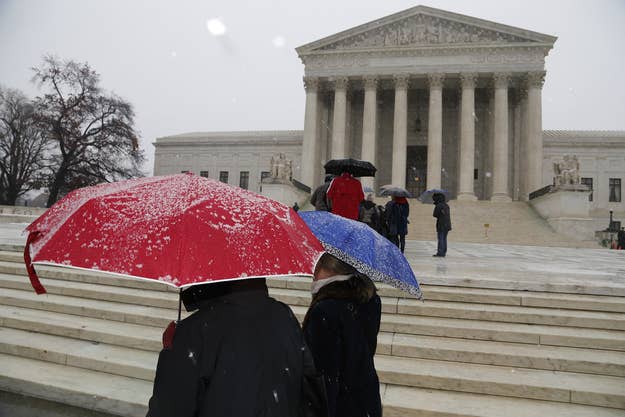 WASHINGTON — The Justice Department and a group of nuns filed dueling papers with Justice Sonia Sotomayor on Friday, arguing over whether a provision in the exemption to the contraception mandate of the Affordable Care Act violates the nuns' religious liberty.
The filings followed Sotomayor's move on New Year's Eve to keep the provision — which would require the nuns and others seeking an exemption from the law to submit a form in order to utilize the exemption from the mandate — from going into effect temporarily.
On Friday morning, the Justice Department described the case as follows:
The employer-applicants contend that self-certifying their eligibility for the accommodation would 'authorize' or 'facilitate' the third-party administrator-applicant's provision of contraceptive coverage. On this basis, applicants claim that the regulations violate the Religious Freedom Restoration Act of 1993 (RFRA), which provides that the government shall not substantially burden a person's exercise of religion unless the application of that burden is the least restrictive means to advance a compelling governmental interest.
The Justice Department argued, however, "[A]s this case comes to the Court, it is not about the availability or adequacy of a religious accommodation, but rather about whether a religious objector can invoke RFRA to justify its refusal to sign a self-certification that secures the very religion-based exemption the objector seeks."
The Little Sisters of the Poor Home for the Aged in Denver and others responded later Friday, writing that Obama administration is "simply blind to the religious exercise at issue: the Little Sisters and other Applicants cannot execute the form because they cannot deputize a third party to sin on their behalf."
Although the request is for Sotomayor to keep an injunction in place while the case proceeds in lower courts, the nuns' group also told the court it should consider hearing the case itself before lower courts consider it. Because the case "is playing out in dozens of courts across the country," they write, "Allowing this to run its course without this Court's supervision means some religious organizations will be forced into either hypocrisy or financial ruin, while others are protected."
Sotomayor could decide the request on her own or refer it to the entire court for consideration.
Read the Justice Department's response:
Download PDF
Read the nuns' reply:
Download PDF