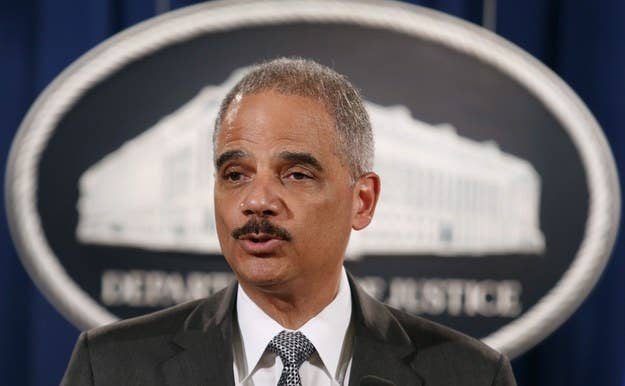 Attorney General Eric Holder announced that the Justice Department's position going forward in litigation will be that discrimination against transgender people is covered under the sex discrimination prohibition in Title VII of the Civil Rights Act of 1964.
The decision is a reversal of the department's prior position on the matter.
"This important shift will ensure that the protections of the Civil Rights Act of 1964 are extended to those who suffer discrimination based on gender identity, including transgender status," Holder said in a statement. "This will help to foster fair and consistent treatment for all claimants. And it reaffirms the Justice Department's commitment to protecting the civil rights of all Americans."
In the memorandum, which was sent on Thursday to all component heads and U.S. Attorneys, Holder laid out the department's history on the question of whether transgender claims should be found to be covered under Title VII. Specifically, he details the department's opposition to such claims as recently as 2006.
However, Holder notes, the trial court in which the claim was raised disagreed with the department, instead finding in favor of Diane Schroer's claim that anti-transgender discrimination violates Title VII's sex discrimination ban. Subsequently, in a 2012 claim brought by Mia Macy, the Equal Employment Opportunity Commission reached a similar conclusion.
Now, Holder wrote, "the Department will no longer assert that Title VII's prohibition against discrimination based on sex does not encompass gender identity per se (including transgender discrimination)."
The Justice Department already had stopped opposing such claims at least in certain instances involving federal employees bringing claims — such as Macy herself. Thursday's announcement clarifies that the interpretation applies department-wide, meaning that the Civil Rights Division of the Justice Department would, for example, be able to file Title VII claims against state and local public employers on behalf of transgender individuals claiming discrimination.
Holder notes that "[t]he application of Title VII to any given case will necessarily turn on the specific facts at hand." The aim of the memo, he wrote, is so "foster consistent treatment of claimants throughout the government, in furtherance of this Department's commitment to fair and impartial justice for all Americans."