A CNN reporter deleted a tweet on Thursday evening that included a picture of President-elect Donald Trump's meeting with Japan's prime minister — but not before several people noticed that it showed that Trump's daughter Ivanka was in the room.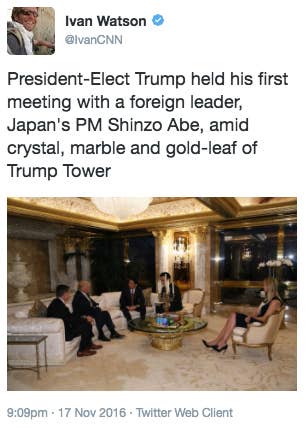 Reuters ran a report on the meeting that included another photo, showing both Ivanka and her husband, Jared Kushner, who is reportedly considering a role in the administration.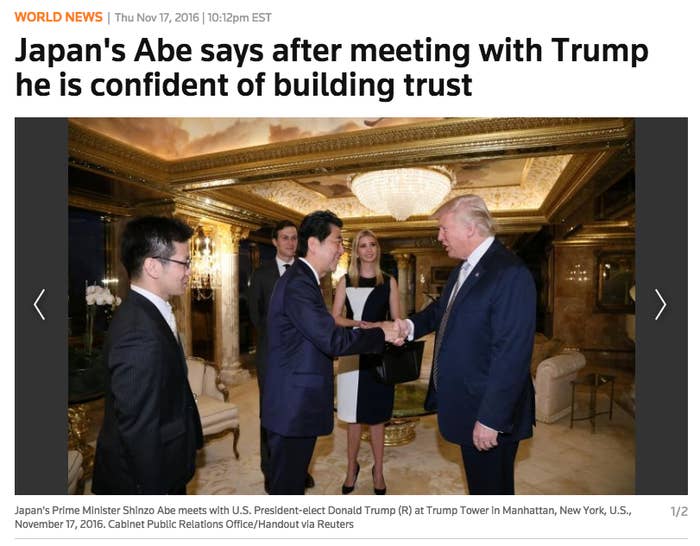 The Reuters story identifies the photos as being handout photos provided by the Japanese Cabinet Public Relations Office. The press pool reporters covering the president-elect were not allowed into the meeting, even at the beginning or end for photos or brief comments — as Watson, the CNN reporter, later noted — and no photos were provided by the Trump transition team.
A CNN source told BuzzFeed News that Watson's tweet was deleted after guidance went out to the entire network saying they would not use handout photos — like those provided by the Japanese government.
Because the transition had provided no "readout" of the meeting — a summary of what had gone on — and the press had not been allowed into the meeting, even for a few minutes, the Japanese handout photos were the first time it was made public that Ivanka Trump apparently was sitting in on at least part of the meeting. Retired Lt. Gen. Michael Flynn, reportedly offered the role of Trump's national security adviser, also appears in the photo Watson had posted.
Ivanka Trump's presence is notable because it remains unclear how the president-elect plans to deal with his business interests as president. He has, in the past, said that Ivanka — along with his other children — would be running the business in what he called a "blind trust" while he is in office. (Ethics lawyers from both parties have criticized the prospect, saying it would not be a blind trust.)
Abe is the prime minister of the world's third largest economy.
A Trump transition spokesperson did not immediately respond to a request for comment about the photos or about whether Ivanka Trump has been in the room for other meetings and phone calls with world leaders or potential cabinet officers.