Indiana, Wisconsin Officials Take Marriage Cases To Supreme Court
In two petitions filed Tuesday, attorneys general of both Indiana and Wisconsin asked the justices to hear their respective cases in defense of each state's marriage ban. [Update: Same-sex couples fighting both states' bans agree, filed same-day briefs urging court to take up appeal of their respective cases.]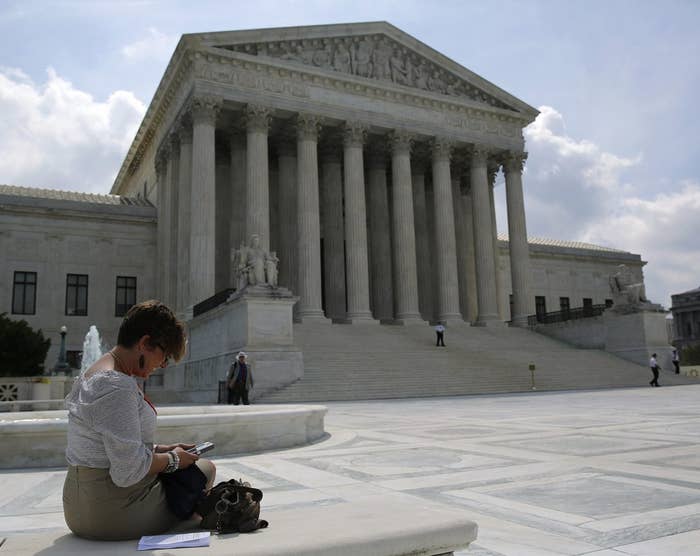 WASHINGTON — Officials in Indiana and Wisconsin on Tuesday asked the Supreme Court to hear their respective state's appeal in defense of each state's ban on same-sex couples' marriages.
The petitions are the sixth and seventh petitions seeking a writ of certiorari, which is the technical way the Supreme Court announces that it is taking a case.
Indiana presents a somewhat different case in practical terms — although it has not, thus far, made a difference in the legal analysis — in that the state has no constitutional ban on such marriages. It only has a state law banning them.
In the earlier petitions filed regarding Oklahoma, Utah, and Virginia's bans, as well as is the case in Wisconsin, the states have a constitutional amendment banning such marriages, along with any statutory ban. In Virginia, there have been three petitions filed, one from Attorney General Mark Herring, who has argued that the ban is unconstitutional, and two others from clerks defending the ban.
Another interesting facet of the marriage cases making their way to the Supreme Court is that the same-sex couples — all of whom thus far have won their case at the appellate level — are agreeing with the state and local officials that the justices should take the cases. All four sets of plaintiffs in the Oklahoma, Utah, and Virginia cases have filed responses asking the justice to hear their respective case.
With Tuesday's filings, that trend is expected to continue. In its news release about Indiana Attorney General Gregory Zoeller's filing, Lambda Legal announced that "within hours" it will be filing a response supporting Supreme Court review of the case.
The justices will be returning from their summer recess for their first conference of the new term that starts in October later this month. They don't have to act on the petitions immediately. Back in 2012, the court waited until December to announce that it would be hearing Edie Windsor's challenge to the Defense of Marriage Act and the case challenging California's Proposition 8.
Nonetheless, eyes will be on the Supreme Court as state and local officials, judges across the country, same-sex couples, and others await the justices' word on the fate of the many marriage cases making their way to One First Street, the address of the Supreme Court.
In a sign of the urgency with which the LGBT organizations are approaching these cases, same-sex couple plaintiffs wishing to marry or having their marriage recognized already have responded to the two states' petitions.
Lambda Legal and the ACLU, representing the couples in the Indiana case, responded to Indiana's certiorari petition, stating that the same-sex couples they represent "agree that the Court should grant review in this case because the issue is of fundamental importance to [the couples] and the country as a whole."
The ACLU, representing the couples in the Wisconsin case, responded to Wisconsin's petition on Tuesday as well.
Download PDF
Download PDF