How The WWII Internment Camps Actually Happened
The program, found to be legal at the time, was later called a "national mistake." It began with an executive order issued by President Franklin D. Roosevelt on Feb. 19, 1942.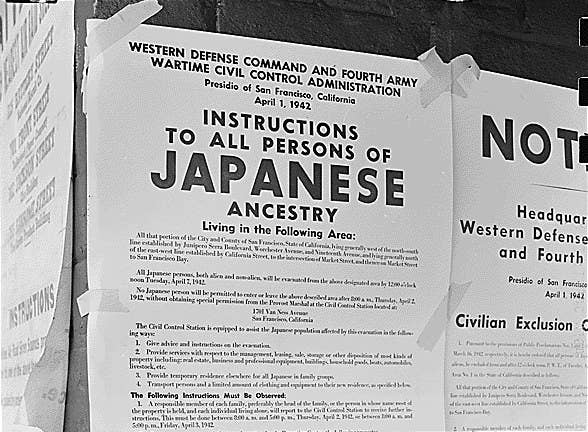 In the wake of the Nov. 13, 2015, terror attacks in Paris, France, that left 130 dead, American politicians — mostly, but not exclusively, Republican, began questioning the refugee resettlement program in America.
The mayor of Roanoke, Virginia, cited the internment camps established by the federal government during World War II — as a good thing — in a statement on Nov. 18, 2015, that called for stopping the relocation of Syrian refugees following terror attacks.
"I'm reminded that President Franklin D. Roosevelt felt compelled to sequester Japanese foreign nationals after the bombing of Pearl Harbor," Mayor David A. Bowers, a Democrat, wrote, "and it appears that the threat of harm to America from Isis [sic] now is just as real and serious as that from our enemies then."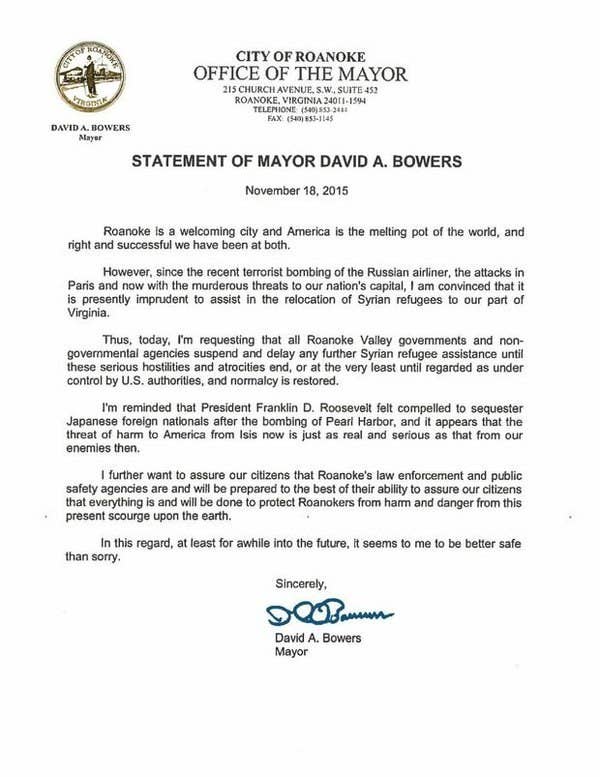 ---
Two months after the Japanese bombing of Pearl Harbor on Dec. 7, 1941, President Roosevelt did, in fact, authorize military officials to exclude individuals from certain areas, as determined by the military officials.
Under Executive Order 9066, issued on Feb. 19, 1942, the military officials also were granted the authority "to take such other steps as he ... may deem advisable to enforce compliance" with the exclusions.
Here's President Roosevelt's executive order that allowed for the internment camps: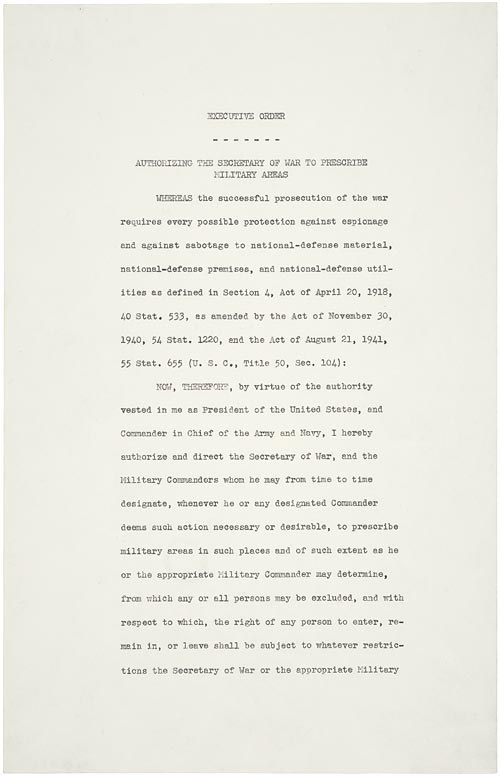 The full text of the executive order:
Executive Order No. 9066

The President

Executive Order

Authorizing the Secretary of War to Prescribe Military Areas

Whereas the successful prosecution of the war requires every possible protection against espionage and against sabotage to national-defense material, national-defense premises, and national-defense utilities as defined in Section 4, Act of April 20, 1918, 40 Stat. 533, as amended by the Act of November 30, 1940, 54 Stat. 1220, and the Act of August 21, 1941, 55 Stat. 655 (U.S.C., Title 50, Sec. 104);

Now, therefore, by virtue of the authority vested in me as President of the United States, and Commander in Chief of the Army and Navy, I hereby authorize and direct the Secretary of War, and the Military Commanders whom he may from time to time designate, whenever he or any designated Commander deems such action necessary or desirable, to prescribe military areas in such places and of such extent as he or the appropriate Military Commander may determine, from which any or all persons may be excluded, and with respect to which, the right of any person to enter, remain in, or leave shall be subject to whatever restrictions the Secretary of War or the appropriate Military Commander may impose in his discretion. The Secretary of War is hereby authorized to provide for residents of any such area who are excluded therefrom, such transportation, food, shelter, and other accommodations as may be necessary, in the judgment of the Secretary of War or the said Military Commander, and until other arrangements are made, to accomplish the purpose of this order. The designation of military areas in any region or locality shall supersede designations of prohibited and restricted areas by the Attorney General under the Proclamations of December 7 and 8, 1941, and shall supersede the responsibility and authority of the Attorney General under the said Proclamations in respect of such prohibited and restricted areas.

I hereby further authorize and direct the Secretary of War and the said Military Commanders to take such other steps as he or the appropriate Military Commander may deem advisable to enforce compliance with the restrictions applicable to each Military area hereinabove authorized to be designated, including the use of Federal troops and other Federal Agencies, with authority to accept assistance of state and local agencies.

I hereby further authorize and direct all Executive Departments, independent establishments and other Federal Agencies, to assist the Secretary of War or the said Military Commanders in carrying out this Executive Order, including the furnishing of medical aid, hospitalization, food, clothing, transportation, use of land, shelter, and other supplies, equipment, utilities, facilities, and services.

This order shall not be construed as modifying or limiting in any way the authority heretofore granted under Executive Order No. 8972, dated December 12, 1941, nor shall it be construed as limiting or modifying the duty and responsibility of the Federal Bureau of Investigation, with respect to the investigation of alleged acts of sabotage or the duty and responsibility of the Attorney General and the Department of Justice under the Proclamations of December 7 and 8, 1941, prescribing regulations for the conduct and control of alien enemies, except as such duty and responsibility is superseded by the designation of military areas hereunder.

Franklin D. Roosevelt

The White House,

February 19, 1942.
A month later, Congress backed up Roosevelt, passing a law that made it a jailable misdemeanor offense to disregard an order to leave an area designated under such an executive order.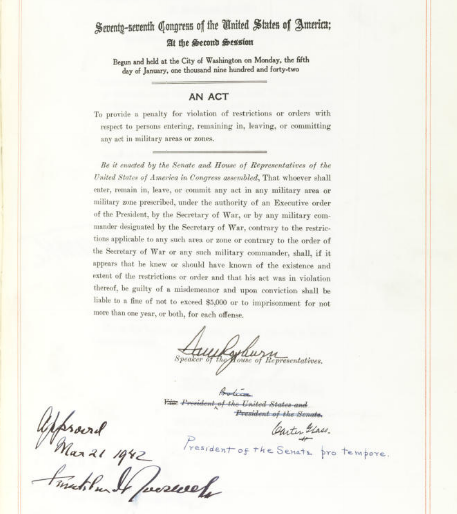 Three days later, on March 24, 1942, the first of several military orders was issued — implementing the forced relocation of "all persons of Japanese ancestry" from much of the West Coast.

The first — Civilian Exclusion Order No. 1 — affected those on Bainbridge Island in Washington state: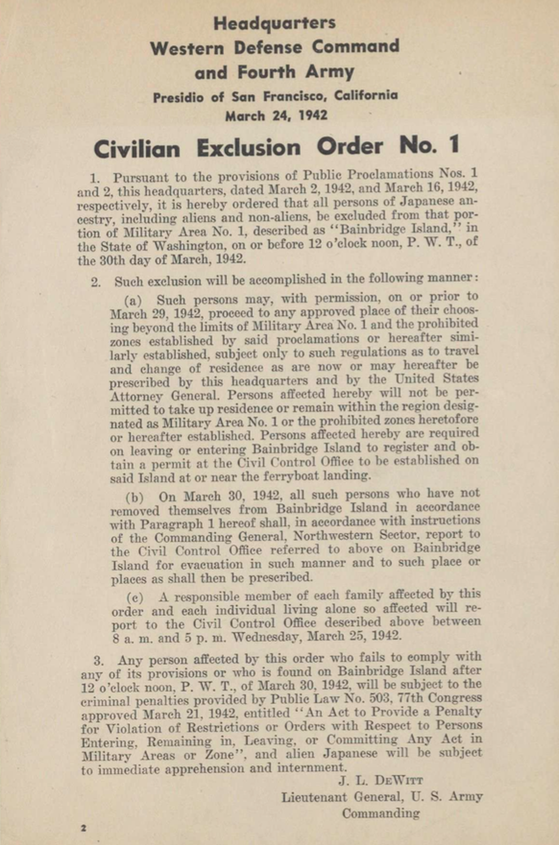 In May, this posted notice followed Civilian Exclusion Order No. 34, which implemented a later relocation from areas of northern California: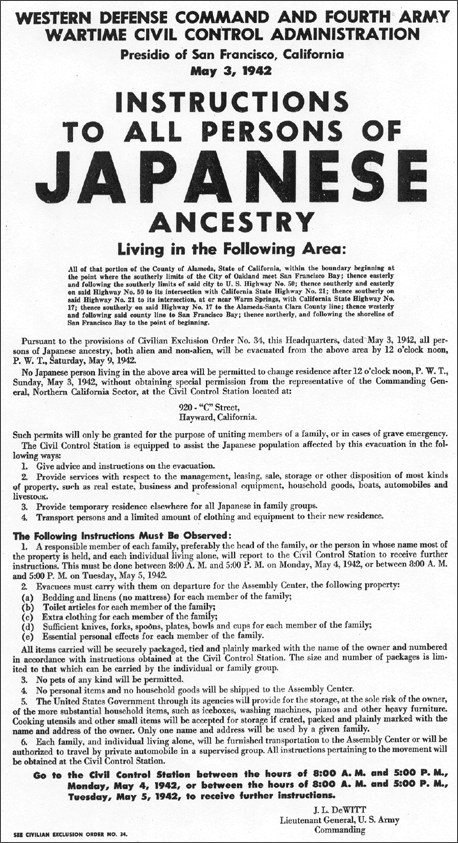 In all, 10 "relocation centers" — internment camps — were set up: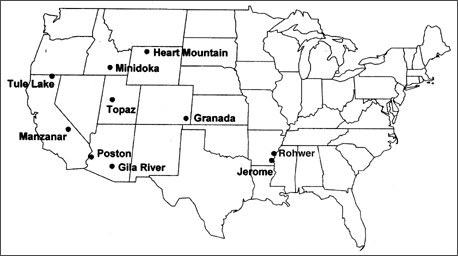 Here is an archival photo of people arriving at one of the camps: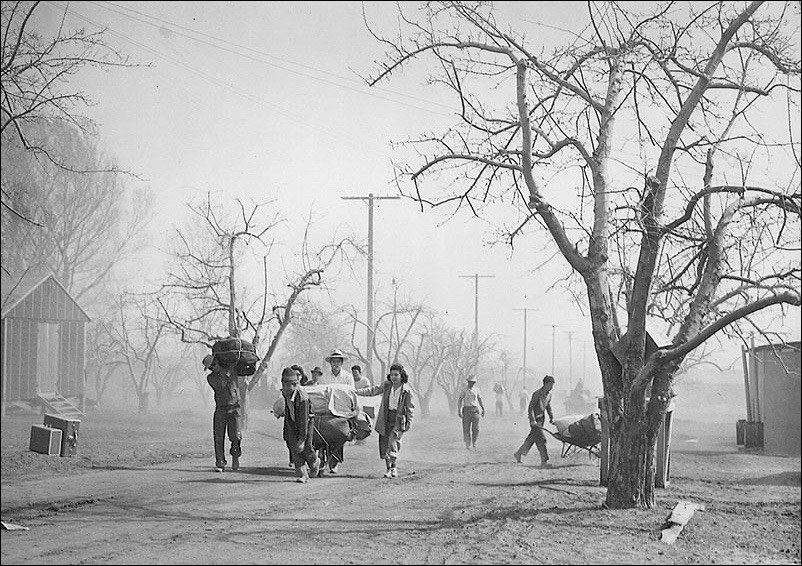 The rapid pace at which all of this happened, according to the government's own later-issued report, Personal Justice Denied, meant that the camps weren't even ready for those arriving: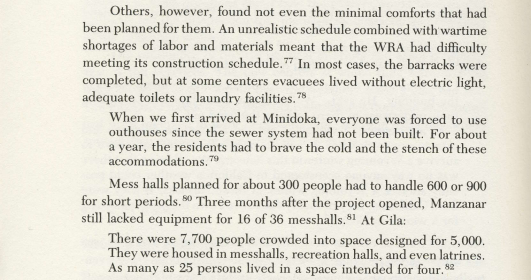 As Personal Justice Denied details, conditions, even by the government's own acknowledgement, could be poor. Just one, of countless examples:

---
Fred Korematsu — who lived within the area covered by Civilian Exclusion Order No. 34 — attempted to avoid going to the camps. On June 12, 1942, he was charged with violating the congressional law backing Roosevelt, a charge he fought with support from the ACLU of Northern California.

Two-and-a-half years later, Korematsu's conviction was upheld by the U.S. Supreme Court on a 6-3 vote.
Justice Hugo Black wrote the decision for the court, asserting, "But hardships are part of war, and war is an aggregation of hardships. All citizens alike, both in and out of uniform, feel the impact of war in greater or lesser measure."

Justice Frank Murphy, one of three dissenting justices, called out the policy as unconstitutional racism.

---
Roosevelt announced the exclusion would be ending at the close of 1944, on Dec. 17, 1944, and the last camp was closed in 1945. For those who returned home, the return was often troubling, and some faced violence. In Personal Justice Denied, it details the return: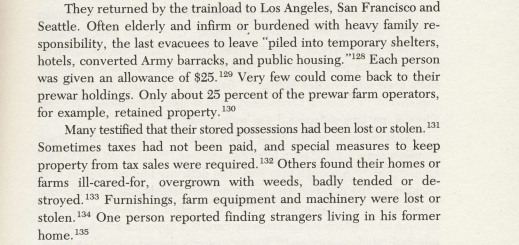 More than 30 years later, in 1976, President Gerald Ford issued a proclamation declaring internment to be one of "our national mistakes," and formally "terminat[ing]" the authority of Executive Order 9066. Issued on the anniversary of Roosevelt's executive order, Ford noted that "Over one hundred thousand persons of Japanese ancestry were removed from their homes, detained in special camps, and eventually relocated," under the order. In detailing this, Ford proclaimed, "Learning from our mistakes is not pleasant, but as a great philosopher once admonished, we must do so if we want to avoid repeating them."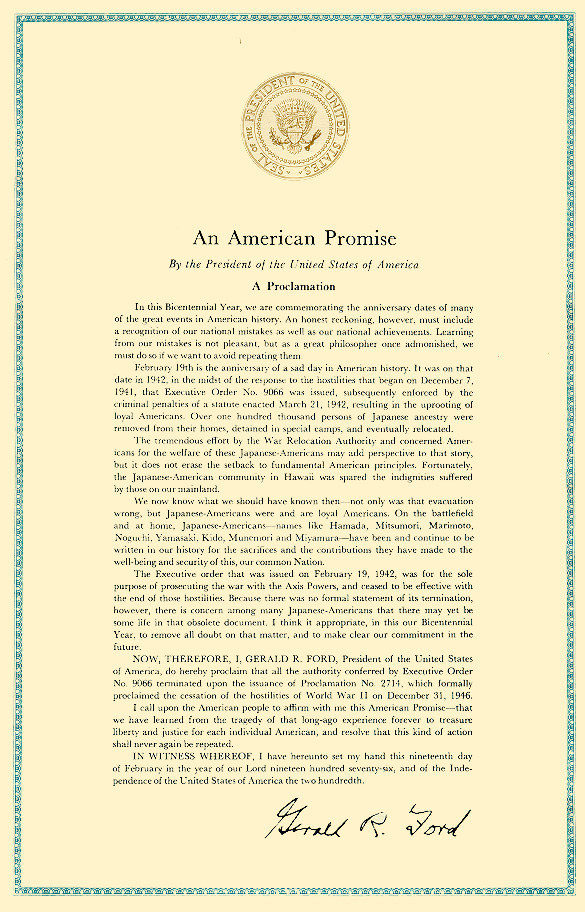 It would not be until Ronald Reagan was president that a formal government apology was issued. Reagan signed the Civil Liberties Act of 1988 into law on August 10, 1988, formally apologizing and authorizing restitution to those who were sent to the camps during World War II.
---
Nearly 40 years after the Supreme Court ruled against him, Korematsu's conviction was tossed out in 1984. The move came after a scholar's Freedom of Information Act request revealed that, as U.S. District Court Judge Marilyn Hall Patel put it, "evidence was suppressed or destroyed in the proceedings that led to his conviction and its affirmance."

The documents showed that Justice Department officials had known that evidence — from the Navy, FBI, and Federal Communications Commission — about the policies was withheld in Korematsu's case, as well as in other key cases upholding the policies. The Solicitor General's Office has since acknowledged the error of its statements about the underlying facts of the policy.
Patel granted Korematsu's request to reopen his case because of the withheld evidence, vacating his conviction.
In her opinion, she wrote of the case's legacy, "Korematsu remains on the pages of our legal and political history. As a legal precedent it is now recognized as having very limited application. As historical precedent it stands as a constant caution that in times of war or declared military necessity our institutions must be vigilant in protecting constitutional guarantees. ... It stands as a caution that in times of international hostility and antagonisms our institutions, legislative, executive and judicial, must be prepared to exercise their authority to protect all citizens from the petty fears and prejudices that are so easily aroused."