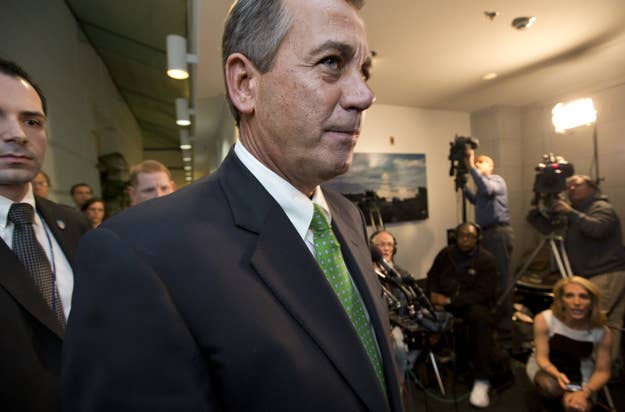 WASHINGTON — House Republican leaders supporting the Defense of Marriage Act moved this past week to make sure the constitutionality of the law is settled once and for all by the Supreme Court this year.
The Supreme Court's "review of DOMA's constitutionality," lawyers for House leaders wrote in a brief, is "a question all agree merits this Court's review and resolution" — even if the court decides the Obama administration's appeal of the case to the Supreme Court can't be heard.
The Supreme Court has raised the question of whether it can hear the administration's appeal of Edith Windsor's challenge to the 1996 law because the administration decided in February 2011 to stop defending the law in court. The House Bipartisan Legal Advisory Group (BLAG), controlled 3-2 by House Republican leaders, filed its own appeal this past week. If the court decides the administration's appeal cannot be heard, BLAG asked the court to continue hearing the case through its own appeal of the lower-court decision.
In accepting the administration's appeal of Windsor's case on Dec. 7 — called a petition for a writ of certiorari — the court suggested it could decide the administration's decision to oppose the law's constitutionality meant the court did not have the authority to hear the case. It has asked Harvard Law School professor Vicki Jackson to argue that the court lacks jurisdiction because of the move, a brief scheduled to be filed by Jan. 22. House Republican leaders state in the Dec. 28 petition that they, too, will be arguing that position.
BLAG, though, argues that even if the Obama administration can't bring the appeal, the court should continue to hear the case under the certiorari petition request it filed on Dec. 28. BLAG's Republican members — Speaker John Boehner, Majority Leader Eric Cantor and Majority Whip Kevin McCarthy — have been defending the law in court since the administration stopped defending it in 2011.
In addition to arguing that the administration's move deprives the court of jurisdiction to hear its appeal, however, Jackson also will be arguing to the court that BLAG lacks standing, a constitutional requirement that a party has a sufficient interest in a legal challenge to be a party in the case. If the court decides that neither petition can be considered, no final decision about DOMA's constitutionality will be reached with Windsor's case.
From the BLAG brief: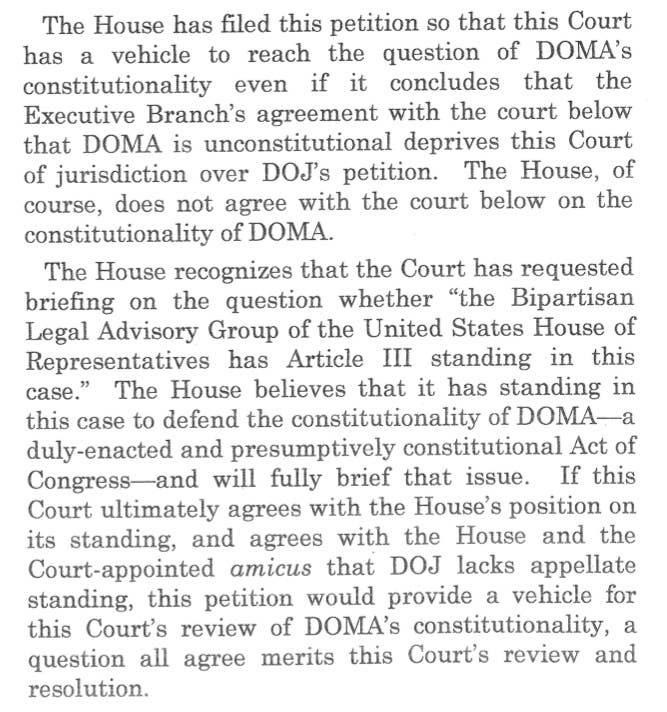 House Republican DOMA Case Petition