Hagel's "Gay Problems" Signal Changed Ground On LGBT Rights
Opposition to Chuck Hagel because of anti-LGBT positions he took in the past is the way things work now. And Republicans know it.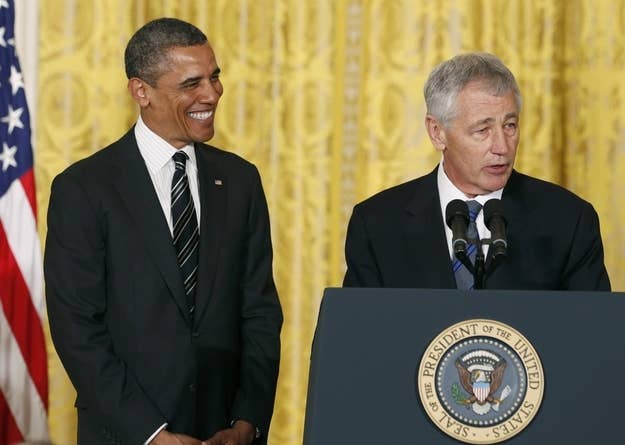 WASHINGTON — Republican opposition to a Democratic president's nominee based on criticism of the nominee's anti-LGBT record is unprecedented — and says as much about the dramatic gains made by advocates in recent years as it does about the complex position the Republican party finds itself in on LGBT issues at the start of 2013.
A portion of the opposition to Monday's nomination of former Sen. Chuck Hagel to serve as secretary of defense is based on his past opposition to LGBT equality issues — including his opposition to Clinton nominee James Hormel in 1998 for being "aggressively gay" and his support in 1999 for the military's "Don't Ask, Don't Tell" policy.
The Republican use of anti-LGBT views to tarnish a Democratic administration's nominee reveals something that many Republican leaders have begun to say in private: Active support for LGBT rights is on the verge of becoming a default, mainstream position — even if the Republican Party hasn't (yet) arrived there.
And LGBT conservatives are taking full advantage of the issue. The Log Cabin Republicans — a group representing LGBT Republicans that endorsed Mitt Romney's presidential run — have now run full-page advertisements in The New York Times (in late December) and The Washington Post (Monday). The group criticized Hagel for his position on Hormel's nomination (in late December) and called his apology for the comments about Hormel "too little, too late" (Monday).
On January 1, amid rumors that Obama was nearing a decision to nominate Hagel, Jamie Kirchick, a young neoconservative writer — who also happens to be gay — wrote a piece in the New York Daily News calling Hagel's "views on gay people ... disturbingly retrograde."
Although the direct criticism has come from groups like Log Cabin and people like Kirchick — along with the more activist LGBT groups on the left like the National Gay & Lesbian Task Force and Get Equal — the broader conservative campaign against Hagel has included criticism of Hagel's record on LGBT issues.
It's a situation that has produced some unlikely alliances. Over the weekend, for instance, Matt Drudge, who often sets the tone for conservative media, highlighted Get Equal's opposition with the lead image on his site.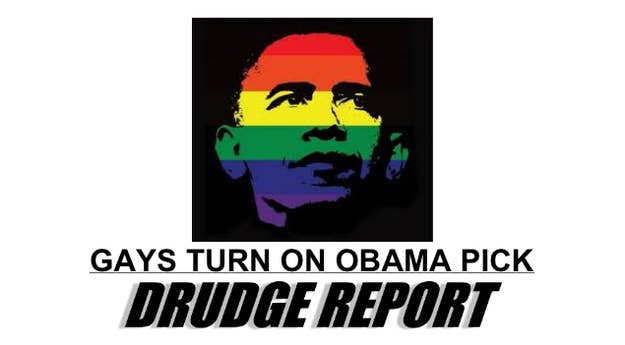 Changed public opinion on LGBT issues is allowing the Republican party — many of whose leaders oppose Hagel over his views on Iraq, Iran, or Israel — to use others' criticism of Hagel's anti-gay comments to aid in their effort against him. All of this, remarkably, is happening in an environment in which Republican Party leaders are still totally unsettled as to how to deal with the changing landscape on LGBT issues themselves.
And as Hagel's nomination progresses, watching how Hagel's past (and current) views on LGBT issues are used by Republicans opposing or questioning his nomination will offer a glimpse of where the GOP is headed as its leaders make legislative choices around those same issues. (The White House, eager to defend Hagel's current LGBT views, is not immune from this new dynamic, as a blog post by Obama adviser Valerie Jarrett on Monday showed.) Although the Republicans who oppose Hagel are, in a simple sense, attempting to compose a broad coalition to defeat a nomination, they are attempting to compose a winning coalition — one which, for perhaps the first time, appears to include support for LGBT rights.