Groups Seek LGBT Protections In Federal Government Profiling Policy Changes
"[T]he harms of ineffective and un-American profiling are of clear concern and importance to the LGBT community," more than two dozen groups tell Attorney General Eric Holder. A BuzzFeed News exclusive.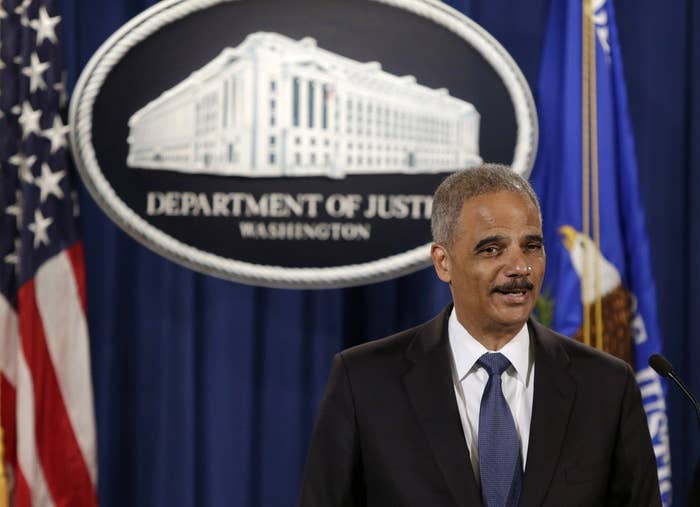 WASHINGTON — The Justice Department's long-anticipated new policy for law enforcement's use of racial and other profiling should include LGBT people within its protections, more than two dozen LGBT advocacy groups wrote to Attorney General Eric Holder on Tuesday.
More than that, though, the groups also told Holder, the new policy should apply to any law enforcement agencies that get federal funding.
"Given the reality that most profiling and targeting of individuals on the basis of their actual or perceived sexual orientation or gender identity/expression occurs by state and local agencies, not including this aspect in the guidance would be a significant omission," they write in the letter, which was provided exclusively to BuzzFeed News.
They add their support, as well, for those "urging the Department to close the border and national security loopholes in the existing profiling guidance, extending it to cover surveillance activities, and making the rules enforceable."
On Sept. 26, the Los Angeles Times reported that sources at the Justice Department said the "broad new policy [...] banning religious and other forms of profiling by federal law enforcement officers" was expected "in the coming two to three weeks." A department spokesperson did not respond Tuesday afternoon to a request for any update on the status of the policy.
In Tuesday's letter, the groups, which include national organizations like the ACLU and Human Rights Campaign and state LGBT organizations, highlight the case of Monica Jones, a transgender woman of color who is a college student in Arizona and was arrested in 2013 because a police officer believed her clothes and location "suggested to him" that she was "manifesting intent to engage in prostitution."
Calling the underlying law "unconstitutionally vague and overbroad," several of the groups signing on to the letter have weighed in to support Jones in her appeal. The groups use Jones' case to note the history of "unlawful sting operations targeting gay and bisexual men and profiling of transgender women as sex workers," concluding that "the harms of ineffective and un-American profiling are of clear concern and importance to the LGBT community."
The full list of signatories:
American Civil Liberties Union, Basic Rights Oregon, Equality California, Equality Federation, Equality New Mexico, Equality North Carolina, Equality Ohio, Equality South Dakota, Family Equality Council, Fair Wisconsin, Fairness Campaign, Gay & Lesbian Advocates & Defenders, Human Rights Campaign, Immigration Equality, Lambda Legal, MassEquality, National Black Justice Coalition, National Center for Lesbian Rights, National Center for Transgender Equality, National Coalition of Anti-Violence Programs, National LGBTQ Task Force, National Queer Asian Pacific Islander Alliance (NQAPIA), New York Association for Gender Rights Advocacy (NYAGRA) PFLAG National, PROMO (Missouri), Services and Advocacy for GLBT Elders (SAGE), The Equity Project, Transgender Law Center, and Trans People of Color Coalition