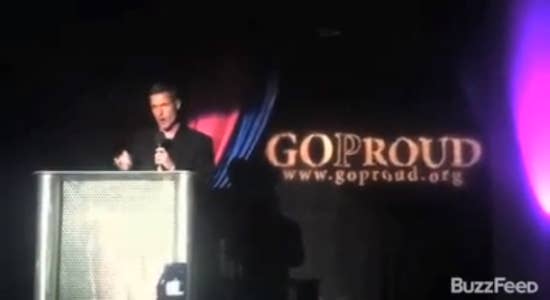 WASHINGTON — The co-founder of GOProud, Chris Barron, resigned from the board of the organization on Wednesday night, saying that new leadership made an "unconditional surrender" to the leadership of the American Conservative Union's CPAC conference.
The move came less than a day after the National Journal announced that "CPAC Welcomes Gay-Rights Groups After Years of Exclusion."
Such a change would be a victory for Barron and the group's co-founder Jimmy LaSalvia as the organization had been barred from sponsoring the event for the past two years, following a fallout between Barron and senior leadership and backers of CPAC and the ACU.
Barron, though, said no such change had happened.
"Last night I resigned from the Board of GOProud, the organization that I co-founded back in April of 2009. I cannot in good conscience sit by and watch as the current leadership of the organization disingenuously pawns off an unconditional surrender to the forces of bigotry as some sort of 'compromise,'" Barron told BuzzFeed. "Nothing has changed in regards to GOProud and CPAC, GOProud does not have a booth, they are not a sponsor, they are not participating in any formal sense — individual members can attend and that's exactly the terms ACU dictated the previous few years."
In fact, the National Journal states as much, noting, "Two former GOProud summer interns, Ross Hemminger and Matt Bechstein, took over last summer and sought to repair the bitterly frayed relationship. Under a compromise reached last week, they will attend the March 6–8 gathering as guests, without sponsorship or a booth."
Barron was characteristically antagonistic about the development, although, in this case, to the organization he started to help get gay, lesbian, and bisexual people a voice in the conservative movement.
"There was a time when GOProud was on the front lines of the fight for a more inclusive conservative movement — we won some of those battles and we lost some of those battles, but we were always honest about the outcome. If the current leadership of GOProud, or what's left of it, believes that unconditional surrender to the forces of intolerance is in the best interest of the organization, than they should just be honest about it," he said.
Asked Wednesday whether the move represented a change at CPAC, Hemminger told Metro Weekly, "We are participating at the level we wanted to participate at. We have had a very respectful and mutually beneficial dialogue with the folks at CPAC for some time now, and we're excited about turning over a new leaf in our relationship with them, they have been wonderful to work with."
Earlier this year, LaSalvia left the Republican Party altogether, writing that "the tolerance of bigotry in the GOP" was one of the key reasons for his leaving. LaSalvia and Barron had stepped back from running the day-to-day operations of GOProud last year.