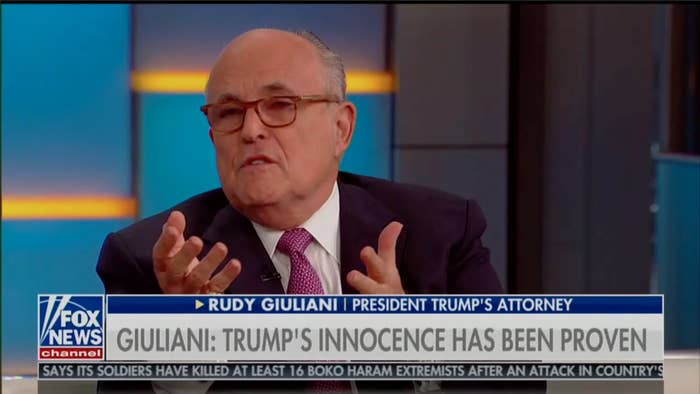 President Donald Trump's lead outside lawyer, Rudy Giuliani, on Monday morning appeared to acknowledge that Trump asked then–FBI director James Comey to cut short any investigation into Trump's recently resigned national security adviser Michael Flynn.
Of Trump's comments to Comey about Flynn, Giuliani said on Fox & Friends, "He asked him to exercise his prosecutorial discretion because he was a good man with a great war record."
Specifically, Giuliani said, "He had a right to say to Comey, 'Give Flynn a break.'"
While Giuliani asserted that "there was no investigation at the time," he went on to detail how, as a former prosecutor, he would be asked to "take the man's whole life into consideration" in a given potential case and "either go easy on him, or maybe this one can you pass on," suggesting that's what Trump was asking Comey to consider regarding Flynn.
Trump has denied, in a December 2017 tweet, that he asked Comey "to stop investigating Flynn."
After publication, Giuliani spoke with BuzzFeed News, saying that his morning comments were not backing off from Trump's previous denials.
"I said that is what Comey is saying," Giuliani said. "The president has denied it. I can't admit it for the president if he's denied it. Numerous times, I've said the president denied it."

When told that his comments on Fox News contained no reference to them being based on Comey's claims, Giuliani said, "It's one part of a five-part argument. I didn't make all five parts at once."
Earlier in the discussion with BuzzFeed News, Giuliani said there were three points underlying the argument that Trump's actions aren't obstruction: a constitutional argument that Trump can't face obstruction charges for actions taken as president, the argument Giuliani made on Fox News that a person can ask a would-be prosecutor to "give the guy a break" without obstructing justice, and an argument that his actions wouldn't meet the statutory definition of obstruction of justice.
Comey previously discussed a Feb. 14, 2017, Oval Office encounter that he said he had with Trump regarding Flynn.
In a memo detailing the encounter, in which Trump asked to speak with Comey alone, Comey wrote, "He began by saying he wanted to 'talk about Mike Flynn.' He then said that although Flynn 'hadn't done anything wrong' in his call with the Russians (a point he made at least two more times in the conversation), he had to let him go because he misled the Vice President, whom he described as 'a good guy.'"
Comey wrote that Trump later returned to the topic of Flynn: "He said, 'I hope you can see your way clear to letting this go, to letting Flynn go. He is a good guy. I hope you can let this go.' I replied by saying, 'I agree he is a good guy,' but said no more."
When news of the memo became public in the New York Times, the White House denied Comey's account.
"While the president has repeatedly expressed his view that General Flynn is a decent man who served and protected our country, the president has never asked Mr. Comey or anyone else to end any investigation, including any investigation involving General Flynn," according to the statement. "The president has the utmost respect for our law enforcement agencies, and all investigations. This is not a truthful or accurate portrayal of the conversation between the president and Mr. Comey."
As of a January 2018 memo sent to special counsel Robert Mueller from then–Trump lawyer John Dowd, this remained the position of Trump's lawyers, who reprinted the statement.

In Comey's June 2017 testimony before the Senate Intelligence Committee, he was asked about Trump's language and Comey said he "took it as a direction."
Pressed by Sen. Jim Risch of Idaho, who said that "hoping" for something is not a directive, Comey explained, "It is the president of the United States, with me alone, saying, 'I hope this,' I took it as This is what he wants me to do. I didn't obey that."
The conversation is one of several actions Trump has taken that are under investigation by Mueller as potential evidence that Trump has attempted to obstruct the FBI and the special counsel's investigation into Russia's role in attempting to influence the 2016 presidential election.
In the January 2018 memo sent to Mueller by Trump's lawyers, Dowd, who has since left Trump's legal team, laid out a broad argument against an obstruction charge — regardless of what Trump did — asserting that Trump couldn't face an obstruction charge "because that would amount to him obstructing himself, and that he could, if he wished, terminate the inquiry, or even exercise his power to pardon if he so desired."
Giuliani's full comments on obstruction:

The obstruction thing is crazy. He had a right to fire Comey. That's what it is all about. He had a right to say to Comey, "Give Flynn a break." There was no investigation at the time. Not only that, he didn't tell him, "Don't investigate him, don't prosecute him.: He asked him to exercise his prosecutorial discretion because he was a good man with a great war record. I've been asked that, as a prosecutor, many times: Take the man's whole life into consideration. Either go easy on him, or maybe this one can you pass on. And you do sometimes and you don't.
Giuliani previously has suggested he is less open to Mueller asking Trump about obstruction-related questions in any potential voluntary interview — if Trump even decides he is willing to sit for one at all.
On Monday, asked about that, Giuliani said, "We haven't heard an obstruction question that we think isn't an attempt to create a perjury question, but if they had one, we would consider it. Or if they could convince us that that wasn't the reason."
As for the status of the potential interview itself, the possibility of which Giuliani has been teasing practically since he started representing Trump in May, Giuliani didn't have much to update on Monday.
"We have an offer to [Mueller] — by now, like, the fifth offer back and forth, so you'd have to call it a counter-counter-counteroffer. And, where it stands is, they haven't replied to it and it's been there about 10 days," he said. "Despite the fact that we're getting more and more convinced that maybe he shouldn't do it, we still have that offer outstanding, and in good faith, if they came back and accepted it, or if they came back and modified it in a way that we can accept, we would consider it."
UPDATE
This has been updated with comments from Rudy Giuliani.