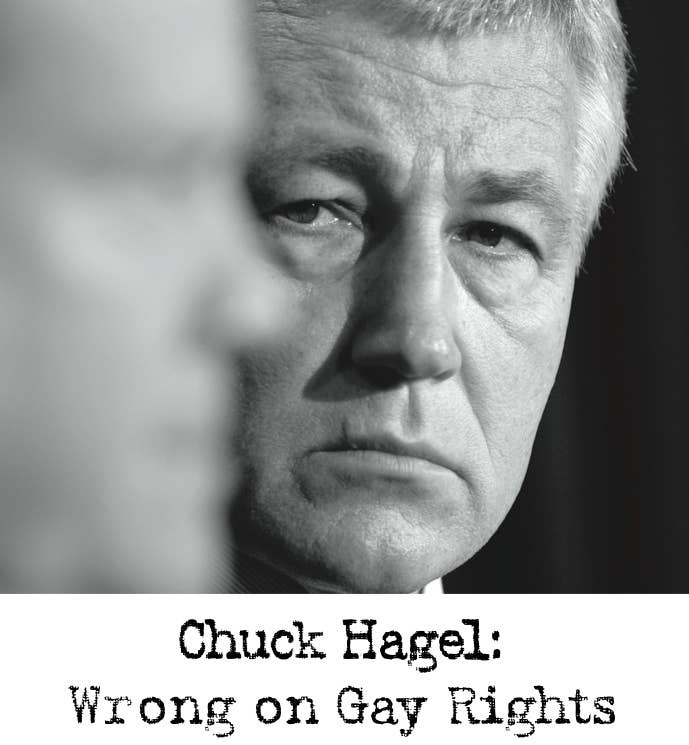 WASHINGTON — The Log Cabin Republicans — a national group for LGBT Republicans — said it hasn't accepted the apology of former Senator Chuck Hagel for opposing a Clinton administration nominee for being "openly, aggressively gay."
The group bought an ad in The New York Times Thursday painting the potential Defense Secretary nominee as "wrong" on "gay rights," Israel, and Iran.
The group's evidence of Hagel's record on LGBT issues is a quote from 1998 opposing the nomination of James Hormel, a comment Hagel, himself a Republican, apologized for this past week.
Log Cabin's leader, R. Clarke Cooper, acknowledged that the apology is not referenced in the ad and that "[l]awmakers can and do change position ... for the better on the LGBT equality portfolio." He told BuzzFeed, however, that his group "question[s] the sincerity" of Hagel's apology.
The ad comes just months after Log Cabin Republicans endorsed Mitt Romney for president, despite Romney's support for a Federal Marriage Amendment to ban same-sex couples from marrying. Hagel voted against the amendment as a senator in 2006.
Quoting Hagel's 1998 comments about Hormel, then a nominee for ambassador to Luxembourg, the ad states that "Chuck Hagel's Words" are: "They are representing America [as ambassador]. They are representing our lifestyle, our values, our standards. And I think it is an inhibiting factor to be gay — openly, aggressively gay ..."
The comments, made to the Omaha World-Herald while Hormel's nomination was being considered by the Senate, circulated on Dec. 20. The next day, however, Hagel issued a statement apologizing for the comments and saying that they are not his current views.
Hagel called the comments "insensitive" and said, "They do not reflect my views or the totality of my public record, and I apologize to Ambassador Hormel and any LGBT Americans who may question my commitment to their civil rights. I am fully supportive of 'open service' and committed to LGBT military families."
Asked about the ad's failure to mention that Hagel has said the comments are not his current view, Cooper, Log Cabin's executive director, said, "While he may have recently apologized for his anti-gay comments to save his possible nomination, Hagel cannot walk away from his consistent record against economic sanctions to try to change the behavior of the Islamist radical regime in Tehran.
"Lawmakers can and do change position as we have seen recently for the better on the LGBT equality portfolio," Cooper said, adding that the "issue with Hagel" goes beyond LGBT issues, "hence an ad encompassing his record on national security issues."
Referencing a statement by Hormel to The Washington Post that the apology appeared to come "only in service of his attempt to get the nomination," Cooper said "Log Cabin Republicans concur with Ambassador Hormel's original assessment of Chuck Hagel's current position on gay rights. We question the sincerity of it."