Four States' Same-Sex Marriage Bans Up In The Air After Three Hours Of Arguments
Cases challenging bans in Kentucky, Michigan, Ohio, and Tennessee likely will come down to Judge Jeffrey Sutton's vote. The 6th Circuit Court of Appeals, on which Sutton sits, heard the cases Wednesday.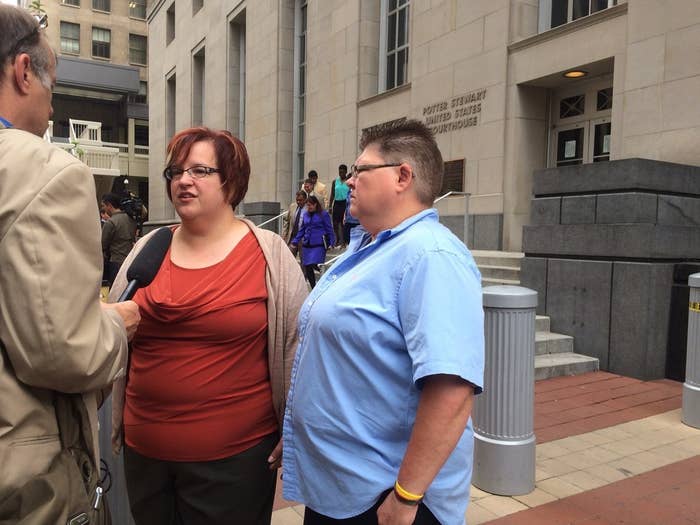 CINCINNATI — The fate of legal decisions about marriage for same-sex couples in four states likely rests, for now at least, in the hands of one federal judge.
The 6th Circuit Court of Appeals heard hours of oral arguments Wednesday about cases in four states — all concerned either bans on marriages for same-sex couples or the recognition of those marriages. And the question of whether the court will join the other federal courts to rule on those issues likely sits the hands of Judge Jeffrey Sutton.
Nominated to the bench by President George W. Bush in 2001, Sutton was a prominent lawyer for conservative causes before being confirmed to the bench in 2003 — but he also cast a pivotal vote siding with the Obama administration in a 2011 challenge to the Affordable Care Act.
Judge Martha Craig Daughtrey, nominated by President Clinton in 1993, sparred forcefully with the various lawyers defending the states' bans — asking repeatedly how claimed state interests relating to procreation were furthered by excluding same-sex couples from marriage. Judge Deborah Cook, another nominee of President George W. Bush on the other hand, spoke the least during the arguments but raised issues generally sympathetic to the states when she did join in the fray.
Sutton was left in the middle, speaking positively about same-sex couples but focusing primarily on three questions: one that was, effectively, a procedural question of "hierarchy" and whether the appeals court is bound by an earlier Supreme Court decision against same-sex couples' marriage rights and two that were, for the most part, policy issues that could play into his ultimate decision in the cases.
Although there are distinctions between the marriage claims raised in Michigan and Kentucky and the marriage recognition claims raised in Ohio and Tennessee, most parties agree that a marriage decision in favor of the plaintiffs would render a separate decision on the recognition claims unneeded. Most of the states' lawyers, moreover, argue that the same is true if the court decides against the marriage case plaintiffs — although lawyers for the Ohio and Tennessee couples maintain a separate decision in their favor could come even if the court rules against the broad marriage claim.
Sutton's first issue concerned a 1972 Supreme Court summary decision that dismissed a Minnesota same-sex couple's marriage claim "for want of a substantial federal question," meaning that the justices did not believe the couple could make a claim that they had a constitutional right to marry. The case, Baker v. Nelson, was discussed in the briefing for the Supreme Court case challenging California's Proposition 8, but the court did not have to address the issue because it dismissed the case on standing.
Sutton's first question to Carole Stanyar, representing a Michigan couple seeking to marry in the state, was to ask her whether the appeals court — since the Supreme Court has not specifically overruled Baker — is "stuck" with the decision that same-sex couples cannot bring a constitutional claim for equal marriage rights.
Although other courts have held since last year's Supreme Court decision that struck down part of the Defense of Marriage Act in United States v. Windsor that Baker is no longer controlling law, Sutton didn't sound convinced. He cited other Supreme Court cases where the court held that changed reasoning in a related line of cases is not enough to allow lower courts to ignore an earlier precedent that is directly on point.
If Sutton reaches the merits of the plaintiffs' claims, however, he suggested that he believed the states would lose if the court decided that some form of heightened scrutiny applied. This could happen either if the court were to decide that: (1) sexual-orientation claims are subjected to heightened scrutiny under equal protection, or (2) that the couple's claim was one of exclusion from marriage itself — an existing right protected as "fundamental" that would lead the bans to be examined under strict scrutiny, as opposed to a claim for a new right to same-sex marriage.
If the court finds no reason to view the bans under some form of heightened scrutiny, then the lowest level of scrutiny, "rational basis review," would apply. Then, the states only must show the bans have a "rational relationship" to a "legitimate state interest." Although state officials focused on procreation-related interests, Sutton's questioning mostly focused on allowing the democratic process to play out.
As a hypothetical, Sutton asked one point to imagine a world without marriage and then asked "why is [it] irrational" for the state to choose, as a first step, to have marriage only for opposite-sex couples, noting that the state might see this as a first step because of the fact that opposite-sex couples would be having children.
William Harbison, the lawyer representing the couples who married in New York and California and are suing because Tennessee won't recognize those marriages, replied that Tennessee isn't at step one because, after having marriage only for opposite-sex couples, it then chose affirmatively to pass laws that would ban recognition of same-sex couples' marriages.
Pushing the "democratic process" angle another way, Sutton asked several of the plaintiffs' lawyers why they wouldn't prefer to go about this by convincing people of the states, rather than, as he said, "five justices of the Supreme Court," to allow same-sex couples to marry.
Finally, Sutton asked multiple times throughout the argument about what implementing a ruling requiring marriage equality would entail. When Ohio Solicitor General Eric Murphy said it would "no doubt" require legislative changes, Daughtrey shot back, "Or forms being reprinted."
At the conclusion of the arguments, Sutton noted that the issue likely was headed to the Supreme Court and that, accordingly, the court would work to reach its decision quickly. He did not, however, give any sort of specific timeline for that decision.
In cases from Utah and Oklahoma out of the 10th Circuit Court of Appeals and Virginia out of the 4th Circuit Court of Appeals, judges in both circuits split 2-1 in deciding that such bans unconstitutionally infringe on the rights of same-sex couples to marry. Officials in all three states have said they will be asking the Supreme Court to review the cases, with Utah officials filing a certiorari petition on Tuesday and an Oklahoma clerk filing a petition Wednesday. Virginia officials are expected to do so on Friday.