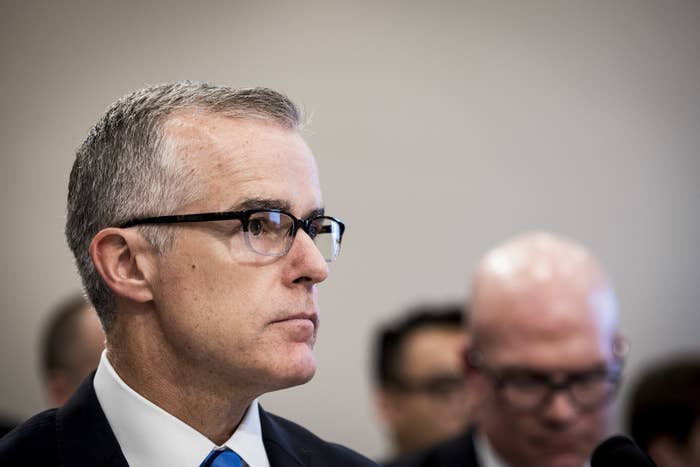 Andrew McCabe, the former second-in-command at the FBI, faces the possibility of being fired just days before his scheduled retirement, a source with knowledge of the circumstances confirmed to BuzzFeed News on Wednesday.
The Justice Department's inspector general has been looking into McCabe's actions as part of a broader investigation into the handling of the FBI's investigation into Hillary Clinton's use of a private email server while she was secretary of state.
Communications from the inspector general's office regarding McCabe prompted a disciplinary review from the Justice Department's Office of Professional Responsibility, which, in turn, recommended that McCabe be fired. The decision whether to accept that recommendation or reject it will be made by Attorney General Jeff Sessions. The New York Times first reported the possibility of McCabe's firing on Wednesday.
The decision could have dire ramifications for McCabe — whose pension could be at risk — as well as for the larger discussion of President Donald Trump's attempts to influence the actions of the Justice Department.
McCabe has been a particular target of Trump's tweet-rage over time, with Trump focused on the financial backing McCabe's wife received from Virginia Gov. Terry McAuliffe — a longtime ally of the Clintons — when she ran as a Democrat for state senate in Virginia.
At the time of her campaign, McCabe had no oversight of any Clinton investigation and recused himself from investigations relating to Virginia politics. After his wife's campaign was over — she lost — McCabe was promoted to the deputy director post, where he oversaw the Clinton investigation until a report about the contributions led him to recuse himself.

Trump went so far as to highlight McCabe's upcoming retirement eligibility at the end of 2017:
McCabe stepped down from his position at the end of January, although he remains on the department's payroll pending his scheduled retirement after 21 years with the department on Sunday. As BuzzFeed News reported at the time, McCabe is a "career employee" — not a political appointee, who can be removed at will — and had substantial job protection because of his high rank.
According to the Times report, the investigation into McCabe focuses on his "decision in 2016 to allow FBI officials to speak with reporters about an investigation into the Clinton Foundation."
The inspector general's office declined to comment.
"The Department follows a prescribed process by which an employee may be terminated," Justice Department spokesperson Sarah Isgur Flores said in a statement. "That process includes recommendations from career employees and no termination decision is final until the conclusion of that process. We have no personnel announcements at this time."
The source with knowledge of the situation made clear that the process has been ongoing and that the decision now rests with Sessions.