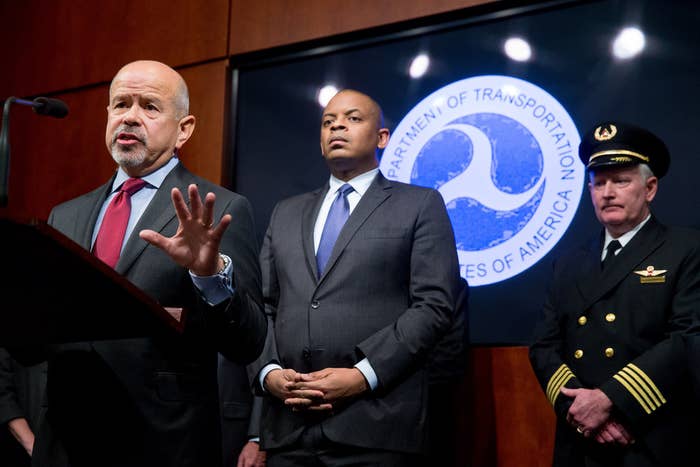 WASHINGTON — David Baldwin is asking a federal court to order the Obama administration to pay up for alleged anti-gay discrimination he claims to have faced while working for the Federal Aviation Administration in Miami.
Baldwin's lawyer told BuzzFeed News that the purpose of the lawsuit is much larger, though, aimed at expanding the scope of a recent agency ruling that found anti-gay discrimination is barred by existing civil rights laws.
"Mr. Baldwin's case has the ability to affect more people than the [Supreme] Court's Obergefell [marriage] case because there are more gay men and women who have jobs than same sex couples who want to get married," Baldwin's lawyer, Lowell Kuvin, told BuzzFeed News on Monday evening.

Baldwin — who alleges that he was passed over for promotions at the FAA's Miami Tower Terminal Radar Approach Control facility because he is gay — took his case to federal court this past week, following up on a ruling in his favor this summer from the Equal Employment Opportunity Commission that allowed his case to move forward.
Baldwin argued — and the EEOC agreed — that the ban on sex discrimination in Title VII of the Civil Rights Act of 1964 includes a ban on discrimination based on a person's sexual orientation.
"[A]llegations of discrimination on the basis of sexual orientation necessarily state a claim of discrimination on the basis of sex," the EEOC ruled in July in Baldwin's challenge. Baldwin then had 90 days to decide whether to take the case to federal trial court.

In the complaint, filed in federal court in Miami on Oct. 13, Baldwin sued Transportation Sec. Anthony Foxx and FAA administrator Michael Huerta in their official capacities. Baldwin claims that he "was not selected for a permanent position as a [Front Line Manager] at the Miami Tower facility" and that sex — specifically, the fact that he is gay — was the "motivating factor" for the fact that he was not promoted.
Baldwin alleges that he "was singled out due to his sexual orientation and treated differently than heterosexual co-workers by his supervisors due to inappropriate gender stereotyping," according to the complaint.
From Baldwin's complaint: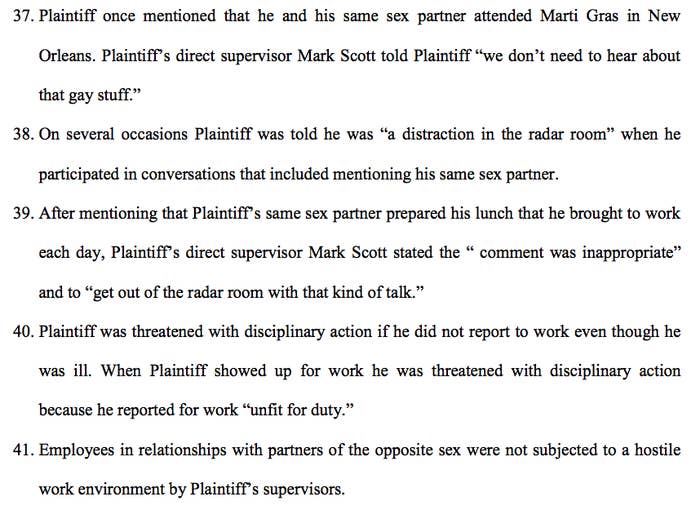 As legislative efforts to pass explicit LGBT protections have stalled in Congress, the argument that sexual orientation discrimination should be or is covered under existing civil rights laws has been advanced in recent years by some advocates and, this summer, by the EEOC.
While only the Supreme Court could issue a definitive ruling on the interpretation, EEOC decisions are given significant deference by federal courts. For now, however, the EEOC's decision is only binding on federal agencies.

"While the decision by the EEOC in Baldwin v. Foxx was a giant step forward for extinguishing sexual orientation discrimination by allowing federal employees to pursue sexual orientation claim under the Civil Rights Act of 1964 and Title VII, it was just a small step forward for non-government employees," Kuvin, Baldwin's lawyer, told BuzzFeed News on Monday evening. "The next logical step for Mr. Baldwin, who would like to see the protection of Title VII extended to non-government employees alleging sexual orientation discrimination, was to bring the issue to the federal courts."

Kuvin added that Baldwin only decided to take the matter to federal court "once it became apparent that the issues were not going to be resolved" through conciliation with the FAA, which Kuvin said "never responded" to Baldwin's attempts to resolve the matter without litigation.
The move on sexual orientation coverage by the EEOC is not surprising. In 2012, the EEOC took similar action regarding the coverage of anti-transgender discrimination, finding in a case brought by Mia Macy that gender identity-based discrimination is covered under the sex discrimination bar in Title VII. The Obama administration has since concurred with that interpretation, but it has not announced such agreement with the EEOC's interpretation as to anti-gay discrimination.
Baldwin's case has been assigned to U.S. District Court Judge Kathleen Williams, appointed to the bench in 2011 by President Obama.
One leading advocate of the EEOC's cases encouraged others to file similar cases.
"The EEOC's strongly reasoned Baldwin ruling deserves deference from federal courts across the country, and we hope the federal district court in Florida will join federal courts in Washington state and Washington, D.C. in ruling that gay plaintiffs can bring Title VII claims," Freedom to Work's Tico Almeida told BuzzFeed News. "More LGBT Americans should follow the lead of courageous people like David Baldwin and Mia Macy by filing claims under the sex discrimination bans in the Civil Rights Act, the Fair Housing Act, and other existing federal statutes."

Messages were left with the Transportation Department and FAA press offices seeking comment on the lawsuit.