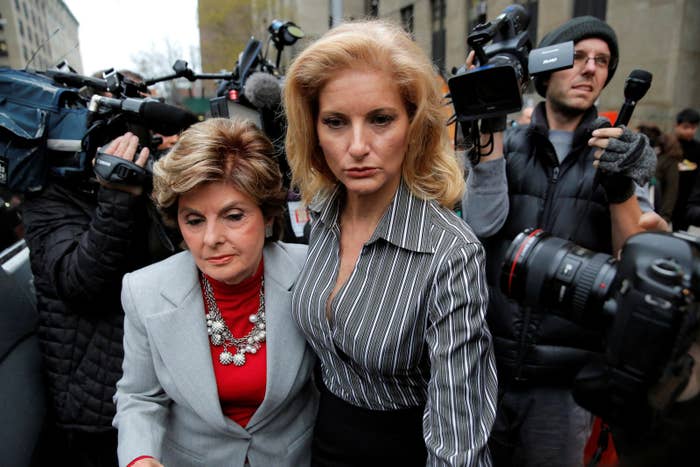 A state court judge in Manhattan has ruled that Summer Zervos's defamation lawsuit against President Donald Trump for comments he made about her during the campaign can proceed while Trump is in office.
"No one is above the law," Justice Jennifer Schecter wrote in her 18-page ruling on Tuesday.
Zervos, a former contestant on The Apprentice who had made public accusations against Trump during the campaign about "unwanted sexual misconduct," sued him after he said "these allegations are 100% false" and began calling her and others "phony people coming up with phony allegations," among other statements.
Lawyers for Trump had asked that the lawsuit be dismissed, arguing, in part, that he is too busy running the country to be subject to a civil lawsuit like this. The trial court considering the request, the Supreme Court of the State of New York in New York County, heard arguments on the request in December and denied it Tuesday.
Citing a US Supreme Court ruling that allowed Paula Jones' lawsuit against then-President Bill Clinton for "unofficial acts" to proceed in federal court while he was in office, Schecter wrote that the rules should be no different for similar cases brought in state court.
"Nothing in the Supremacy Clause of the United States Constitution even suggests that the President cannot be called to account before a state court for wrongful conduct that bears no relationship to any federal executive responsibility," Schecter wrote. She concluded that "there are no compelling reasons for delaying plaintiff's day in court here."
Additionally, Schecter ruled that the lawsuit could proceed because Zervos has presented a defamation claim that could succeed if she is able to prove that Trump's statements about her are false.
"Defendant used 'specific, easily understood language to communicate' that plaintiff lied to further her interests. His statements can be proven true or false, as they pertain to whether plaintiff made up allegations to pursue her own agenda," Schecter wrote. "[Trump]'s repeated statements—which were not made through op-ed pieces or letters to the editor but rather were delivered in speeches, debates and through Twitter, a preferred means of communication often used by defendant—cannot be characterized simply as opinion, heated rhetoric or hyperbole."
Zervos's lawyer, Mariann Wang, said in a statement that, "[t]he rule of law and sound reason have prevailed today," adding, "We are grateful for the opportunity to prove that that Defendant falsely branded Ms. Zervos a phony for telling the truth about his unwanted sexual groping."
Trump's lawyer in the case, Marc Kasowitz, did not respond to a request for comment.