For Gay Couples Seeking Immigration Reform, All Eyes On Sen. Patrick Leahy
When it comes to the question of whether same-sex couples will be included in immigration reform, Senate Judiciary Committee Chairman Leahy "is going to make that decision," Majority Leader Harry Reid says.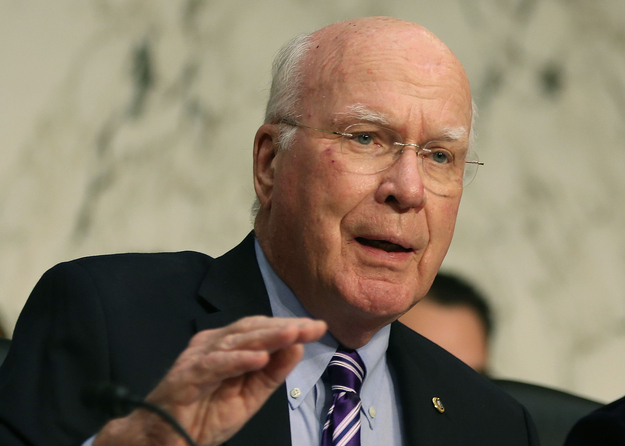 WASHINGTON — All eyes were on Senate Judiciary Committee Chairman Patrick Leahy Tuesday as all sides of the immigration debate sought to use the congressional rumor mill to force Leahy's hand on whether same-sex couples should be included in comprehensive immigration reform.
Leahy has long been a supporter of providing same-sex couples with the same immigration rights as opposite-sex married couples. But as the bipartisan "Gang of Eight" senators' carefully crafted immigration measure works through his Judiciary Committee, the Vermont Democrat has not said whether he would force a vote on amendments to accomplish that aim.
That silence set off a fierce round of "will he/won't he" on Capitol Hill Tuesday, with all sides trying to pressure Leahy, the most veteran lawmaker in the Senate, into tipping his hand — including one report that the White House was pressuring him to drop the issue for now.
Leahy filed a pair of amendments addressing same-sex couples' immigration rights — one of which would allow immigration rights for same-sex couples with permanent partners and one of which would allow immigration rights for married same-sex couples.
Republicans in the Gang of Eight, however, have said inclusion of gay couples in the bill will kill reform efforts.
The question now is whether Leahy will introduce the filed amendments during the ongoing markup and whether he will call for a vote on either or both of them. With a final committee vote expected this week, the relevant section of the bill when Leahy will be forced to decide could come up at any moment.
Sen. Chuck Schumer is one of the Democratic members of the Gang of Eight, which crafted the initial legislation without including the gay rights provision. Schumer, unlike most Democrats, has refused to take a position on whether same-sex couples should be included in the bill, saying, "Look, this one is something, you know, I worry about all the time. I'm a good sleeper but I wake up in the morning thinking of these things."
Politico reported last week that unnamed Senate Democrats were "turning to President Barack Obama for help" in keeping gay couples out of the bill, and the Associated Press reported early Tuesday, "Two people familiar with the Senate immigration deliberations say the White House has suggested to Vermont Sen. Patrick Leahy that it would be best to put off a controversy over gay marriage until a bill goes before the full Senate."
The White House has refused to comment on the report, but Leahy told Politico last week that Obama hadn't pushed him to keep the provision from coming to a vote, saying, "He hasn't suggested whether I should or shouldn't do it because he knows I'll make up my own mind."
Steve Ralls, Immigration Equality spokesman, told BuzzFeed, "There is no pro-LGBT position to take in this debate other than full support for the Chairman's amendments ... You can't say you support equality and then work to delay or derail it."
All of the comments, though, are aimed at encouraging, pressuring, or threatening Leahy to take the various speakers' positions on whether to hold a vote on either or both of the amendments.
As even Senate Majority Leader Harry Reid said Tuesday afternoon, though, "Sen. Leahy is going to make that decision, not me."
UPDATE: Laying preemptive blame if the amendment is not offered, Immigration Equality spokesman Steve Ralls told BuzzFeed Tuesday afternoon:
"If the amendments are not offered for a vote, there will be bipartisan blame: On Senators Lindsey Graham, John McCain and Jeff Flake for making threats and bullying colleagues to abandon our families; and on Senator Schumer, for refusing to stand up, in the face of that bullying, for his own constituents who desperately need him to cast his vote in their favor."
McCain, Graham and Flake have said the inclusion of protections for gay couples in the bill would kill it.
Asked Tuesday afternoon if he would be bringing either or both of the amendments to a vote, Leahy told BuzzFeed, "Well, you want to come and watch what we do." The Judiciary Committee is considering amendments, with Leahy saying the committee would be working into the evening Tuesday.