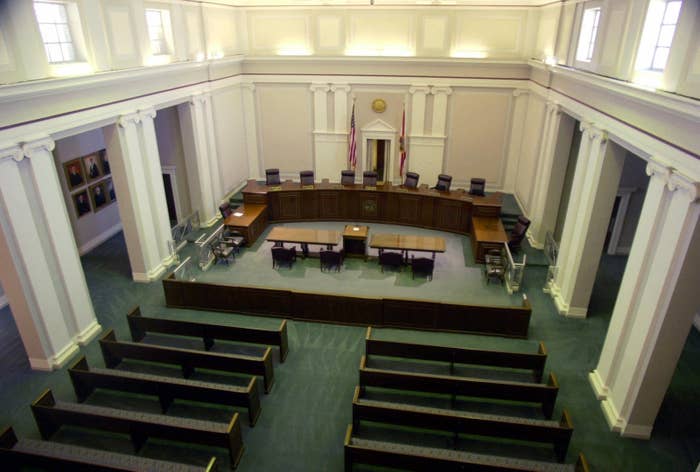 WASHINGTON — The Florida Supreme Court on Wednesday signaled that a significant portion of the state's death row population could need to be re-sentenced, the biggest fallout yet from this January's US Supreme Court ruling that the state's death sentencing law is unconstitutional.
The court ordered Richard Franklin to be re-sentenced for the 2012 murder of a prison guard because the jury was not unanimous in its recommendation of a death sentence.
The ruling could be the sign of a potential coming upheaval in the nation's second largest death row, lawyers said on Friday.
"At a minimum, we're looking at dozens of re-sentencings, if not hundreds," Death Penalty Information Center executive director Robert Dunham told BuzzFeed News.

It was not immediately clear how far back the decision would reach in its effect on the state's 385 inmates on death row currently — but it does mean that at least somewhere around 30 inmates will need to be re-sentenced. The court's ruling signaled, however, that the decision could affect a larger group — closer to 130 inmates, or about 1/3 of the state's death row, would need to be re-sentenced.
If the court later holds that the unanimity requirement applies to the state's entire death row population — a question not addressed in Wednesday's case — the number would jump even higher and as many as 290 inmates would need to be re-sentenced.
Due to the upcoming Thanksgiving holiday, spokespeople in Florida Attorney General Pam Bondi's office were unavailable for comment on Wednesday evening.
The US Supreme Court held in January, in Timothy Lee Hurst's case, that the state's death sentencing law was unconstitutional because the judge, not the jury, made the decision to sentence a person to death. The court held that Florida's law violated the standards set forth in a 2002 case, Ring v. Arizona.
As a result, Florida passed a new death sentencing law that removed that discretion from the judge in death sentencing — but continued to allow a non-unanimous jury — 10 of 12 — to recommend death, an issue raised in but not ruled on by the US Supreme Court in Hurst's case.
In October, the Florida Supreme Court had ruled that the state's attempt to fix the death sentencing law was still unconstitutional because it allowed a non-unanimous jury to recommend a death sentence.
Regarding Hurst's case, the court held that — as with other sentencing errors — a "harmless error" analysis would apply. In other words, might the error (here, an unconstitutional death sentencing law) have made a difference in whether Hurst was sentenced to death. As to Hurst specifically, the court ruled that the state had not shown the error to be harmless and he was ordered to be re-sentenced.
The court did not give a definitive answer about the outcome of that "harmless error" analysis more broadly as to the nearly 400 people on Florida's death row, but suggested a low bar: "Where the error concerns sentencing, the error is harmless only if there is no reasonable possibility that the error contributed to the sentence."
On Wednesday, in Franklin's case, the court went further, holding, "In light of the non-unanimous jury recommendation to impose a death sentence, we reject the State's contention that any Ring- or Hurst v. Florida-related error is harmless."
In a few other cases, the court has held that a Hurst violation is a harmless error where the jury reached a unanimous recommendation and, including in a decision Wednesday, that there is no Hurst violation when a defendant waived his right to a jury at sentencing.

With Wednesday's Franklin ruling, however, the state's high court signaled that any death sentence handed down by a non-unanimous jury and finalized on its direct appeal since the Hurst ruling — and, it appears, since the Ring ruling — would be able to obtain an order that they be re-sentenced. The court has not yet commented on, let alone decided, whether it will consider the re-sentencing requirements regarding non-unanimity to be retroactive to cases finalized before Ring.
Of the 385 people currently on Florida's death row, a rule only reaching back to Hurst would potentially cover about 40 death sentences (meaning they would have a right to re-sentencing if their jury's death sentence recommendation was non-unanimous). Although specific numbers were not immediately available, a recent analysis showed that nearly 75% of Florida's death sentences were recommended non-unanimously. That would mean roughly 30 people would be ordered to be re-sentenced.

A rule reaching back to Ring — suggested by the court's discussion of the issue as a "Ring-Hurst Claim" — would potentially include about 170 death sentences, meaning about 130 people would need to be re-sentenced. If the court later decides that the ruling is wholly retroactive under Florida law, then all death row inmates would be subject to the Franklin rule — meaning up to 290 people would need to be re-sentenced.
Any significant number of re-sentencing orders could set off a domino effect throughout the system, Dunham said, noting, "There are not enough prosecutors to handle" those numbers of re-sentencings and their regular caseloads. "There is not enough court personnel to handle that influx of cases." He also questioned whether there would be enough judges or court dates and whether the state would be able to supply sufficient indigent defense.
Robert Smith, the director of the Fair Punishment Project at Harvard Law School, put the blame on prosecutors.
"For over a decade, Florida's prosecutors buried their heads in the sand and pretended that there is nothing wrong with the state's death sentencing statute despite all evidence to the contrary from the U.S. Supreme Court," he told BuzzFeed News, adding that "new hearings are going to cost millions of dollars and cause crime survivors untold misery."

To that end, Dunham asked: "How much are Florida legislators willing to spend on this, and how much are Florida taxpayers going to tolerate? We don't know."