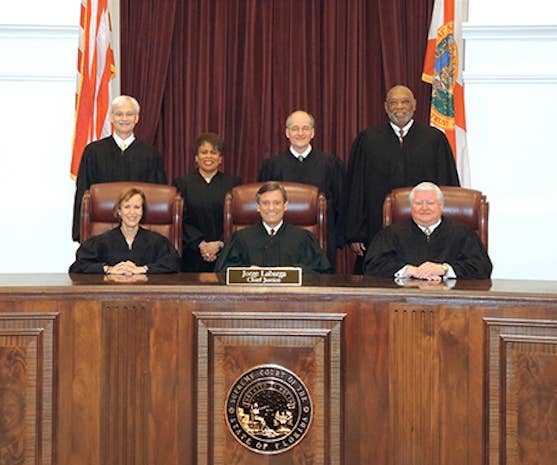 WASHINGTON — The Florida Supreme Court on Wednesday ordered state officials there to address questions by Friday about the effect of the U.S. Supreme Court's decision striking down the state's death sentencing law on a man due to be executed in less than a month.
The brief order from the Florida high court came in the case of Cary Michael Lambrix, who currently is scheduled to be executed on Feb. 11. On Jan. 11, his lawyers had filed a petition for relief based on a similar argument to that made by Timothy Hurst at the U.S. Supreme Court.
After the U.S. Supreme Court ruled on Jan. 12 in Hurst's case that Florida's death sentencing law was unconstitutional under the Sixth Amendment because it violated the right to a jury by making the imposition of a death sentence the responsibility of a judge and not a jury, the Florida Supreme Court amended its order in Lambrix's case.
Lambrix was convicted and sentenced to death in 1984 for the murders of Clarence Moore and Aleisha Bryant.

Noting on the docket in Lambrix's case that the order was amended on Wednesday "to include reference to Hurst," the court has now ordered the state to address "the applicability of Hurst v. Florida, No. 14-7505, 2016 WL 112683 (Jan. 12, 2016), to each of Petitioner's first-degree murder convictions and sentences of death." Specifically, the state is ordered to address whether the U.S. Supreme Court's decision should apply retroactively to past death sentences in Florida, how Hurst applies given the specific facts of Lambrix's sentencing, and whether any error in Lambrix's case should be viewed as harmless.
A reply from Lambrix's lawyers is due by Jan. 20.
Read the Florida Supreme Court's order: