Federal Judge In Florida Says "Constitution Requires" Same-Sex Marriages Beginning Jan. 6
Judge puts clerks on notice that if they don't start issuing marriage licenses to same-sex couples next week he is prepared to order them to do so.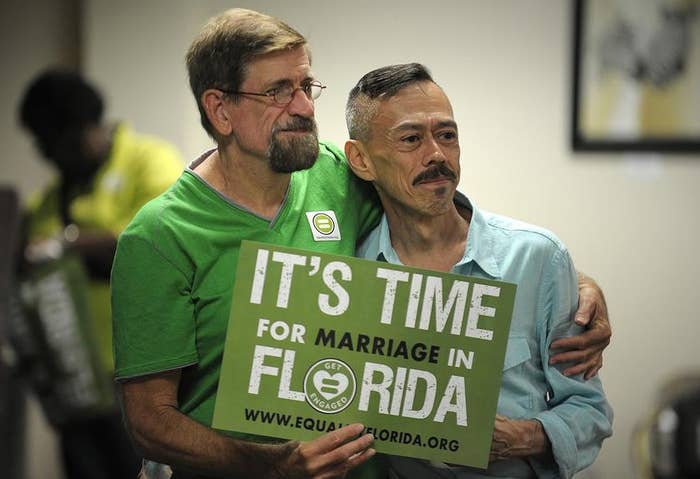 The federal judge overseeing the challenge to Florida's marriage equality ban ruled on Thursday that his current injunction applies only to the couples who sued to be able to marry — but noted that any other couples who are refused licenses beginning on Jan. 6 could ask to be added to the case.
The "clarification" order came about when the clerk of Washington County asked U.S. District Court Judge Robert Hinkle whether the current injunction requires licenses be issued to all same-sex couples who seek them or just the plaintiffs in the case.
"[N]o plaintiff now in this case has standing to seek a preliminary injunction requiring the Clerk to issue other licenses. The preliminary injunction now in effect thus does not require the Clerk to issue licenses to other applicants," Hinkle wrote. "But as set out in the order that announced issuance of the preliminary injunction, the Constitution requires the Clerk to issue such licenses."
Such a ruling would leave things very much in the air when the stay on Hinkle's injunction ends Jan. 5, but the judge went further, writing, "a clerk who chooses not to follow the ruling should take note: the governing statutes and rules of procedure allow individuals to intervene as plaintiffs in pending actions, allow certification of plaintiff and defendant classes, allow issuance of successive preliminary injunctions, and allow successful plaintiffs to recover costs and attorney's fees."
In other words, if a clerk refuses to issue marriage licenses to same-sex couples on Jan. 6, Hinkle has put them on notice that he is ready, willing, and able to order them to issue licenses.
LGBT legal groups who argued to Hinkle that the ruling should apply statewide to all same-sex couples are declaring victory.
"Today's ruling confirms that all Florida county clerks must comply with the federal Constitution by issuing marriage licenses to qualified same-sex couples beginning on January 6, 2015," Shannon Minter, legal director of the National Center for Lesbian Rights, said in a statement.
Update, Jan. 1, 7:07 p.m. ET: Florida Attorney General Pam Bondi issued a statement saying her office will not "stand in the way as clerks of court determine how to proceed":
Attorney General Pam Bondi's Statement Regarding Judge Hinkle's Order

TALLAHASSEE, Fla— Following significant public confusion about the federal-court injunction, the court today granted the clerk of court's request for clarification. In the order, the court specified that the injunction does not require a clerk to issue licenses to same-sex couples other than the plaintiffs, but the court stated that "a clerk of court may follow the ruling, even for marriage-license applicants who are not parties to this case." Attorney General Bondi's statement is as follows:

"This office has sought to minimize confusion and uncertainty, and we are glad the Court has provided additional guidance. My office will not stand in the way as clerks of court determine how to proceed."
Update, Jan. 2, 2:04 p.m. ET: The law firm that had written a memo questioning the authority of clerks to issue licenses, after Hinkle's Jan. 1 ruling, reversed its position:
The Greenberg Traurig statement:
"We are pleased that Judge Hinkle has clarified his original order and the responsibilities of the clerks around the state," said Hilarie Bass, Greenberg Traurig's co-president. "Although Judge Hinkle recognizes that only the Washington County clerk is compelled to issue a marriage license to the plaintiff in the case before him, the order states that the Constitution requires all clerks to issue marriage licenses to all applicants, regardless of gender.

"Judge Hinkle's order states that any clerk refusing to issue a license could be subject to civil damages and liability for the plaintiffs' fees and costs," Bass said. "Greenberg Traurig has advised the Florida Association of Court Clerks and Comptrollers that clerks should follow the judge's ruling for all marriage-license applications or face the consequences identified by Judge Hinkle."