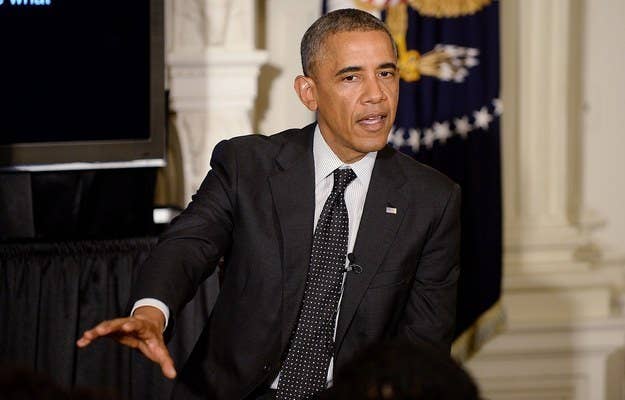 WASHINGTON — The federal government is telling insurers Friday that they can now provide transgender people with coverage for transition-related care — including sex-reassignment surgery — in federal employee health care plans, BuzzFeed has learned.
Two sources informed of the decision told BuzzFeed the longtime exclusion of transition-related care under the Federal Employees Health Benefits program is coming to an end on Friday in the form of a letter being sent to the insurance providers. Office of Personnel Management (OPM) officials would neither confirm nor provide comment to BuzzFeed about the decision.
The move comes two weeks after Medicare made a similar move. In the Medicare case, the Department of Health and Human Services' Departmental Appeals Board issued a ruling that ended a ban on Medicare even considering the coverage of sex-reassignment surgery and related care because a fear of "serious complications" resulting from the "experimental" surgery.
The OPM change does not mean that federal employee health insurers must cover transition-related care, the sources said, but the change does permit the insurers to do so.
The move by OPM has been long sought by LGBT advocates and appears to be part of action taken by OPM to "update various nondiscrimination provisions ... to provide greater consistency and reflect current law."
Under a proposed OPM rule from September 2013 slated to be finalized this month, "An employment practice must not discriminate on the basis of race, color, religion, sex (including pregnancy and gender identity), national origin, age (as defined by the Age Discrimination in Employment Act of 1967, as amended), disability, genetic information, marital status, political affiliation, sexual orientation, labor organization affiliation or nonaffiliation, status as a parent, or any other non-merit-based factor."
OPM spokesman Edmund Byrnes provided BuzzFeed with a copy of the carrier letter below and wrote, "The Carrier Letter represents OPM's position on the issue. FEHB carriers update benefits regularly in response to advances in medical evidence. Removing this exclusion allows carriers the option to offer coverage of treatment or procedures supporting gender transition when they determine this care is medically necessary and appropriate providers are available. Any benefits changes made in response to this carrier letter will be effective on January 1, 2015."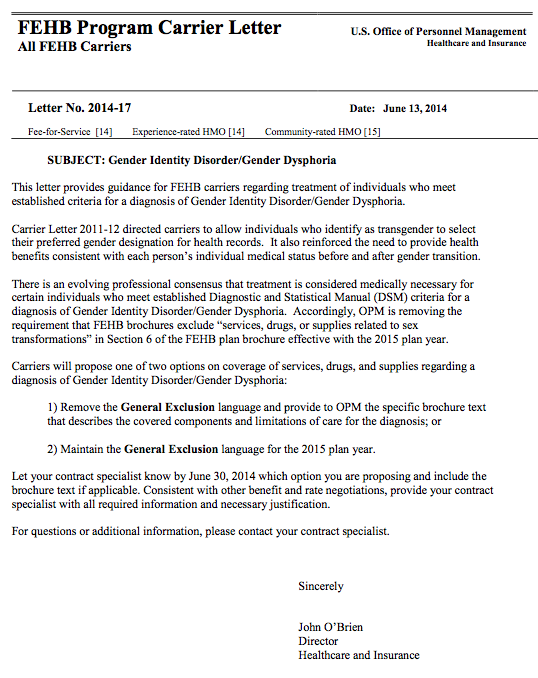 In a statement, Human Rights Campaign Government Affairs Director David Stacy said, "Today's welcome decision by the Office of Personnel Management to remove this discriminatory and harmful exclusion is an important step towards closing the gap in access to quality health care for transgender workers. HRC urges FEHB insurance carriers to include this essential coverage in their plans so that federal workers have access to medically necessary transition-related care."