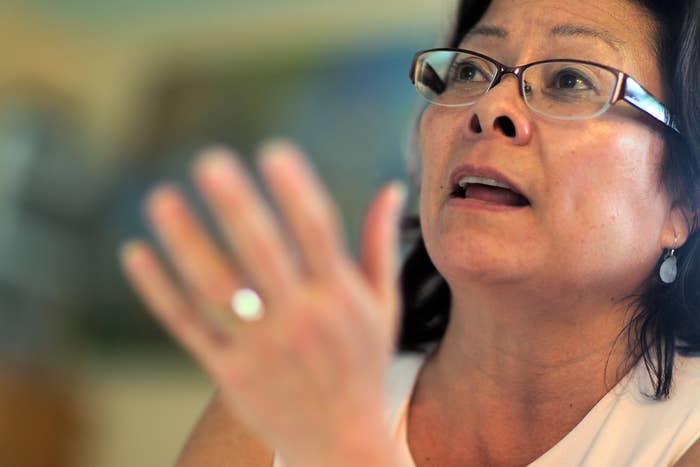 WASHINGTON — The director of the federal office in charge of enforcing nondiscrimination policy against federal contractors refuses to say exactly who her office is protecting.
Patricia Shiu, the director of the Office of Federal Contract Compliance Programs, would not say Wednesday whether her office includes transgender workers in its enforcement of Executive Order 11246, which bans federal contractors from discriminating in employment.
In April 2012, the Equal Employment Opportunity Commission issued a decision that the discrimination on the basis of sex in Title VII of the Civil Rights Act includes discrimination against transgender people. Although that decision only would apply definitively to Title VII if the Supreme Court reached a similar decision, the EEOC decision is being applied by the Justice Department in cases brought by federal employees and is being used in complaints brought to the EEOC against private companies.
Asked after a congressional hearing Wednesday whether her office follows the EEOC decision in its interpretation of the executive order, Shiu told BuzzFeed, "OFCCP follows Title VII precedent in everything."
The OFCCP, which is an office within the Labor Department, has a policy of applying the EEOC's Title VII in defining the protections provided for in Executive Order 11246, which bans federal contractors from discriminating in employment on the basis of, among other reasons, sex.
That would appear to mean that OFCCP would be including transgender protections in its enforcement of the executive order. Asked whether that is so, however, Shiu refused to say.
"Well, we'd have to look at — I can just tell you we follow Title VII principles," she said, although one advocate told BuzzFeed Wednesday that companies without protections for transgender employees continue to receive federal contracts.
Asked to follow up on whether the OFCCP's enforcement includes transgender protections, spokeswoman Laura McGinnis said, "I would direct you to Director Shiu's comments."
Wednesday's answers, however incomplete, are a more complete answer than Labor Department officials have provided over the past year and a half to this reporter.
Shiu added that the issue of the EEOC decision, in a complaint brought by Mia Macy, has been discussed with outside individuals with contracts subject to the executive order — but Shiu's description of that discussion, and follow-up information from the Labor Department, suggests that just as vague of an answer was given at that time.
"I believe it was discussed at our National Industry Liaison Group, this issue came up and that's what we said then," Shiu said. "So, we follow Title VII principles for sex discrimination, pregnancy discrimination, and as the law evolved, we follow that as well."
A Labor Department spokesperson explained that the National Industry Liaison Group is "an association of companies with federal contracts and subcontracts. The non-profit organization was formed more than 30 years ago as a conduit for disseminating information, providing training and fostering better communication between OFCCP and the agency's regulated community."
The meeting to which Shiu was referring was that group's 2013 conference, which took place in Indianapolis from July 31–Aug. 2, the spokesperson said.
Shiu gave the keynote address at the conference, and, according to the spokesperson, "[A] question about Macy came up in the Q&A portion of a panel session featuring a few members [of] OFCCP senior staff. When asked about the agency's position on Macy, OFCCP Mid-Atlantic Regional Director Michele Hodge responded — as Director Shiu did this morning — saying, 'OFCCP follows Title VII principles.' That is, has been and continues to be OFCCP's position on this matter."
Like Shiu's comments on Wednesday, however, the response does not explicitly state whether OFCCP considers an EEOC decision sufficient to make something a "Title VII principle."
One advocate who has been pushing for the Labor Department to explain its enforcement policy after Macy is Freedom to Work founder Tico Almeida, who said today that OFCCP's actions don't suggest any public efforts are being made to protect trans workers.
SAIC is the nation's largest federal contractor with a non-discrimination policy that includes sexual orientation, but not gender identity, according to a 2013 Williams Institute report.
"Every time SAIC signs a new contract, the Labor Department has the opportunity to follow Title VII law, apply the Macy decision to Executive Order 11246, and make transgender protections an explicit contractual requirement," Almeida told BuzzFeed. "Just this week, SAIC signed a new federal contract for around three-quarters of a million dollars. Every new federal contract that lacks explicit workplace protections for transgender Americans is a missed opportunity to enforce the principle that everyone deserves a fair shot to build a career based on their own talents and job performance — nothing more and nothing less."