WASHINGTON — A federal judge in Wisconsin Friday struck down the state's ban on same-sex couples marrying, joining federal judges across the nation to have reached a similar decision in the past six months that such bans are unconstitutional.
"I conclude that the Wisconsin laws prohibiting marriage between same-sex couples interfere with plaintiffs' right to marry, in violation of the due process clause, and discriminate against plaintiffs on the basis of sexual orientation, in violation of the equal protection clause," U.S. District Court Judge Barbara Crabb wrote.
She held off on issuing an injunction stopping enforcement of the ban, as Crabb — appointed to the bench by President Jimmy Carter in 1979 — asked for additional materials by June 16 relating to the injunction sought by the plaintiffs in the case.
Attorney General J.B. Van Hollen, a Republican, already has asked Crabb to stop the decision from going into effect, and Crabb told the state it can supplement that motion through June 16 if they wish to do so in light of the Supreme Court's action earlier this week denying a stay of the order striking down Oregon's marriage ban.
One of Judge Crabb's key points: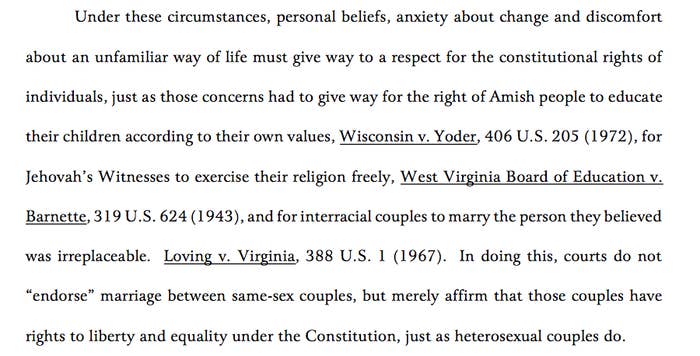 In Wisconsin, Dane and Milwaukee counties are issuing marriage licenses to same-sex couples immediately.
Attorney General J.B. Van Hollen said current law remains in force and he will appeal the ruling, noting in part of a statement posted on Twitter, "Importantly, current law remains in force. I'm encouraged by the District Court's refusal to issue an immediate injunction."
In another statement, Van Hollen added, "In light of the decision of some county clerks to issue marriage licenses to same-sex couples, I will be filing emergency motions in the federal courts to stay Judge Crabb's order."
Wisconsin Attorney General J.B. Van Hollen has filed an "emergency motion for a temporary stay" with Judge Crabb.
He asks the judge to clarify her ruling "to preserve the status quo until the Court has entered injunctive relief and decides State Defendants' motion to stay" and to issue a temporary stay in the meantime.
Judge Crabb set a hearing on the stay for 1 p.m. Monday.
In a notation on the court's docket posted Monday morning, it states, "Set Telephone Motion Hearing as to Emergency Motion to Stay. Telephone Motion Hearing set for 6/9/2014 at 01:00 PM before Judge Barbara B. Crabb."
The state has filed its notice of appeal.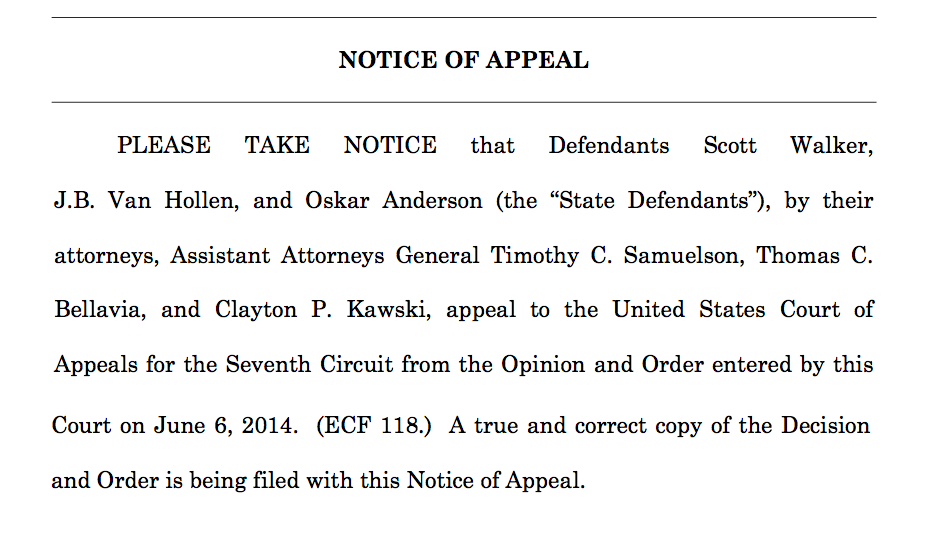 The story has been updated to specify that U.S. District Court Judge Barbara Crabb did not yet issue an injunction in the case.