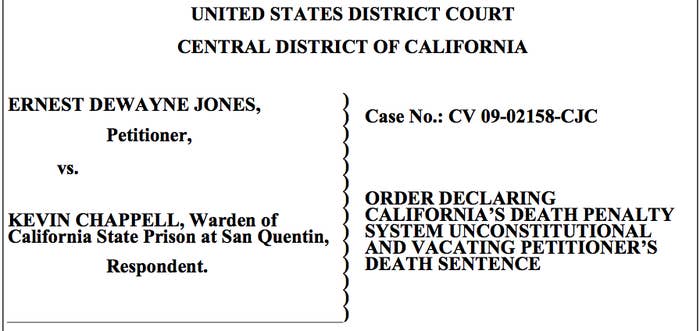 WASHINGTON — A federal judge in California on Wednesday ruled that "systematic delay" in California's death penalty system has made it unconstitutional.
In his ruling, U.S. District Court Judge Cormac Carney wrote in part that "arbitrary factors, rather than legitimate ones like the nature of the crime or the date of the death sentence, determine whether an individual will actually be executed."
Carney also vacated the death sentence of the death row prisoner who brought the case, Ernest Dewayne Jones.
Summarizing his 29-page ruling, Carney, appointed to the bench by President George W. Bush in 2003, wrote:
[F]or most, systemic delay has made their execution so unlikely that the death sentence carefully and deliberately imposed by the jury has been quietly transformed into one no rational jury or legislature could ever impose: life in prison, with the remote possibility of death. As for the random few for whom execution does become a reality, they will have languished for so long on Death Row that their execution will serve no retributive or deterrent purpose and will be arbitrary.

That is the reality of the death penalty in California today and the system that has been created to administer it to Mr. Jones and the hundreds of other individuals currently on Death Row. Allowing this system to continue to threaten Mr. Jones with the slight possibility of death, almost a generation after he was first sentenced, violates the Eighth Amendment's prohibition against cruel and unusual punishment.
Attorney General Kamala Harris' office is reviewing the ruling, Press Secretary Nick Pacilio told BuzzFeed on Wednesday afternoon. Further information will be forthcoming, he said.
Judge Carney provided a color-coded appendix that details the status of the cases of those death row inmates sentenced between 1978 and 1997 — only 13 of whom have been executed: