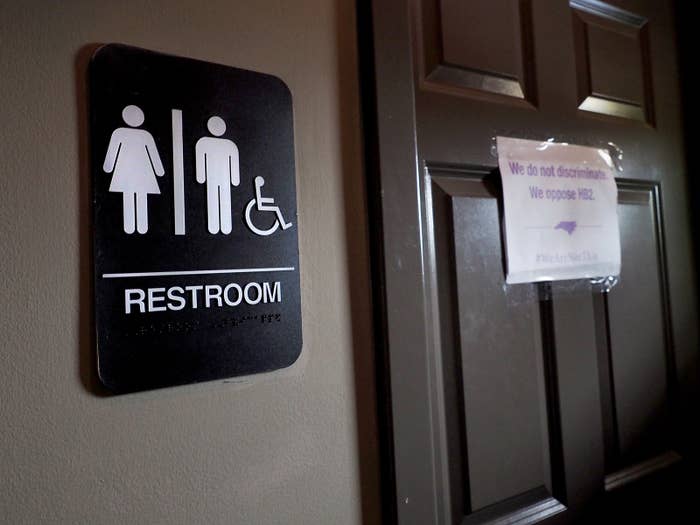 In a limited ruling on Friday afternoon, a federal judge barred the University of North Carolina from enforcing the "bathroom bill" provision of the state's anti-LGBT HB 2 law against those transgender individuals who sued the state following the passage of the law.
In the ruling U.S. District Court Judge Thomas Schroeder noted, "Ultimately, the record reflects what counsel for Governor [Pat] McCrory candidly speculates was the status quo ante in North Carolina in recent years: some transgender individuals have been quietly using bathrooms and other facilities that match their gender identity, without public awareness or incident."
The case was brought by the ACLU and Lambda Legal on behalf of several North Carolina residents, including professors and students at UNC schools.
After reviewing the record in the case and relevant case law, Schroeder concluded a preliminary injunction of part of the law was appropriate. Specifically, he pointed to a case (G.G. v. Gloucester County School Board) in which the 4th Circuit Court of Appeals — from which appeals from North Carolina are heard — held that the Obama administration's interpretation of Title IX's sex discrimination provision as including anti-transgender discrimination was permitted.
"Part I's wholesale ban on access to facilities is inconsistent with DOE's guidance on Title IX compliance under G.G.," Schroeder concluded.
"Accordingly, the court will enjoin UNC from enforcing Part I against the individual transgender Plaintiffs until the court reaches a final decision on the merits in this case," Schroeder concluded.
He ruled that plaintiffs did not make the same case that they were likely to succeed on an equal protection challenge to the law and did not rule at this time on their due process-related claim.
Finally, he also noted that "this injunction returns the parties to the status quo ante as it existed in Title IX facilities prior to Part I [of HB 2]'s passage in March 2016."