WASHINGTON — A federal judge in Tennessee Friday ordered state officials to recognize the marriages of three same-sex couples during the consideration of their lawsuit challenging the validity of the state's ban on recognizing such marriages.
In considering the request for a preliminary injunction, U.S. District Court Judge Aleta Trauger wrote that "all relevant federal authority indicates that the plaintiffs in this case are indeed likely to prevail on their claims that the Anti-Recognition Laws are unconstitutional."
The plaintiffs, she noted, filed the case only on their own behalf, so the temporary ruling affects only the state's treatment of the three couples.
In reaching her conclusion to grant the preliminary injunction against the state officials, Trauger — nominated to the bench by President Clinton in 1998 — wrote:
At some point in the future, likely with the benefit of additional precedent from circuit courts and, perhaps, the Supreme Court, the court will be asked to make a final ruling on the plaintiffs' claims. At this point, all signs indicate that, in the eyes of the United States Constitution, the plaintiffs' marriages will be placed on an equal footing with those of heterosexual couples and that proscriptions against same-sex marriage will soon become a footnote in the annals of American history.
The lawsuit was brought by longtime LGBT rights litigator Abby Rubenfeld, along with the National Center for Lesbian Rights and several local co-counsel.
Update —6:45 p.m. ET: In a statement, Rubenfeld said of the ruling:
This is a huge win in Tennessee, and sets the stage for full marriage equality in this State. The Judge found that there is a likelihood that we will succeed on the merits–meaning a likelihood that the anti-equality statute and state constitutional amendment will be fully struck down soon. She also noted the consistent view of all of the post-Windsor courts in finding these anti-equality laws to be unconstitutional.

It is also significant that Judge Trauger, like most of the other courts that have ruled on these issues since Windsor, found that the laws cannot pass even the most minimal level of constitutional scrutiny. Every court that has considered these cases since Windsor have found that the laws violate the United States Constitution.
Update —10:30 p.m. ET: Tennessee Gov. Bill Haslam's spokesman, Dave Smith, told BuzzFeed, "The opinion is under review. The governor is disappointed that the court has stepped in when Tennesseans have voted clearly on this issue. It's inappropriate to comment further due to the continuing litigation."
Read the judge's order: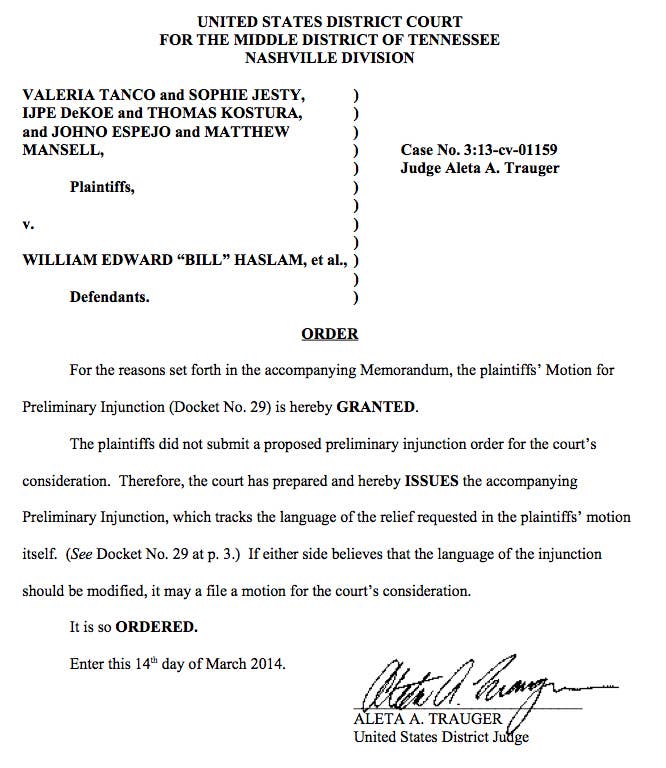 Read the judge's preliminary injunction: