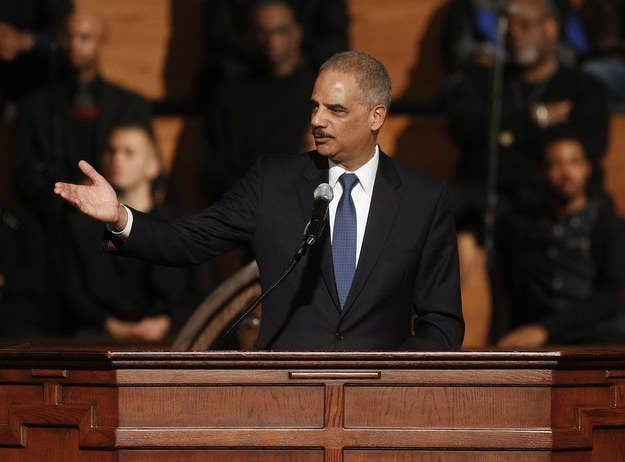 WASHINGTON — Federal law enforcement will be barred in most instances from profiling people on the basis of race, ethnicity, gender, national origin, religion, sexual orientation, or gender identity, under new guidance to be issued by the Department of Justice on Monday.
The move is a long-awaited expansion of 2003 guidance for federal law enforcement issued by Attorney General John Ashcroft under President George W. Bush, which deemed racial profiling in law enforcement wrong and ineffective, but only outlined specific bans on profiling based on race and ethnicity.
"As Attorney General, I have repeatedly made clear that profiling by law enforcement is not only wrong, it is profoundly misguided and ineffective – because it wastes precious resources and undermines the public trust," Attorney General Eric Holder said in a statement to BuzzFeed News. "Particularly in light of certain recent incidents we've seen at the local level – and the widespread concerns about trust in the criminal justice process which so many have raised throughout the nation – it's imperative that we take every possible action to institute strong and sound policing practices."
The new guidelines also set in place standards for allowing profiling due to national security concerns. However, exemptions remain largely intact for activities related to border integrity, a move the American Civil Liberties Union's Washington head already has called "distressing." These exempted activities include those of Border Patrol's enforcement in the vicinity of the border and the Transportation Security Administration — although a DHS review will take place "to ensure we are including every appropriate safeguard and civil rights protection" in those operations, according to information provided by the department.
However, parts of the Department of Homeland Security — including Immigration and Customs Enforcement's civil immigration enforcement activities, the Coast Guard's law enforcement activities, and federal air marshals — will be subject to the profiling limits.
The new guidance has been a long time coming. Holder began the review in his first year at the helm of the Justice Department.
The outgoing attorney general highlighted his intention to expand the 2003 policy throughout his tenure, but as time passed, progressive groups grew frustrated that the review that began in 2009 was still not completed.
With Monday's announcement, Holder is hoping to cement his legacy on this issue.
He called the guidance "a major and important step forward to ensure effective policing by federal law enforcement officials and state and local law enforcement participating in federal task forces throughout the nation." He will participate in a call with local law enforcement on Monday to discuss the guidance and urge them to adopt it for their own agencies and departments.
As tensions flared in Ferguson, Missouri, this summer after the shooting death of Michael Brown, Holder became the national face on the scene — visiting with government officials, community leaders, and Brown's family. When he announced that he would be stepping down as attorney general, Justice Department officials highlighted that visit to Ferguson — and mentioned Holder's goal to continue his work to restore trust between black Americans and law enforcement, even after he leaves the department.
Given this focus, it was not surprising that Holder pressed to get the new guidance out before he leaves.
"For the last several weeks, Attorney General Holder has diligently pressed for the revised policy to be finalized before he leaves office," a Justice Department official said of the release of the new guidance, calling it a "signature accomplishment" of Holder's tenure. "During the last two weeks in particular, it has been the first item on the agenda each day in his morning senior staff meetings."
Under the 2003 guidelines, the federal government identified two different categories under which profiling is banned. The new guidelines expand the ban on profiling in "routine or spontaneous" law enforcement decisions like traffic stops, except for in circumstances where there is a specific suspect description, to include gender, national origin, religion, sexual orientation, and gender identity, in addition to race and ethnicity.
Monday's guidance also added a new requirement for profiling in specific investigations. While profiling is still permitted where there is "trustworthy information" relevant to the time or place linking a person of a specific race or ethnicity to "an identified criminal incident, scheme or organization," now the law enforcement officer engaging in the practice must "reasonably believe that the law enforcement or intelligence activity to be undertaken is merited under the totality of the circumstances."
The "investigations" standards will also now apply to circumstances where there is such "trustworthy information" regarding "a threat to national security" or "an authorized intelligence activity."
Finally, some state and local law enforcement, in some circumstances, will be covered by the new guidance. The guidance, according to the Justice Department, will apply to "state and local law enforcement officers while participating in federal law enforcement task forces." That standard falls short of the standard being sought by the broad civil rights and civil liberties coalition pushing for the changes, who had asked that the guidance apply to all state and local law enforcement "working in cooperation with federal agencies or receiving federal financial assistance, including grants, training, use of equipment, donations of surplus property, and other assistance."
The formal guidance itself is expected to be issued later in the day on Monday.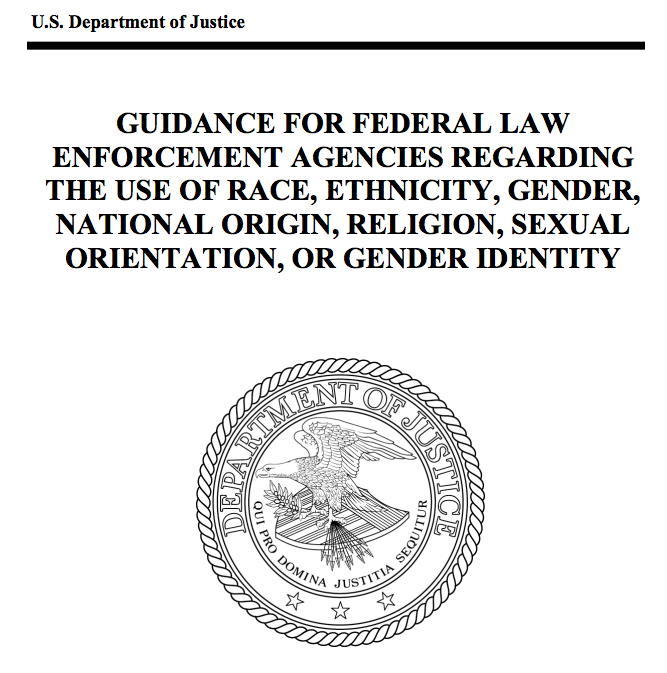 Here are the key elements of the new guidance: