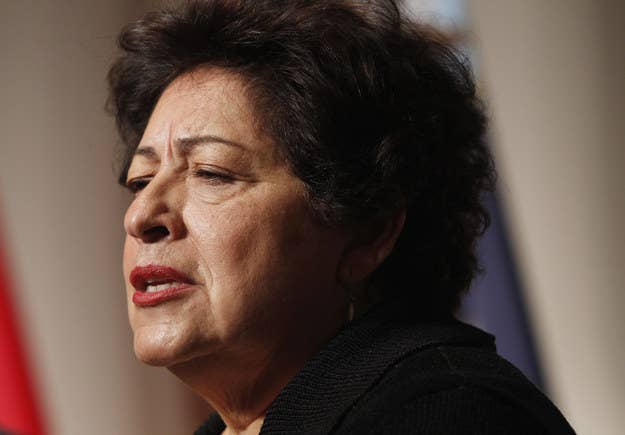 WASHINGTON — New federal employee health insurance coverage proposals for 2016 are "strongly encourage[d]" to include information about health services their plans cover for transgender people — but there is no requirement that transition-related coverage be included.
The Office of Personnel Management (OPM) has not made a decision yet on whether plans that exclude all transition-related care will continue to be offered, a spokesman for the agency told BuzzFeed News. The decision will be made in the fall, the spokesman said.
Mara Keisling, the executive director of the National Center for Trans Equality, said OPM's treatment of transgender health insurance coverage "has been a frustrating area" for the group.
"It's not OK for an employer to say to insurance companies, 'We don't care if you discriminate against our employees,'" Keisling told BuzzFeed News. "It is just straight-up discrimination, and they can fix it any time they want."
Over the course of the Obama administration, protections for transgender workers — including federal employees — have expanded dramatically. Transgender health care, however, has regularly lagged behind other protections.
It was only last June when OPM lifted the blanket exclusion that prevented any federal employee health plans from covering transgender health services, including surgery.
The letter that lifted that blanket exclusion did not, however, mean that federal employee health insurers had to cover transition-related care — and only a handful did.
"For 2015, there is at least one [Federal Employee Health Benefit] plan available in every state that provides coverage for a broad range of gender transition related services, including hormone therapy, counseling, and surgery," OPM spokesman Edmund Byrnes told BuzzFeed News.
OPM, however, allowed many of the plans to continue the exclusion.
The Affordable Care Act bans sex discrimination in health programs that receive federal funding. In several other contexts — from employment to education — the Obama administration has interpreted anti-transgender discrimination as being covered under sex discrimination bans.
In March, a federal judge in Minneapolis provided the first court interpretation of the Affordable Care Act provision, finding that section 1557 of the health care law "plausibl[y]" covers anti-transgender discrimination under the sex-discrimination ban.
An OPM spokesperson said he would look into whether OPM viewed that section of the law as barring transition-related care exclusions.
BuzzFeed Editor-in-Chief Ben Smith asked President Obama whether federal employees' plans should cover such services — prompted by a question from a transgender federal employee, Emily Prince — in an interview earlier this year.
Obama responded that he hadn't "looked at that policy," but he did say, "My general view is that transgender persons, just like gays and lesbians, are deserving of equal treatment under the law. And that's a basic principle."
In a March letter calling for proposals for next year's federal employee health plans, OPM explained that the 2014 letter's treatment of transgender health coverage — allowing plans to "retain the general exclusion" — was only "[d]ue to the short timeframe for network development and benefit design" between when the exclusion was lifted and the proposals were due.
And yet, Bynes told BuzzFeed News that OPM has not yet decided whether such generalized exclusions will be allowed to continue into the 2016 plans.
"Before any decisions are made, we need to review carrier proposals and services. Final decisions will be made in the Fall," he told BuzzFeed News. "OPM removed the [Federal Employee Health Benefit] general exclusion language, but we will not know details of what care and services plans are covering for 2016 until we finalize our benefits [in the] fall."
The discussion in the March 13 carrier letter was listed under an "access to care" section — which stated that "OPM strongly encourages plans to reassess their benefit offerings as the needs of our population evolve" and noted that other recent coverage expansion included same-sex spouses.
"For 2016," OPM stated, "plans may propose services for members with gender dysphoria as they do for all other medical conditions." Benefit and rate proposals are due to be submitted by May 31.
In technical guidance provided in a March 17 follow-up carrier letter for health maintenance organizations, OPM was even more specific.
"Beginning with 2016 brochures, Plans should describe their covered benefits for gender transition along with any excluded services, and list any applicable prior authorization requirements or age limits," the carrier letter states.
Keisling noted that the policy is more than a hypothetical discussion, saying, "It's an odd position they have themselves in, but it's a horrible position they have their trans employees in."
In fact, the OPM carrier letters were brought to BuzzFeed News's attention by Emily Prince, who wrote about them on April 22 — the same day she was told by her current [Federal Employee Health Benefit] plan provider that it would not cover her gender reassignment surgery.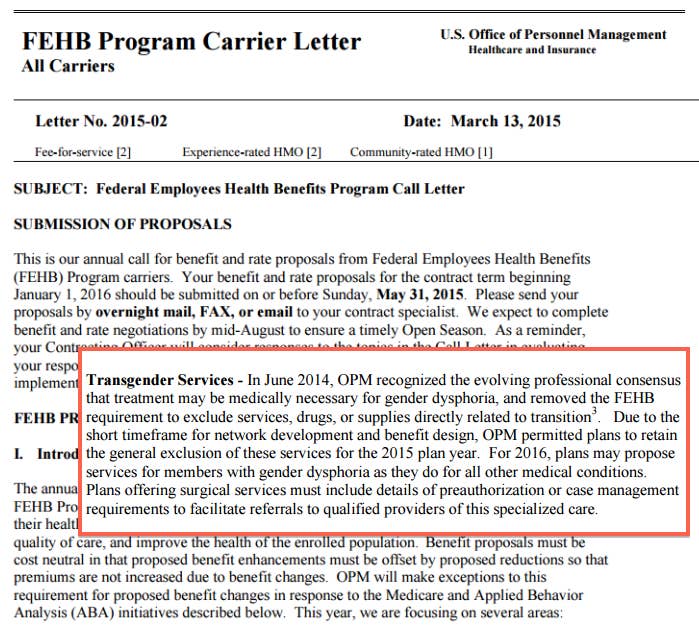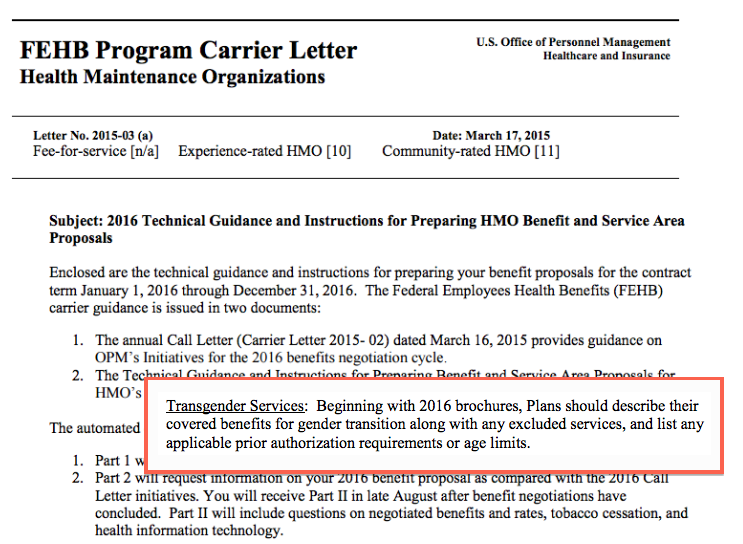 President Obama on the issue back in February. Here's the exchange, prompted by a question from Emily Prince: