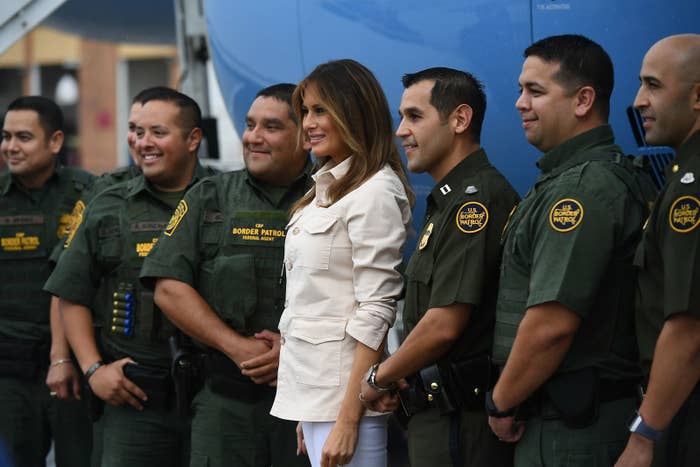 Although President Donald Trump says his administration will continue to enforce its "zero tolerance policy" at the border, administration officials spent Thursday issuing incomplete and conflicting statements about the effect of Wednesday's executive order on the family separations — even as signs emerged at the border that policies, at least for some, are changing.
The Justice Department pushed back hard at news reports that the federal government had dropped charges against 17 migrants with children in McAllen, Texas, sending reporters a statement "attributable to the US Attorney's Office" in the Southern District of Texas that the office "did not dismiss any immigration violation cases in McAllen federal court today."
It went on to criticize the reporting: "Media reports alleging [Southern District of Texas] cases were dropped or dismissed are inaccurate and misleading."
But the story was more complicated, as US Magistrate Judge Peter Ormsby made clear at an afternoon session in McAllen's federal courthouse, where he noted that the government "had intended to charge" the migrants but had decided not to proceed "as a result of" the executive order.
For clarification, James Sturgis — the assistant US attorney-in-charge at the McAllen Branch of the US Attorney's Office for the Southern District of Texas — told the judge, "[T]here was no dismissal of those cases [because] there was no prosecution sought. The court did not sign off or consider those complaints. They weren't actual dismissals, but the prosecution is not sought on those 17 individuals in light of the executive order."
In other words, the charges didn't need to be dismissed — because they'd never been brought.
A federal public defender said her office "had received complaints" for the 17, and that they'd been separated from their children, another sign that prosecution had been intended.
Asked about the disconnect between its statement and what actually happened in McAllen, the Justice Department provided no on-the-record comment.
Statements coming out of the Department of Homeland Security were no more clear.
"Family unity will be maintained for families apprehended crossing the border illegally, and they will be transferred together to U.S. Immigration and Customs Enforcement," a US Customs and Border Protection spokesperson said in a statement to BuzzFeed News. However, the spokesperson also said that CBP would "continue to refer for prosecution adults who cross the border illegally" — an inconsistency that went unexplained.
After the Washington Post reported that an unnamed senior US Customs and Border Protection official had said that the agency would no longer refer migrant parents accused of crossing the border illegally for prosecution, attributing the change in policy to a resource issue, Justice Department spokeswoman Sarah Isgur Flores told BuzzFeed News that the "zero tolerance" policy remained in effect, and that prosecutors would continue to pursue all illegal entry cases.
That's been the position Trump and Sessions have emphasized all week. In announcing the executive order that purported to address the family separation issue on Wednesday, Trump explicitly said the administration's policy was still "zero tolerance."
But if the actions of the McAllen US Attorney's Office are a guide, the Justice Department's zero tolerance policy might still be in place, but with significantly less effect.
One part of the executive order that was clearly executed on Thursday was Trump's direction that Sessions file a request with a federal judge in California to amend a 1997 agreement, known as the Flores Settlement Agreement, that restricts the amount of time that children can stay in immigration detention. Based on previous court rulings, US officials understand the settlement to require that children be released — either to a parent, another appropriate adult, or a licensed nonsecure program — within 20 days.
That means that even if families are detained together, authorities would still have to release the children and, assuming they don't also release the parents, separate families after 20 days so long as the Flores agreement is still in place, or absent any intervening action by Congress.
On Thursday, the Justice Department filed its request to modify the settlement agreement to allow ICE to detain families together pending immigration proceedings.
But attempts to get DHS to clarify whether its new policy could be implemented if the modification of the Flores Settlement Agreement wasn't approved also went unanswered.
Tarini Parti contributed reporting.