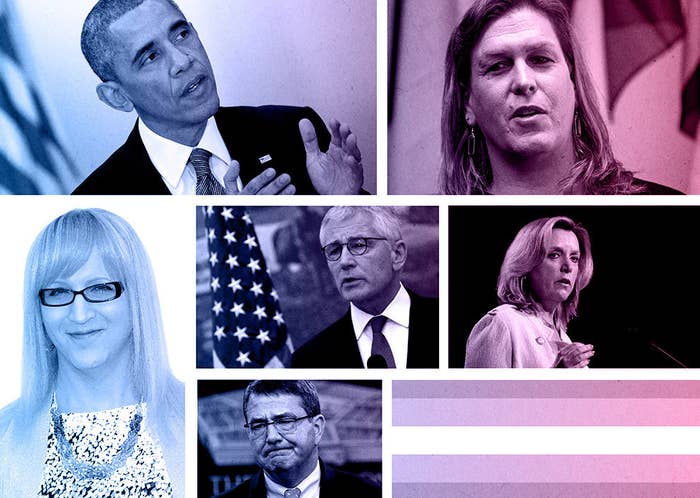 WASHINGTON — Advocates for transgender military service are expectant that changes are coming to the military regulations that bar all transgender people from enlisting or, under individual service branch policies, continuing to serve if they come out as trans.
If people at the White House or Pentagon have any such plan in the works, however, almost everyone is staying quiet for now.
But, Allyson Robinson, a former Army captain and one of the country's leading transgender advocates, is optimistic.
Talking about the policies this past week, Robinson was excited by comments from Air Force Secretary Deborah Lee James earlier in the week supporting a review of the current policies barring trans service.
"She just adds her voice to that of her boss, [Defense] Secretary [Chuck] Hagel, and her boss's boss, the president, in saying that it's past time to take a look at these obsolete, out-of-date policies," said Robinson, the policy director for SPARTA — an LGBT service members and veterans group.
Unlike the fight over out gay, lesbian, and bisexual service, the ban on trans service is not a law. There is no repeal of a trans "don't ask, don't tell" required — the military could begin changing the policy, or at least reviewing it, immediately if it wanted to do so.
"We have their commitment to do that — we have the commitment of Secretary Hagel himself to review these policies. And, I should add, I am aware, from my conversations with leaders at the Pentagon, that the secretary views this, views those words, as a promise, as a commitment to the service members," Robinson, who is also consulting for the Human Rights Campaign on trans service issues, said.
"I would be shocked if Secretary Hagel doesn't take just a moment in the weeks that he has left in office to make good on a promise that he made to the troops. He needs to order the review," she said. Hagel has announced his resignation, subject to the confirmation of the person Obama nominated to replace him, Ashton Carter.
Despite Robinson's optimism, though, officials, by and large, aren't willing to get into specifics of what — if anything — is going on to look at the issue.
Asked whether the president has ordered the Pentagon to initiate a review of the policies or ordered a change in relevant regulations barring trans service, a White House spokesperson said, "The president has not expressed a view on this issue. I would point you to the Department of Defense."
The Department of Defense was more direct. Pentagon spokesperson Nate Christensen told BuzzFeed News, "I can confirm that for you that no review of the department's policy has been ordered," and pointed to noncommittal comments from Defense Secretary Hagel in May as his "most recent comments" on the issue.
Kristin Beck, the former Navy SEAL who came out as trans and has been advocating for out trans service, told BuzzFeed News that she expects action by the Army on the issue in short order. When asked about the Army's policy, however, Army Public Affairs Specialist Tatjana Christian responded simply, "The Army policy has not changed."
Beck, who was the focus of a documentary, Lady Valor, that debuted on CNN this year and is working with the recently formed Military Freedom Coalition on trans service issues, said that her sources expect an announcement regarding regulatory restrictions on trans service from the Army as soon as this week — a move that she said would be "a huge step in the right direction." Christian, though, did not respond to a follow-up question asking whether any forthcoming changes are expected.
An Air Force spokesperson also did not respond to a message seeking comment about whether any changes were afoot regarding trans service regulations within that service branch.
And yet, Robinson, Beck, and others say they believe policy changes are coming.
Beck told BuzzFeed News she met with a senior Pentagon official in late October; the official was receptive to her arguments regarding trans service, Beck said, and told her that she could leave the meeting assured that the Pentagon is "listening" to her and other advocates' concerns.
"Not only do I think it's possible," Robinson said of a review like that undertaken before "don't ask, don't tell" repeal, "I think that this period of Secretary Hagel — sort of, lame-duck period — represents that best opportunity that we've had so far to get it done," noting that former Defense Secretary Leon Panetta took action on same-sex partner benefits and the combat exclusion for women in "the waning days" of his time.
"He did that, I think primarily, because he felt it was his responsibility to take care of his troops," she said. "He also did it out of a sense of collegiality to the person who was going to follow him. He took, what were seen by some as difficult or contentious issues, and took them off the table so that his successor would be able to start with a clean slate."
At a recent forum held by the Victory Fund Institute, the head of the National Center for Transgender Equality, Mara Keisling, said that she expected out trans service to be a reality within a few years.
In the past three years, several key federal actions to bar anti-transgender discrimination have taken place within the Equal Employment Opportunity Commission; in the Justice, Education, and Labor Departments; and — in two separate executive orders signed this summer — from President Obama.
The policy changes have accompanied significant public, cultural shifts, as well. Public figures like actress Laverne Cox and activist Janet Mock have increased awareness of trans issues dramatically in the last few years.
The U.S. military has not changed, however; policies using medical terminology from decades past continue to govern the military's treatment of trans service member and enlistees, denying them the ability to serve and mandating their discharge if found out.
In the Army's "Standards of Medical Fitness," for example, transgender service is dismissed as "render[ing] an individual administratively unfit" alongside "[p]ersonality, psychosexual conditions, transsexual, gender identity, exhibitionism, transvestism, voyeurism, other paraphilias, or factitious disorders; disorders of impulse control not elsewhere classified."
Specifically, transgender or intersex people are defined as being subject to such an administrative dismissal whenever the relevant service member exhibits "[a] history of, or current manifestations of … transsexual, gender identity disorder to include major abnormalities or defects of the genitalia such as change of sex or a current attempt to change sex, hermaphroditism, pseudohermaphroditism, or pure gonadal dysgenesis or dysfunctional residuals from surgical correction of these conditions."
What's more, the Palm Center — a think tank that did some of the key academic research preceding the end of "don't ask, don't tell" — has undertaken extensive research into the military's transgender policies. The group argued in a recent paper that a summer change from the Pentagon means that outdated branch regulations need to be reviewed and updated.
This August, the Pentagon "eliminated its default lists of medically disqualifying and administratively disqualifying conditions," the Palm Center's Diane Mazur explained in the group's November report. The now-withdrawn list of "administratively disqualifying conditions," known as Enclosure 5, required separation without exception and without any individualized assessment — a list that included transgender identity. Withdrawing the list, Mazur argued in the report, "suggests that the categorical retention prohibitions" on trans service in individual service branch's policies "are too sweeping" and must be revised.
The Pentagon spokesperson, Christensen, told the Army Times, however, that the change and withdrawal of Enclosure 5 "does not change or have any effect on the department's policy regarding separations and consequently does not affect the department's policy regarding military service by transgender individuals."
The Palm Center's director, Aaron Belkin, told BuzzFeed News that more leadership is needed from the president on the issue — writing that "any change," historically, would have to come from the White House.
But others, like Robinson, are focused on pressing the Pentagon leadership. She said that "a department-level update to these policies" is "the only viable way" of addressing the issue. Moreover, Robinson said that it would be preferable for the Pentagon, and not the White House, to take the lead on the issue.
While advocates debate where to exert pressure, Pentagon and administration officials have not publicly defended the bans on trans service. In May, Hagel said the policy "continually should be reviewed," and that he was "open" to a change. The White House, vaguely, backed Hagel's comments, with then-White House Press Secretary Jay Carney saying that "certainly we support his efforts in this area."
The Washington Blade, meanwhile, reported last year that the out gay Undersecretary of the Air Force, Eric Fanning, supported out trans service, and, on Thursday, Fanning's boss, Secretary James, was the first service branch secretary to back a review of the policies, adding that "anyone who is capable of accomplishing the job should be able to serve."
But little has happened — at least, in public — in terms of any policy review, let alone changes. Even small steps appear to be incidental and not, at least formally, representative of any department-wide change.
When the Army, for example, granted two trans veterans' requests to alter their names on their respective DD Form 214 separation documents, a Pentagon spokesperson quickly responded to tell BuzzFeed News that the decision to do so — a request historically rejected by the branches, which cited that the form is a "historical document" and not subject to change ordinarily — was not a military-wide decision: "There has been no change to the [department] policy on this."
When it comes to current service, let alone enlistment, the official word is even less forthcoming: No government officials are saying that changes are being looked at, let alone implemented.
On an individual level, though, advocates insist that change is already happening.
"There is an Army person, who is transgender — male-to-female, just like myself — who, like eight months ago, maybe almost a year ago — I helped them write a memo … to their commander, and they've been kept," Beck said. "So, they've been kept for almost a year, and the commander's been kind of putting his neck out quite far to keep this person in the unit."
Robinson echoed that sentiment. "We know that most of the services are taking some kind of action at some level to protect their transgender service members."
Asked to clarify, she said, "I'm not going to go into specifics, because the potential sort of negative impact on our transgender service members whose careers are kind of hanging in the balance on all of this, but I think it's happening because commanders at all levels are finding themselves stymied by trying to apply 1970s policy in 2014."
Pressed whether she was describing individual commanders' decisions or whether this included higher-ranking officials, Robinson reiterated her "commanders at all levels" language, and said she would leave it at that — optimistically so.