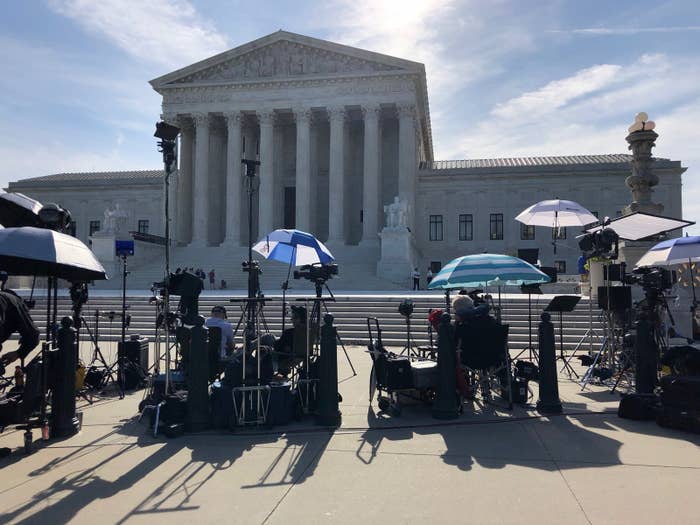 The Supreme Court on Tuesday held that part of California's crisis pregnancy center disclosure law is unconstitutional and that another part is likely unconstitutional.

The court held in a 5–4 majority opinion written by Justice Clarence Thomas that the notice required of licensed clinics under the law "likely violates" the First Amendment, but the notice required of unlicensed clinics "unduly burdens speech" and is unconstitutional.
The law, called the Reproductive Fact Act, was passed in California in 2015 and requires certain clinics and centers that provide family planning or pregnancy-related services — among them pregnancy tests, ultrasounds, prenatal services, and pregnancy or contraception counseling — to post notices. Unlicensed facilities were required to disclose their lack of medical certification, and licensed facilities were required to note that the state provided free or low-cost family planning services, including contraception care and abortion.
In response to the law, an advocacy group called National Institute of Family and Life Advocates (NIFLA) sued the state, alleging it was a violation of its First Amendment rights.
Thomas — joined by Chief Justice John Roberts Jr. and Justices Anthony Kennedy, Samuel Alito Jr., and Neil Gorsuch — wrote that the notice requirement for licensed facilities was the type of content-based, government regulation of speech that should be subject to the highest level of review under the First Amendment.
"When the government polices the content of professional speech, it can fail to 'preserve an uninhibited marketplace of ideas in which truth will ultimately prevail,'" Thomas wrote, quoting from an earlier case. "Professionals might have a host of good-faith disagreements, both with each other and with the government, on many topics in their respective fields. Doctors and nurses might disagree about the ethics of assisted suicide or the benefits of medical marijuana; lawyers and marriage counselors might disagree about the prudence of prenuptial agreements or the wisdom of divorce; bankers and accountants might disagree about the amount of money that should be devoted to savings or the benefits of tax reform."
The majority rejected a conclusion reached by the US Court of Appeals for the 9th Circuit — which had upheld California's law — that the licensed facility requirement was "professional speech" that could be more open to regulation. Thomas noted that there were other cases where the Supreme Court subjected professional speech to a lower level of scrutiny, but they didn't apply to California's law. Unlike cases that involved notice rules concerning "purely factual and uncontroversial information," Thomas wrote, abortion is "anything but an 'uncontroversial' topic.'"

"Speech is not unprotected merely because it is uttered by 'professionals,'" Thomas wrote.
As for the notice requirement for unlicensed facilities, Thomas wrote that it "imposes a government-scripted, speaker-based disclosure requirement that is wholly disconnected from California's informational interest." The law imposed too many burdens on facilities, such as requiring them to include the notices in advertisements — Thomas wrote that during arguments, California had agreed that the law would require a billboard with the message "Choose Life" to also include the disclosure notice, and potentially in multiple languages depending on the location.

Justice Stephen Breyer wrote a dissenting opinion, joined by Justices Ruth Bader Ginsburg, Sonia Sotomayor, and Elena Kagan. Breyer questioned how the court could uphold a state law requiring an abortion provider to tell patients about adoption but not require a service provider in California to tell women seeking reproductive health care about abortion and other family planning services.
"The majority contends that the disclosure here is unrelated to a 'medical procedure,' unlike that in [Planned Parenthood of Southeastern Pa. v. Casey], and
so the State has no reason to inform a woman about alternatives to childbirth (or, presumably, the health risks of childbirth). ... Really? No one doubts that choosing an abortion is a medical procedure that involves certain health risks. ... But the same is true of carrying a child to term and giving birth," Breyer wrote.
Breyer wrote that although abortion remained a flashpoint in US society, "it is particularly important to interpret the First Amendment so that it applies evenhandedly as between those who disagree so strongly."
Anti-abortion and religious liberty advocate groups on the side of NIFLA framed the ruling as a victory for freedom of speech and religion. Mark Rienzi, president of the nonprofit religious liberty law firm the Becket Fund, which has been heavily invested in the success of NIFLA, said the ruling proved that "the government cannot silence one side's speech just because it may be unpopular."

"This ruling proves that when it comes to important issues, the government doesn't get to tell people what to believe, and it also doesn't get to tell people what to say about it," Rienzi wrote in a statement. Becket had also filed a "friend-of-the-court" brief on behalf of NIFLA's argument.

Chuck Donovan, president of Charlotte Lozier Institute, the research arm of the anti-abortion group Susan B. Anthony List, agreed, calling the decision in a statement, "A ruling that will reverberate across the country wherever these remarkable nonprofits have been subjected to state bullying."
The Justice Department had also backed the challengers to California's law. Attorney General Jeff Sessions praised the decision, saying in a statement that, "Speakers should not be forced by their government to promote a message with which they disagree, and pro-life pregnancy centers in California should not be forced to advertise abortion and undermine the very reason they exist."
The abortion rights advocacy side, however, framed the court's ruling as a loss for reproductive rights. "SCOTUS turns its back on women," NARAL Pro-Choice America titled its press release. "One vote: That's the difference between ending the lies and deception at fake women's health centers or letting them off the hook for their dangerous and deceptive practices," NARAL president Ilyse Hogue's statement read.
Planned Parenthood California affiliates' chief legal counsel Maggy Krell said in a statement that California law enforcement and state Attorney General Xavier Becerra "will continue to vigorously protect the rights of patients from deceptive practices and prosecute illegal conduct to the fullest extent of the law."
"Crisis pregnancy centers" — which originated in response to the Supreme Court's 1973 Roe v. Wade decision that legalized abortion across the country — are anti-abortion organizations that offer varying degrees of reproductive medical care. Many of them work out of storefronts resembling abortion clinics, and frequently open directly next to the clinics themselves. Many have medical licenses and provide comprehensive care, while others have ultrasound machines and STI testing equipment. But some are unlicensed and only provide counseling, pregnancy tests, and supplies like baby food and diapers. The majority of these centers are religiously affiliated, but many of them show no signs of these affiliations in their clinics.

Because of these characteristics, abortion rights advocates have long argued that the centers' tactics are to "pose" as abortion clinics in order to "trick" women seeking out abortion clinics. Proponents of crisis pregnancy centers deny this and argue there is no known case of a woman actually being deceived.
Recently, the Trump administration's Department of Health and Human Services made it easier for the centers represented by NIFLA to apply for federal family planning grants as alternatives to federally funded women's health clinics like Planned Parenthood. Planned Parenthood quickly sued over this funding change and arguments were recently heard in court. Planned Parenthood and the Justice Department are awaiting the judge's ruling.