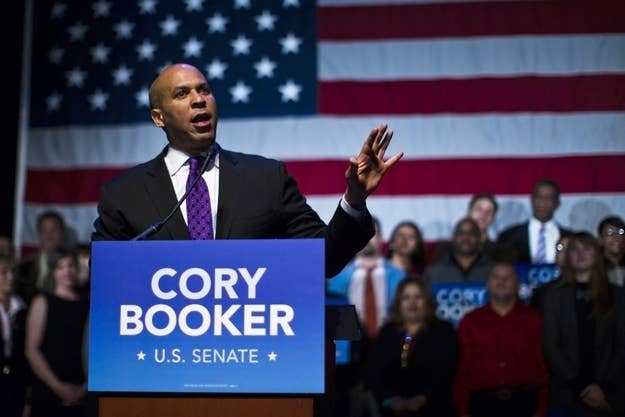 WASHINGTON — Before Senator-elect Cory Booker comes to Washington, he plans to start the ball rolling on marriage equality in New Jersey by marrying several same-sex couples at 12:01 a.m. Monday, Oct. 21, BuzzFeed has learned.
Multiple advocates in New Jersey confirmed that the Newark mayor who just won election to the Senate on Wednesday plans to conduct weddings in the first floor rotunda of Newark City Hall after the clock strikes midnight.
The only remaining question is whether the New Jersey Supreme Court will issue an order before then putting marriage equality on hold while it considers an appeal of the trial-court decision that led to Booker's plans.
According to information provided to BuzzFeed, wedding plans are moving forward at this time, with at least 10 couples and their families expected to attend the early Monday morning event.
The wedding planning is going into effect in Newark and other cities around New Jersey late this week as a result of Judge Mary Jacobson's decision on Sept. 27 requiring that the state allow same-sex couples equal marriage rights. In her ruling, she stated that "[s]ame-sex couples must be allowed to marry in order to obtain equal protection of the law under the New Jersey Constitution."
In order "[t]o allow the State adequate time to prepare to effectuate this ruling or to pursue appellate remedies," she wrote, "the court directs that it take effect on October 21, 2013."
Although Gov. Chris Christie's administration appealed the ruling and the state Supreme Court took jurisdiction of the appeal, the secondary question of whether Jacobson's ruling will be put on hold during the appeal has not yet been resolved. Although the state Supreme Court is considering the Christie administration's appeal of Jacobson's denial of a request to stay the ruling during the appeal, it has not yet ruled, meaning Jacobson's ruling is still scheduled to go into effect on Oct. 21.
Officials in Newark and a handful of other jurisdictions — including Asbury Park, Jersey City and Red Bank — have determined that Jacobson's ruling, absent a stay, means that same-sex couples are allowed to marry beginning Oct. 21 and, as such, they are beginning to accept applications for marriage licenses prior to that date.
Asbury Park administrator Terence Reidy, for example, told the Star Ledger on Thursday that Asbury Park would issue applications on Friday.
The various jurisdictions' plans are slated to go forward despite an email from a state health department official, reported by the Star Ledger as having been sent to municipal officials, stating that licenses are not to be issued "until you hear from this office that we have the authority to do so."
Reidy, however, told the Star Ledger, "Absent a legally binding order not to issue these applications, it is our understanding of the law, that we have the right and obligation to begin issuing applications tomorrow. Please be clear, this is not a act of civil disobedience, but rather our interpretation of what the law permits at this time."
In Newark, the couples being married by Booker are being required to fill out and sign the required marriage license application by 10 a.m. Friday, according to information provided to BuzzFeed. Media coverage, including interviews with the couples, is also being coordinated. The couples, who are invited to bring up to five guests, are being asked to arrive at Newark City Hall an hour prior to the ceremony.