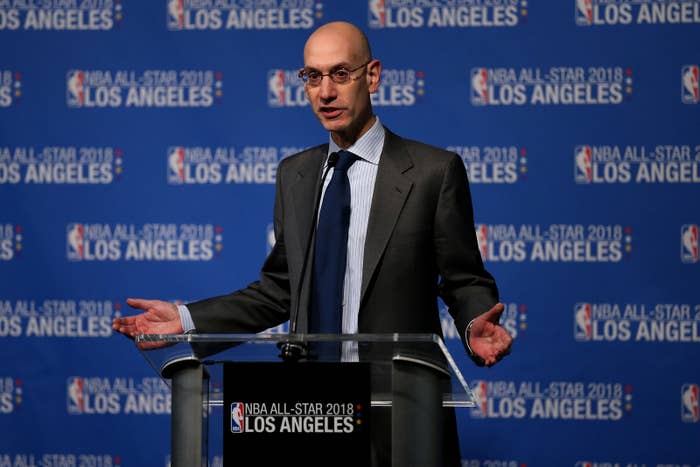 WASHINGTON — The National Basketball Association, along with the Charlotte Hornets, announced on Thursday afternoon that they "do not endorse" current legislation aimed at amending North Carolina's recently passed anti-LGBT law.
The move came hours after national and North Carolina advocacy groups questioned the league's actions regarding the draft legislation — which LGBT and other civil rights groups have opposed.
The NBA has called the underlying law, HB 2, "problematic." At the same time, however, it is scheduled to host the 2017 All-Star Game in Charlotte. The league's role in brokering the draft amendment has been questioned since it surfaced.
"We have been engaged in dialogue with numerous groups at the city and state levels, but we do not endorse the version of the bill that we understand is currently before the legislature," the NBA and Hornets organizations said in the statement. "We remain committed to our guiding principles of inclusion, mutual respect and equal protections for all. We continue to believe that constructive engagement with all sides is the right path forward. There has been no new decision made regarding the 2017 NBA All-Star Game."
Earlier Thursday, the Human Rights Campaign, Equality North Carolina, National Center for Transgender Equality, and NAACP North Carolina wrote to NBA Commissioner Adam Silver "to share [their] concerns about the NBA's evolving posture toward HB2 and other proposals targeting LGBTQ and other people across the state of North Carolina for discrimination."
LGBT advocates have blasted the draft proposal, saying that, rather than repealing language opposed by LGBT groups, the new bill actually could make things worse.
"It is easy to march alongside the LGBTQ community in a parade. But whether you stand shoulder to shoulder with us when we are under attack will be the true measure of your leadership," the groups wrote to Silver in Thursday's letter.

The groups note that there have been reports that "the NBA has been actively working behind closed doors to help hammer out another discriminatory bill that would exacerbate some of the worst provisions in the HB2 law targeting LGBTQ people."
Additionally, the groups claim that "the NBA has also briefed several individuals on the ground in North Carolina on its hope to use a combination of this new legislation — and the establishment of a meaningless, non-­binding commission — to provide political cover for a potential decision not to move the 2017 All-­Star Game from Charlotte."
The groups urge that the only "compromise" measure would be to repeal HB 2 completely, "which would simply get us back to square one in North Carolina."
Going further, they wrote, "If the NBA wants to be a champion for LGBTQ equality, then work with us to ensure full statewide protections for LGBTQ North Carolinians. But please do not cut a deal that would sell us out."