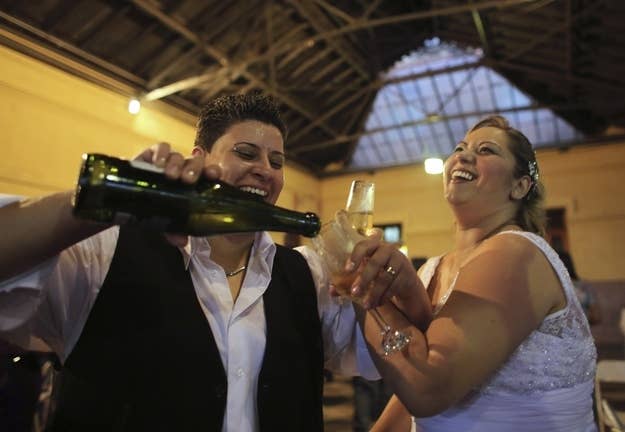 Same-sex couples could soon be able to marry throughout Brazil, following a national judicial panel's decision that government offices could not deny same-sex couples' marriage licenses.
"The [National Council of Justice], the body that oversees the operation of the institutions of justice, ruled Tuesday that the notaries in Brazil must register marriages between persons of the same sex," according to a translation of an Associated Press article on the decision. "With [this] determination, notaries can not deny homosexual couples orders for marriages ... according to the Council in a statement."
An Agence France-Presse report notes that the decision, made by the National Council of Justice, which oversees the Brazilian judicial system and is headed by the chief justice of the Supreme Court, could be appealed to the Supreme Court. But, with the chief justice on the panel, it was not immediately clear if an appeal was likely.
The AP report notes that some Brazilian lawmakers have attempted to advance marriage equality measures over the past decade but that the legislature's "powerful evangelical bloc of legislators" stopped the passage.
Same-sex marriage is already legal in some Brazilian jurisdictions — including São Paulo state, which has a population of more than 40 million people and is roughly the same size as Argentina.
The country's top court previously ruled that same-sex couples have the same domestic partnership rights as heterosexual couples. Couples that have registered their domestic partnerships have since successfully gone to court to "convert" those unions into marriages.
A new rule that went into effect in São Paulo in March meant same-sex couples there could skip the step of going to court in order to marry, and the National Council of Justice's decision would appear to expand the application of that change to the entire country.