Barney Frank Says Democratic Platform Should Include Marriage Equality
The Massachusetts lawmaker told a married lesbian couple testifying in Minneapolis today that "he supported [their] cause." The couple was asking Democrats to formally support marriage equality in the party platform.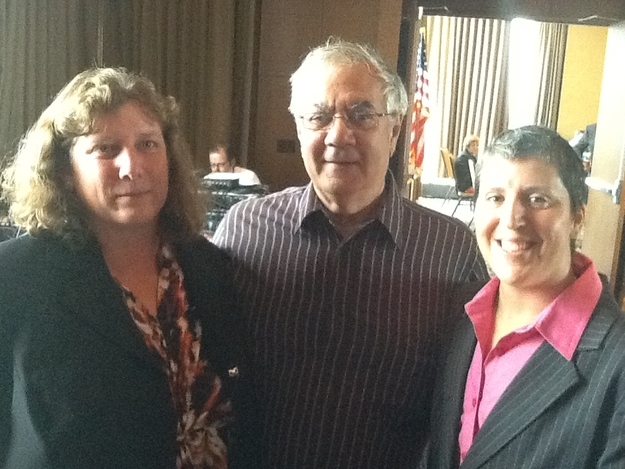 Rep. Barney Frank, the outspoken gay Democrat from Massachusetts, today said he would like the Democratic Party's platform to formally include support for marriage equality, attendees at a hearing about the platform told BuzzFeed.
Frank, who sits on the Democratic Party Platform Drafting Committee, expressed the views at the committee hearing in Minneapolis today after Chief Warrant Officer Charlie Morgan and her wife, Karen, asked the Democratic Party to make clear in the platform that the party wants to see the Defense of Marriage Act repealed and same-sex couples given equal marriage rights.
Although that might seem obvious, given his longstanding personal support for marriage equality, as recently as Friday he had been holding back about what would happen with the party's platform.
The New York Post on Friday reported that Frank was far more ambiguous about his support for or the likelihood of the inclusion of such a statement in the platform.
Karen Morgan today said, "We're asking you today to stand with our family and so many other loving and committed same-sex couples and families by making marriage for all committed couples part of the party platform. We're asking you to take a stand for equality, for love, and for families like us all over the nation."
According to Servicemembers Legal Defense Network, which represents the Morgans in a lawsuit challenging DOMA's constitutionality, Charlie Morgan, who is fighting incurable stage-four breast cancer, only spoke briefly at the committee hearing because her voice has been compromised by a tumor pressing on her vocal chords.
Karen Morgan, who did most of the speaking in Minneapolis, also spoke with BuzzFeed after the couple's presentation to the committee, saying, "It was highly emotional because this is, of course, is an emotional issue for us."
She added: "We're proud to be there and proud of the Democratic party for leading on this issue."
SLDN spokesman Zeke Stokes said that, after their presentation, Frank recounted Republican support for the Defense of Marriage Act and said that, in contrast, Democrats are most of the way there in terms of support for marriage equality. Stokes said that Frank went on to say that he supported the inclusion of a marriage equality plank in the platform and left the impression that he believed it would be included in the platform, ultimately.
Of Frank's response, Karen Morgan said, "His reaction was positive. He thanked us for our story, that he supported our cause."
On Friday, the New York Post quoted Frank as saying of the marriage equality plank, "There may be a decision not to get into it a whole lot. This is a strategic judgment."
In 2008, the party's platform took no position on marriage equality, stating only that the party "oppose[d] the Defense of Marriage Act" and that it "supported ... equal responsibilities, benefits and protections."
Other supporters of marriage equality to testify before the committee included Freedom to Marry's Marc Solomon and Aaron Zellhoefer, an out gay convention delegate who was testifying today on behalf of the National Stonewall Democrats.
Spokespersons for Frank's office did not immediately respond to a request for comment.