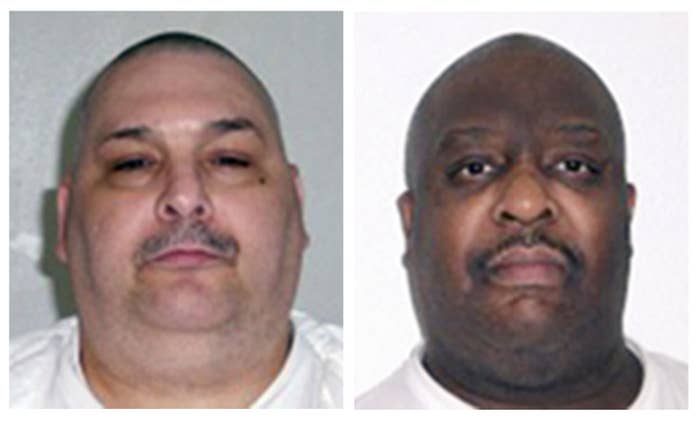 WASHINGTON — For the first time since 2000, a state executed two people in one day on Monday.
Arkansas — which scheduled eight executions for the second half of April before one of its lethal injection drugs expires — executed Jack Jones and Marcel Williams on Monday.
The first execution, of Jones, was completed before 7:30 p.m. Central Time — less than four days after the state held its first execution in more than a decade.
The state carried out its second execution of the day, of Williams, a little more than three hours later. He was declared dead at 10:33 p.m. CT, prison officials told reporters.
Before the second scheduled execution began, however, a federal district court judge issued a temporary stay to consider a request from lawyers for Williams that his execution be halted because, lawyers argued, the first execution "appeared to be torturous and inhuman." The state opposed the request, calling the claims "utterly baseless."
After holding a hearing on the request, US District Judge Kristine Baker denied Williams' request and lifted the stay a little before 9:30 p.m. CT — opening the way for the state to proceed with Williams' execution.
Williams was executed for abducting, raping, and killing Stacy Rae Erickson, a 22-year-old mother of two, in 1994.
Jones was executed for the 1995 murder and rape of Mary Phillips during a robbery at her accounting office while her 11-year-old daughter watched. Reporters in Arkansas were told by prison officials that Jones' time of death was 7:20 p.m. CT.

Jones provided a written statement, later provided to reporters at the prison in Arkansas:
The Arkansas Supreme Court and US Court of Appeals for the 8th Circuit had denied all pending requests for stays of execution for both Jones and Williams earlier Monday — sending both men's lawyers to the US Supreme Court for final requests to stop the executions.

Shortly past 7 p.m. Eastern Time, the US Supreme Court denied both of Jones' requests for a stay of execution. Justice Sonia Sotomayor was the only noted dissent. She would have granted a stay of execution to Jones, in a case that raised claims that the state's execution process violated the Eighth Amendment ban on "cruel and unusual punishments."
The US Supreme Court denied Williams' requests a little before 9 p.m. ET. Sotomayor, again, dissented.
Sotomayor had previously expressed her opposition to the death sentence of Williams that was carried out on Monday. A district court several years ago had ordered a new sentencing hearing for Williams due to a claim of ineffective assistance of counsel, but that ruling was overturned by the appeals court on a procedural issue. The US Supreme Court let the appeals court ruling, and Williams' death sentence, stand in 2010 — over the objection of Sotomayor and Justice Ruth Bader Ginsburg.

The last state to attempt two executions in one day was Oklahoma. In 2014, the state had scheduled the executions of Clayton Lockett and Charles Warner for the evening of April 29, 2014. However, after Lockett's execution went awry — one of several botched executions using the sedative midazolam in 2014 — Warner's execution was delayed.

On Monday night, as it did last week, Arkansas is using the same three drugs in its protocol as Oklahoma had been using that night.
The last state to successfully carry out two executions on one night was Texas — in 2000.
Arkansas, which had scheduled eight executions over a two-week period before its supply of midazolam expires at the end of the month, only conducted one of the four executions it had set for this past week — executing Ledell Lee on April 20.
In addition to Jones and Marcel Williams, the state plans to execute Kenneth Williams on Thursday.
A federal judge already halted the originally final execution of the eight, that of Jason McGehee, due to issues with the way the condensed execution schedule had altered the state's clemency process.