Key Ruling On New Standard For Review Of Anti-Gay Laws Will Stand
The 9th Circuit won't give further review to an earlier decision that gives laws that treat people differently based on sexual orientation additional scrutiny. An important ruling for pending marriage cases and other discrimination claims.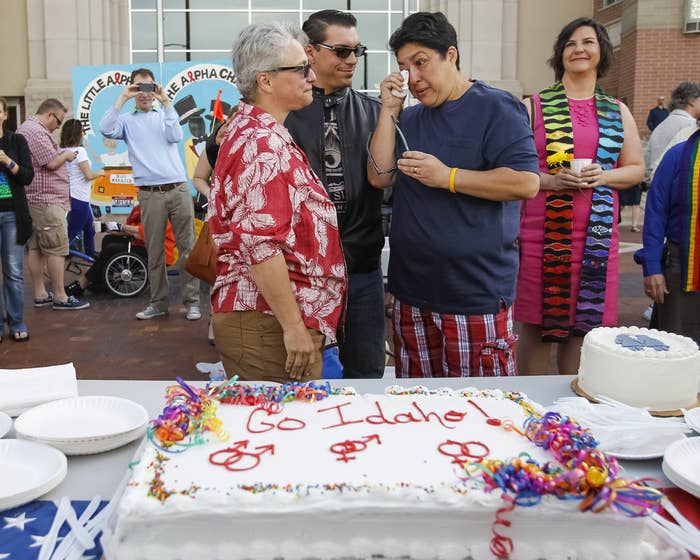 WASHINGTON — A key federal appeals court decision to review claims of discrimination based on sexual orientation with heightened scrutiny will stand.
The 9th Circuit Court of Appeals turned down a request for a larger panel of the appeals court to reconsider the decision. The ruling subjects all sexual orientation claims within the 9th Circuit's nine states — including marriage-discrimination claims — to heightened scrutiny, which means treating gay, lesbian, and bisexual people differently under the law will be more difficult to justify when challenged in court. The ruling already has had an impact on the cases challenging Nevada and Idaho's marriage laws.
The case, SmithKline Beecham v. Abbott Laboratories, centered around a dispute over HIV drugs, but the sexual orientation question came in to play when lawyers for Abbott removed a person from the jury because he is gay. The 9th Circuit had ruled that a lawyer could not do so; in reaching that ruling, though, the court first decided that sexual orientation claims should be subjected to heightened scrutiny.
While most laws that create groups or classifications must merely show there is a rational basis, or a legitimate reason, for the law, laws subjected to heightened scrutiny must show more. Some, like those that classify based on race, must show a compelling state interest for the classification, while others, like those based on sex, must show a lesser but still important state interest in doing so.
Although the Supreme Court has not explicitly ruled on the question of what level of scrutiny sexual orientation claims should receive, the initial 9th Circuit decision in the case, which the court let stand on Tuesday, stated that the Supreme Court's decision in United States v. Windsor striking down part of the Defense of Marriage Act "established a level of scrutiny for classifications based on sexual orientation that is unquestionably higher than rational basis review."
In today's order, the 9th Circuit announced that a majority of the appeals court judges did not vote to rehear the case en banc. The call for a vote on rehearing was unusual in that it was made by a judge on the court and not one of the parties in the case. The decision means that the ruling will stand unless the Supreme Court were to review the decision, which Abbott has said it will not seek.
Three of the appeals court judges dissented from the decision not to rehear the case, with Judge Diarmuid O'Scannlain writing for himself and Judges Jay Bybee and Carlos Bea, "While this case may end here—neither party is likely to seek certiorari given that neither party urged en banc reconsideration of the applicable standard of review—reliance on the panel's analysis as an example of anything more than an exercise of raw judicial will would be most unwise."
The states in the 9th Circuit are Alaska, Arizona, California, Hawaii, Idaho, Montana, Nevada, Oregon, and Washington.
Interestingly, seven of the 30 judges eligible to vote on the rehearing were recused from the vote: Judges Susan Graber, M. Margaret McKeown, Kim McLane Wardlaw, Milan Smith, Paul Watford, John Owens and Michelle Friedland. They gave no reason for their recusal, although Watfor, Owens, and Friedland had practiced at Munger, Tolles & Olson — which represented Abbott Laboratories — prior to being appointed to the 9th Circuit by President Obama.