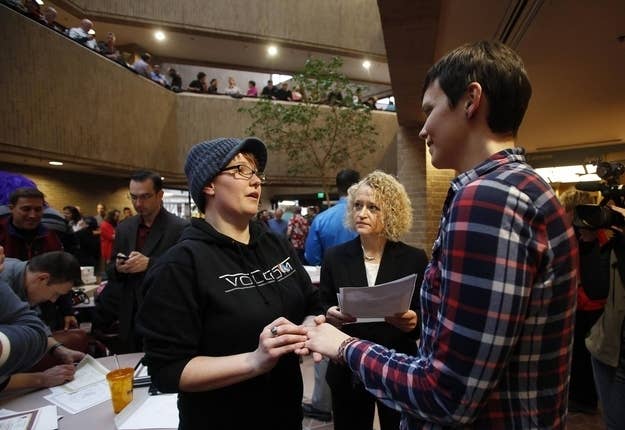 The 10th Circuit Court of Appeals denied the state of Utah's request to stop same-sex couples' marriages during the appeal of the judge's ruling that started those marriages on Friday.
"Having considered the district court's decision and the parties' arguments concerning the stay factors, we conclude that a stay is not warranted," Judges Jerome Holmes and Robert Bacharach wrote in an order signed by court clerk Elisabeth Shumaker for the court.
The denial means that a Friday decision by Judge Robert Shelby striking down the state's ban on same-sex couples marrying will remain in place during the appeal of the case, absent a contrary ruling from the Supreme Court — to which Utah officials say they will appeal.
"[Y]es the office is appealing the denial of a stay by the 10th Circuit Court. We will aim to file thursday," Utah Attorney General's Office spokesman Ryan Bruckman told BuzzFeed in an email.
Interim requests of the type that would be filed in this situation would go to Justice Sonia Sotomayor, who oversees such requests from the 10th Circuit. She could either decide the matter on her own or refer the matter to the whole court for consideration.
Shelby denied a request Monday for a stay of his ruling during the appeal, and state officials appealed to the 10th Circuit for a stay within hours of that ruling.
Because of that Monday denial, most counties in the state allowed same-sex couples to marry on Tuesday. Additionally, an email sent from the Utah governor's chief of staff to cabinet officers on Tuesday urged "compliance with the federal judge's ruling until such time that the current district court decision is addressed by the 10th Circuit Court." In light of the decision of the 10th Circuit Tuesday night, that compliance order would appear to be ongoing.
Update — Thursday, Dec. 26: The Utah Attorney General's Office gave an update on the status of the planned Supreme Court filing: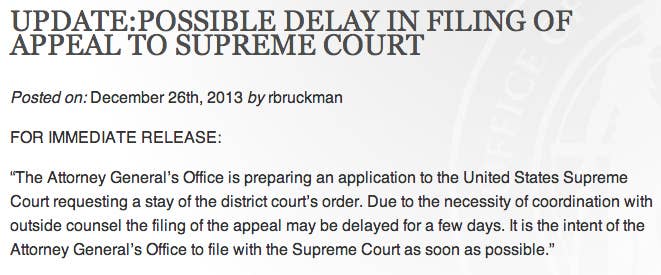 Here's the key part of Tuesday night's brief order: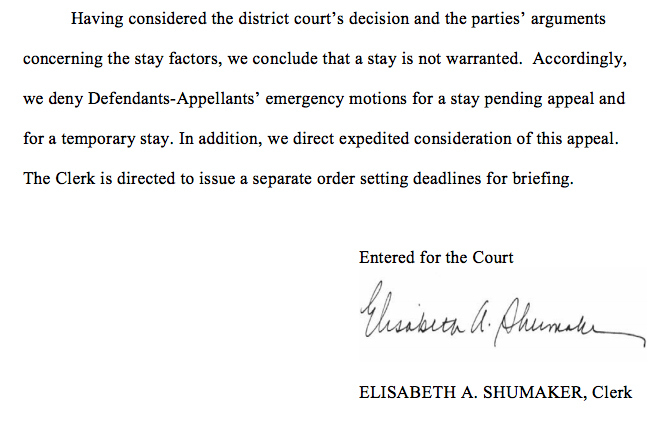 This report was updated as additional information became available, with the final update Dec. 24 at 9:30 p.m.