After Botched Execution, Oklahoma Governor Calls For Review Of Procedures
"[A]n independent review of the state's procedures would be appropriate and effective," Oklahoma Gov. Mary Fallin says.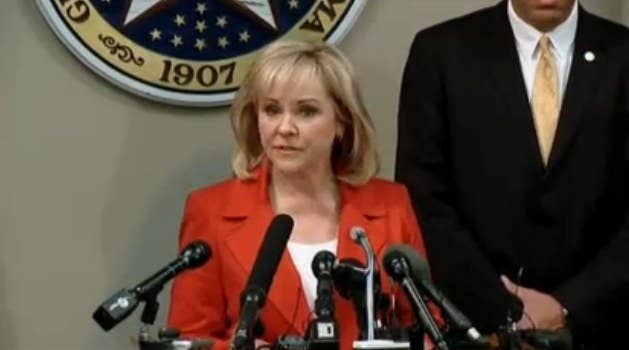 WASHINGTON — Less than a day after a botched execution in her state, Oklahoma Gov. Mary Fallin announced a review of the state's execution procedures while maintaining strong support for the death penalty as a punishment.
"[A]n independent review of the state's procedures would be appropriate and effective," Fallin said, after first noting that she believed that legal process itself, which assigned the death sentence, worked in this case. "I believe the death penalty is an appropriate response and punishment to those who commit heinous crimes against their fellow men and women."
After Clayton Lockett's execution was halted after the administration of lethal drugs Tuesday night and he later died of a heart attack, Fallin put a hold on the second planned execution for the day, that of Charles Warner.
The review — led by the state's Department of Public Safety, headed by Commissioner Michael Thompson, despite Fallin's use of the word "independent" in describing the review — will look at Lockett's cause of death, including an assessment by an independent pathologist authorized by the state medical examiner, determine whether the state's execution protocol was followed, and develop recommendations for future executions.
"The state needs to be certain of its protocols and procedures for executions and that they work," she said. "I expect the review process to be deliberate, to be thorough, and it will be the first step in evaluating our state's execution protocols."
The stay of execution in Warner's case only lasts until May 13, but Fallin said there is no deadline for the review and that she would issue a further stay if the review is not done by that time.
Both Lockett and Warner had unsuccessfully challenged the state's provision keeping the sources of the lethal drugs used in executions secret.