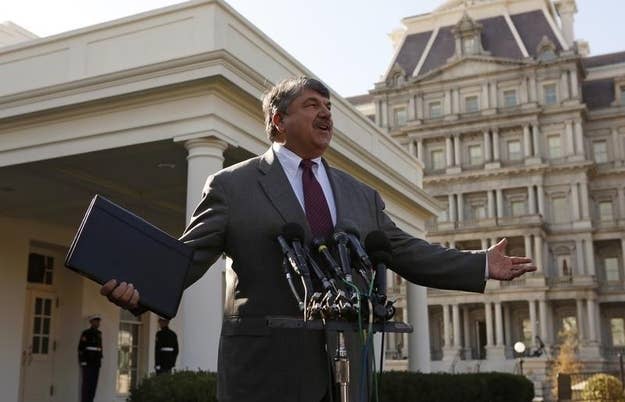 WASHINGTON — The AFL-CIO, the country's largest labor federation, amended its constitution Monday to add a provision banning discrimination based on gender identity or gender expression.
The decision to ban transgender discrimination at its 2013 convention followed the decision of several unions within the federation already to have made the addition of similar nondiscrimination policies into their own policies. The federation is made up of 57 national and international unions representing more than 12 million workers.
"Very exciting," National Center for Transgender Equality executive director Mara Keisling said. "Labor has really been stepping up, and the AFL-CIO has been stepping up."
Human Rights Campaign Vice President Fred Sainz said, "The labor movement has long been a leader on full inclusion in the workplace. This important addition to the governing document of the largest federation of labor unions is a historic and important step forward to ensuring that every American has an equal shot at employment and equal benefits."
HRC and NCTE are part of a national coalition seeking to press Congress to pass federal legislation, the Employment Non-Discrimination Act, that would ban sexual orientation or gender identity discrimination in the workplace, protecting LGBT workers from job bias. The coalition, Americans for Workplace Opportunity, is seeking a Senate vote on the legislation in coming months.
Pride at Work, the LGBT organization within the AFL-CIO, celebrated the federation's decision Monday on Facebook, calling it "a great day in our movement."
Saying he was "thrilled" to hear the news, Tico Almeida, the president of Freedom to Work, said in a statement, "The AFL-CIO and its millions of members work hard to improve wages and working conditions for all Americans, and they are squarely on our side as transgender and gay workers fighting for a fair shot at the American Dream. We are particularly grateful for the leadership of [Communications Workers of America] President Larry Cohen, who introduced the proposal, and our LGBT brothers and sisters at Pride at Work."
Keisling also told BuzzFeed, "One of the things I feel is really interesting about it is that words mean something. And the way this is worded, it really is why we do the antidiscrimination thing."
The language of the AFL-CIO's constitution now reads: "To encourage all workers without regard to race, creed, color, sex, national origin, religion, disability, sexual orientation, gender identity, or gender expression to share equally in the full benefits of union organization."
Of that, Keisling said, "That's what we want is for everyone to be able to share equally. I think it says it just right, and the folks who have been working on it — Donna Cartwright, [SEIU's] Gabriel Haaland, [CWA's] Shane Larson — are just superstars."
"Statistics around the experiences of transgender workers tell a staggering story," Cartwright, the secretary of DC-Baltimore Pride at Work, said in a statement. "We applaud passage of the resolution that moves this country's workers forward in protecting all workers."
DC-Baltimore Pride at Work noted, however, that a second proposal, a resolution in support of transgender-inclusive healthcare, was "unable to move forward at this time due to technicalities, but will be reintroduced at a later meeting of labor leaders."