Trump Fires Acting Attorney General After She Orders Justice Lawyers Not To Defend Travel Ban
"Sally Yates has been relieved," White House press secretary Sean Spicer tweeted on Monday night, hours after Yates, the acting attorney general, had ordered department lawyers not to defend President Trump's executive order in court. Dana Boente, a federal prosecutor in Virginia, has been named by Trump as acting attorney general.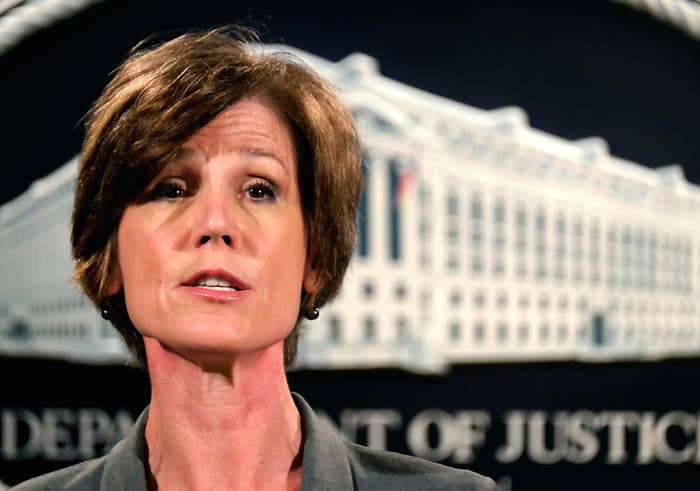 WASHINGTON — "Sally Yates has been relieved," White House press secretary Sean Spicer tweeted on Monday night, hours after Yates, the acting attorney general, had ordered department lawyers not to defend President Trump's refugee and travel executive order in court.
In a statement, the White House announced that Dana Boente, US attorney for the Eastern District of Virginia since 2015, would serve as acting attorney general. According to the White House, Boente was sworn in at 9 p.m.
A few hours later, Boente rescinded Yates' order.

The statement, from the office of the press secretary, asserts that Yates "betrayed the Department of Justice by refusing to enforce a legal order designed to protect the citizens of the United States."

In a letter sent to department lawyers hours earlier, Yates had written, "[F]or as long as I am the Acting Attorney General, the Department of Justice will not present arguments in defense of the Executive Order," detailing that she is "not convinced" that defending the order met with her responsibilities as head of the Justice Department "to always seek justice and stand for what is right."

The striking moves came in the wake of five district court rulings over the weekend halting enforcement of parts of the order and on the evening before the Senate Judiciary Committee is due to vote on Trump's nominee for attorney general, Sen. Jeff Sessions.
Boente was confirmed in December 2015 as the US attorney for the Eastern District of Virginia — a jurisdiction that covers the Northern Virginia suburbs of Washington, DC, Norfolk, and Richmond — a job he had previously held from 2008 to 2009 and in an acting capacity from 2013 until his confirmation. From 2012 to 2013, he served as the US attorney for the Eastern District of Louisiana.
An additional lawsuit against the executive order was filed by the Council on American–Islamic Relations, with another announced by Washington state Attorney General Bob Ferguson.

Yates took over as acting attorney general upon former Attorney General Loretta Lynch's departure from the job. She previously had been confirmed by the Senate as deputy attorney general in 2015.
One question that had been raised prior to Boente's appointment was the question of whether anyone other than Yates would be eligible under the Foreign Intelligence Surveillance Act to sign foreign surveillance warrants. Under the law, however, the "acting attorney general" is specifically noted as being authorized to do so, and the White House confirmed such in a pool report.
Although a succession order signed by President Obama before leaving office would have meant that Zachary Fardon — as the US attorney for the Northern District of Illinois — would have been the next Senate-confirmed individual in the line of succession, it appears Trump took advantage of another provision of the current executive order — which allows the president, "to the extent permitted by law, to depart from this order in designating an acting Attorney General" — in selecting Boente.
A little more than an hour after the first report on the news from CNN, Trump did respond, on Twitter, declaring that Democrats' delaying confirmation of Trump's cabinet picks means, "Now have an Obama A.G."

However, this statement then followed about 90 minutes later: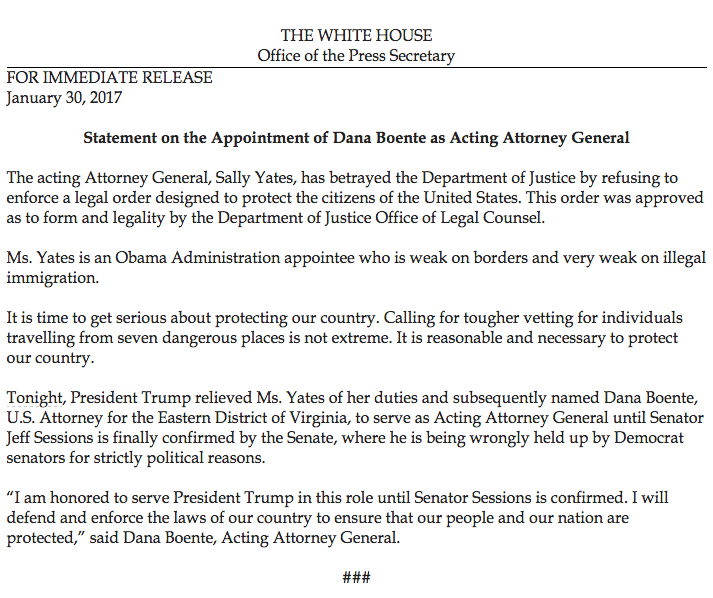 Yates had worked for the Justice Department for nearly 30 years, according to her department biography, beginning as a federal prosecutor in Georgia. When she was nominated for the deputy attorney general post in 2015, Republican Georgia Gov. Nathan Deal backed Yates' nomination, writing:

I am particularly fond of the bipartisan support Sally has garnered over the years. Sally was hired in the United States Attorney's Office during the Reagan Administration and promoted within that office during the Clinton and George W. Bush administrations. She handled the high-level prosecutions of the Atlanta Olympics bomber and a former Mayor of Atlanta. Sally had shown an ability to handle sensitive matters in a way that maintains the appropriate objectivity that is required of a federal prosecutor.
Like Yates, Boente has spent his career at the Justice Department. And also similar to Yates, he was an Obama appointee in his most recent position at DOJ. During his tenure as US attorney, the office in Virginia pursued the corruption case against former Virginia governor Bob McDonnell, winning a conviction that was ultimately overturned by the US Supreme Court.

Former Obama Justice Department individuals, prior to Trump's firing, had weighed in to back Yates' move.
Former Attorney General Eric Holder:
Former Acting Solicitor General Neal Katyal:
Others found Yates' statement — reprinted in full, below — lacking.
Jack Goldsmith, the former head of the Office of Legal Counsel for a period in the George W. Bush administration, criticized Yates' statement, noting that she never states she had concluded that Trump's order is unconstitutional or that there were no reasonable arguments to advance in its defense — the usual standard the Justice Department uses when deciding whether to defend a law or executive action.
Read the message from Acting Attorney General Sally Yates: