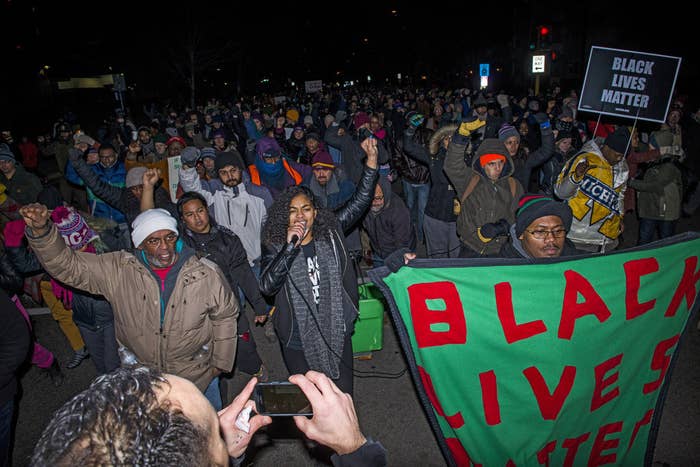 Civil rights attorneys on Tuesday filed a lawsuit seeking a court order for video footage of the fatal officer-involved shooting of Jamar Clark in Minneapolis.
After being shot by police, Clark was taken to a hospital in critical condition, but died a day later.

The lawsuit, filed by the ACLU of Minnesota and NAACP of Minneapolis, is seeking to force state officials overseeing the investigation to release video footage "that could potentially shed light" on the Nov. 15, 2015, shooting.
Clark was shot by white officers during a confrontation in the street after police were called to his apartment over reports of an assault.

There remain disputes about whether Clark, 24, was resisting arrest, including if he was handcuffed at the time of the police shooting. Government officials have said that "no video shows the entire incident."
The shooting death led to protests in Minneapolis that included clashes with police — as well as the shooting of five protesters. Four people, some of whom expressed anti-black sentiments, were charged.

Protests related to the shooting death continued into the holiday season and new year, the complaint details, including a "Tale of Two Cities" march held on Martin Luther King, Jr., Day.
"The police killing of Jamar Clark laid bare the broken relationship that exists between the Minneapolis Police Department and the community it serves, particularly its relationship with people and communities of color in Minneapolis," the complaint states. "Secrecy and lack of transparency has served to deepen the chasm between police and the community by reinforcing the community's fear that police will not be held accountable for their acts of misconduct."

Police officials have refused to release the videos, according to Tuesday's complaint, with the head of the Bureau of Criminal Apprehension claiming that doing so "would impact the integrity of the investigation that's ongoing currently, and would impact the integrity of the eventual prosecutorial review process that will be pending at the conclusion of our investigation."